Introduction
Thanks to those members who contributed photos and materials. After enjoying a SISKA event or paddle, please consider sending a short (100-150 words) summary article; for more information, contact one of us, newsletter@siska.ca . If you would like to start a regular column, please let us know!
Alan Campbell (SISKA president) and Tony Playfair (editor)
---
PS: You can find SISKA on Facebook at this link.
PPS: Siska has it's own Youtube Channel HERE
PPPS: You can find the SISKA newsletter archive HERE
---
Upcoming SISKA Events
Thursday, August 04th, 2022 - 9:30 AM to 3:30 PM - Light Paddle - Moses Point to Deep Cove Paddle
Saturday, August 06th, 2022 - 9:30 AM to 3:30 PM - Relaxed Paddle - Telegraph Cove to Margaret Bay (NEW MEMBERS PADDLE) Paddle
Saturday, August 06th, 2022 - 9:30 AM to 3:30 PM - Energizer Paddle - Amherst to Rum Island Paddle
Saturday, August 06th, 2022 - 9:30 AM to 3:30 PM - Whiffin Spit to Cabin Point Paddle
Thursday, August 18th, 2022 - 9:30 AM to 3:30 PM - Light Paddle - Telegraph Cove to Arbutus Cove Paddle
Sunday, August 21st, 2022 - 9:30 AM to 3:30 PM - Energizer Paddle - Swartz Bay/Barnacle Road Public Dock to Southern Gulf Islands one way paddle/ferry return Paddle
Monday, August 29th, 2022 - 9:30 AM to 3:30 PM - Relaxed Paddle - Hudson Point (Saltspring Island) to MULTIDAY Conover Cove Campout 3 nights Paddle
Thursday, September 01st, 2022 - 9:30 AM to 3:30 PM - Brentwood Bay Ferry Wharf to Todd Inlet Paddle
Saturday, September 03rd, 2022 - 9:30 AM to 3:30 PM - Relaxed Paddle - Oak Bay Marina to Ten Mile Point (NEW MEMBERS PADDLE) Paddle
Saturday, September 10th, 2022 - 10:00 AM to 4:00 PM - Energizer Paddle - Broken Islands Lodge to FULL Broken Group Islands (Multiday) Paddle
Thursday, September 15th, 2022 - 9:30 AM to 3:30 PM - Light Paddle - Spirit Bay to Becher Bay Paddle
Sunday, September 18th, 2022 - 12:30 PM to 4:30 PM - Relaxed Paddle - Cadboro Bay to Caddie Bay Tour 1pm-3pm Paddle
Saturday, September 24th, 2022 - 9:30 AM to 3:30 PM - Energizer Paddle - Brentwood Bay Ferry Wharf to Mackenzie Bight via Spectacle Falls Paddle
Thursday, September 29th, 2022 - 9:30 AM to 3:30 PM - Light Paddle - Fleming Beach to Esquimalt Coastline Paddle
---
Upcoming NonSISKA Events
For more details, go to the SISKA website
---
Community Events of Interest
These events are not formally supported by SISKA, but considered to be of interest to a significant number of our members.
Any member may request an event to be included in this section by sending a note to chairperson@siska.ca
---
Upcoming Courses
by Jo Nicolson
Paddle Canada Level 2 Skills – For SISKA Members
Coaches Jo Nicolson and Michael Egilson are offering PC Level 2 on the Labour Day long weekend: September 2 - 5, 2022. This course includes one night of camping.
Building on the skills developed in Level 1, Level 2 refines existing skills and adds new ones allowing the paddler to handle more challenging sea conditions with comfort and confidence.
If interested or for more information, email Jo at jnicolson13@shaw.ca or Michael at Michael.egilson@shaw.ca
---
No Siska Meetings Until September 28th
by Fred Pishalski
Watch your email in late August for the agenda!
---
Kayaking BC's Central Coast July 7-24 - Preliminary Report
by Alan Campbell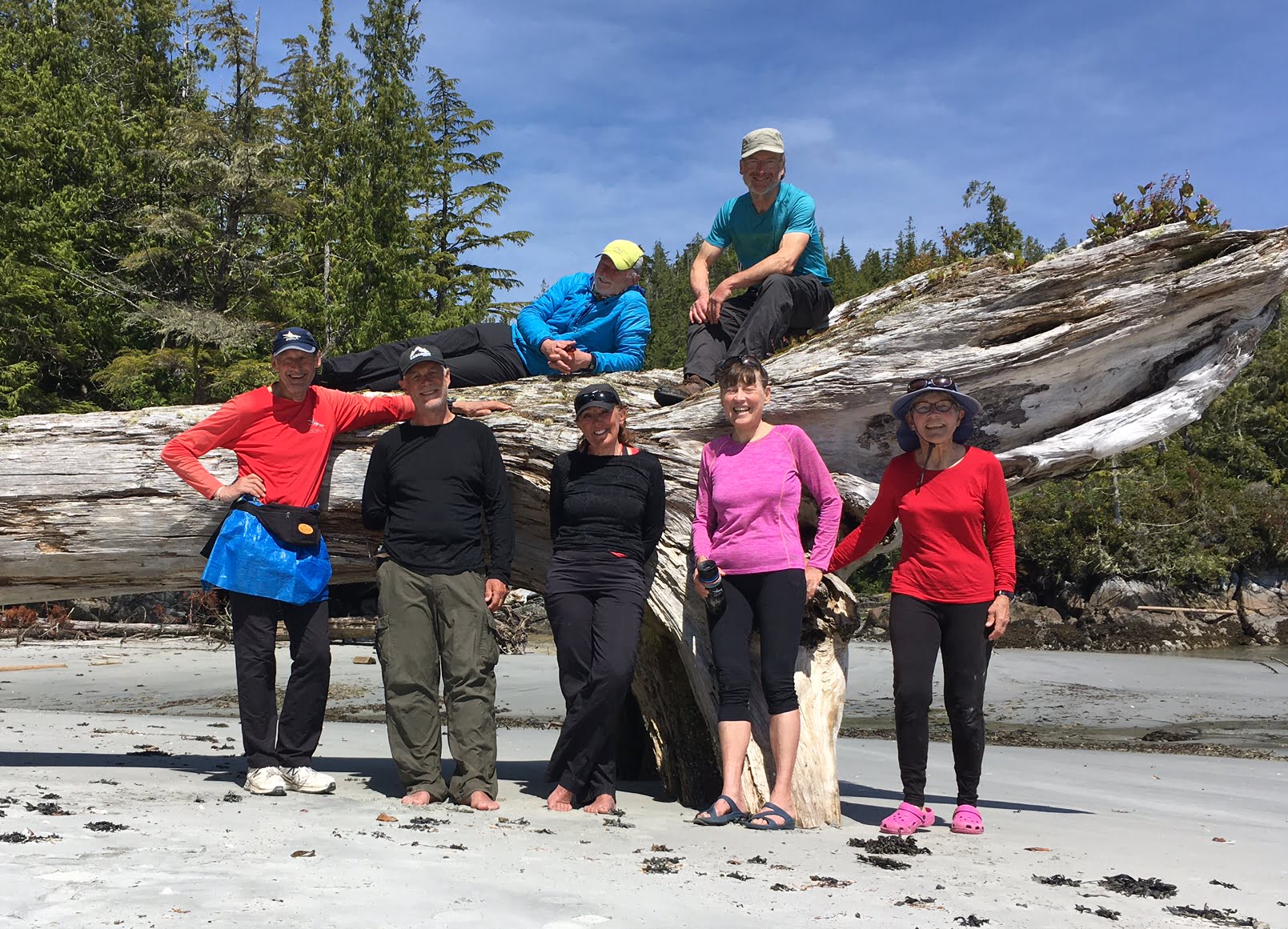 Hi Folks
We're not sure why, but many of our always clever and informative InReach posts were invisible to those of you following the track of our recent kayak trip online.
Another classic coastal BC experience, it certainly didn't all go as planned, so was definitely an adventure!
To answer some of your questions, a preliminary trip slideshow has been created at the link below - check it out and look for the real presentation sometime this Fall!
https://drive.google.com/file/d/11tslytNrn9DSymzREtCokGMipDCzP0vR/view?usp=sharing
Cheers
Central Coast Kayakers 2022
Alan, Barry, Debbie, Jennie, Lynn, Michael, Morley
---
Kayaking in the Rocky Point Area - NAVWARNS site
by Alan Campbell
This is Alan's letter and reply from CFB Esquimalt recently regarding kayaking the Rocky Point Area (Editor).
July 2, 2022
Captain (Navy) J. Jeffrey Hutchinson, MSM, CD
CFB Esquimalt Base Commander
CFB Esquimalt, BC
Email: cfbesquimalt@outlook.com
Dear Captain Hutchinson,
A group of Victoria area paddlers recently contacted the South Island Sea Kayaking Association (SISKA) for assistance with safety concerns regarding the Department of National Defense (DND) property in the Rocky Point area. Their concerns arose as a result of day paddles in that area on June 1, 2022, prior to which organizers had contacted CFB Esquimalt and confirmed that no blasting was planned. In fact, blasting did occur and, although no incidents occurred as a result, there was confusion and concern as paddlers were redirected away from the blasting zone. A red flag had been raised at the blast site but, since there was little wind and the paddlers approached from the east, the warning flag was visible for only a short distance from the blast zone itself. Paddlers have been aware for many years that the Rocky Point shoreline and the military exclusion zone WQ is out-of-bounds when blasting exercises are scheduled, and that advance notice of these is routinely published by and available from CFB Esquimalt. When no such exercises are scheduled paddlers are free to paddle this area, landing in the intertidal zone as required. We wish to ensure the safety of paddlers and other members of the public using the marine area around Rocky Point.
In order to make sure that notice of blasting activity is available to the public in advance we suggest that all such information be posted as public service announcements where it can be readily found on the CFB Esquimalt website. We would be pleased to assist in this effort by communicating to our paddling community how to confirm in advance that no blasting activity is planned and to advise them to avoid the Rocky Point area if it is. Thank you for your consideration and we look forward to your response.
Alan Campbell
President,
South Island Sea Kayaking Association
Victoria, BC
Website: www.siska.ca
Email: chairperson@siska.ca
Reply:
From: JEFF.HUTCHINSON@forces.gc.ca
To: chairperson@siska.ca
Date: Jul. 19, 2022 12:18:38 p.m.
Subject: Suggested best practice for on water awareness
Dear Mr. Campbell
Thank you for reaching out to me with your concerns regarding kayaking in the Rocky Point area, and I am sorry if the recent experience which you described was a cause for concern.
Please let me assure you that we were aware of this situation and that at no time was there any danger to those involved. The red flags the kayakers saw do mark a barrier that we ask boaters to respect, however, on top of having boats actively patrolling the area, we give generous safety margins inside these barriers to be absolutely certain that at no time any member of the public, even those that come near, are at any risk.
While we do allow for safe public usage of the Rocky Point area, we ask mariners keep in mind that it is an active range that is required for operational needs, even at short notice. Blasting notices are sometimes only known 48 hours before blasting occurs, and can occur much sooner, even on the same day. To inform mariners about these events, we release Navigation Warnings (NAVWARNS) to Marine Communications and Traffic Services Prince Rupert, as mandated by the Government of Canada. These NAVWARNS can be most easily found HERE, and this is where kayakers should go for more information.
Admittedly, the site takes some getting used to. My recommendation would be to set the "Areas (Series)" drop down menu to the area that kayakers intend to traverse. As a reference for this particular case, if the parameters of the search are set to cancelled (as the NAVWARN has now been closed) and Areas (Series) set to Pacific Coast/Pacific South Coast/Juan de Fuca Strait one would find that Area WQ (Bentinck Island/Rocky Pt) was active 1500 to 2300 UTC (0800 to 1600 local) 31 May to 3 Jun. A wealth of other safe navigation information can be found on the same site for other areas and for other hazardous activities (cable laying, bridge maintenance, etc.)
I'm hoping this tool will be useful to your kayak enthusiasts.
If you have any questions, please feel free to write back.
Thank you very much,
Capt(N)/Capv J. Jeffrey Hutchinson
He(him) Il(lui) Captain (Navy)/Capitaine de vaisseau
Base Commander, CFB Esquimalt Royal Canadian Navy
Canadian Armed Forces Government of Canada
Jeff.Hutchinson@forces.gc.ca
Update: Here is the link to check if your heading out that way. This is easier than navigating to the correct page from the link in the above letter.
---
Siska Fall Picnic
by Jane Jacek
Sunday, September 18,2022
Cadboro Bay/ Gyro Park 9am - 2pm (rain or shine)
We have booked the group picnic table area near the washrooms.
Gear Swap 9am-12pm Looking to buy or sell kayak gear and/or a kayak? This is the event for you!
Clinics Between 10am and noon, visit resource tables to learn from knowledgeable club members
Light Paddle (afternoon) Cadboro Bay Tour
Prizes, prizes, prizes
More picnic details to come
---
Safety Tips
by Lynn Baier
Thanks to Anne Graves for sending along these pics of her hypothermic victim being 'packaged'. The object is to sandwich a warm blanket between two heat reflective sheets to hold in body heat, securing the victim to allow minimal body temperature loss, and secure them for transport in a horizontal position.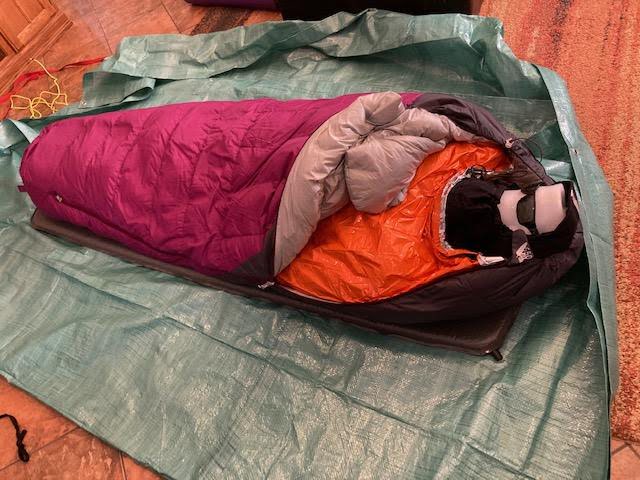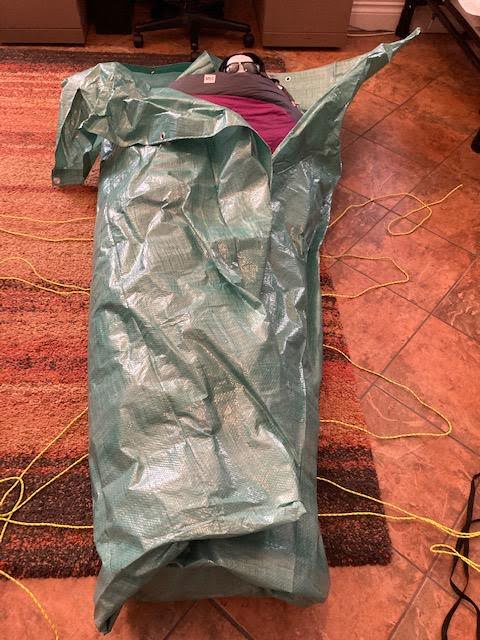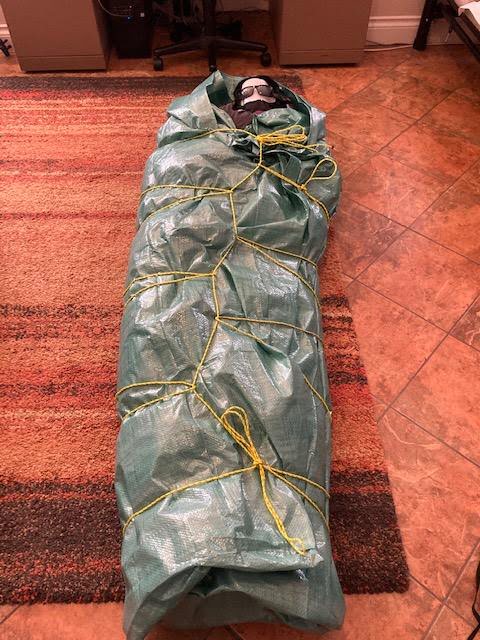 ---
Trip Reports
Brentwood Bay Ferry Wharf to Coles Bay via Senanus Island
by Barb Neelands
July 2, 2022
It was a spectacular sunny day with calm waters and we were full of enthusiasm! In our safety talk we learned that in our group of 12 we had a wide range of beginners to very experienced paddlers which really enriched the experience for all.
Beth was our leader for the day and provided all sorts of local knowledge along the way. Lucky for us we also had Roger Botting with us, who was the "spotter" at the front of the pack, finding everything from purple starfish, octopus eggs, eagles, seals and even showed us where there was a sunken ship!
The morning paddle took us out past Senanus Island where we came across a huge group of seals frolicking. The waters stayed calm as we headed north and into Coles Bay Regional Park which was our lunch spot. In low tide the beach is huge with very shallow water and lots of boats parked in the bay. And clean washrooms!
After lunch we headed back south, noodling around the shore, exploring rocky outcrops in low tide. The wind picked up a little near the end so we hunkered down and made a final sprint for the wharf.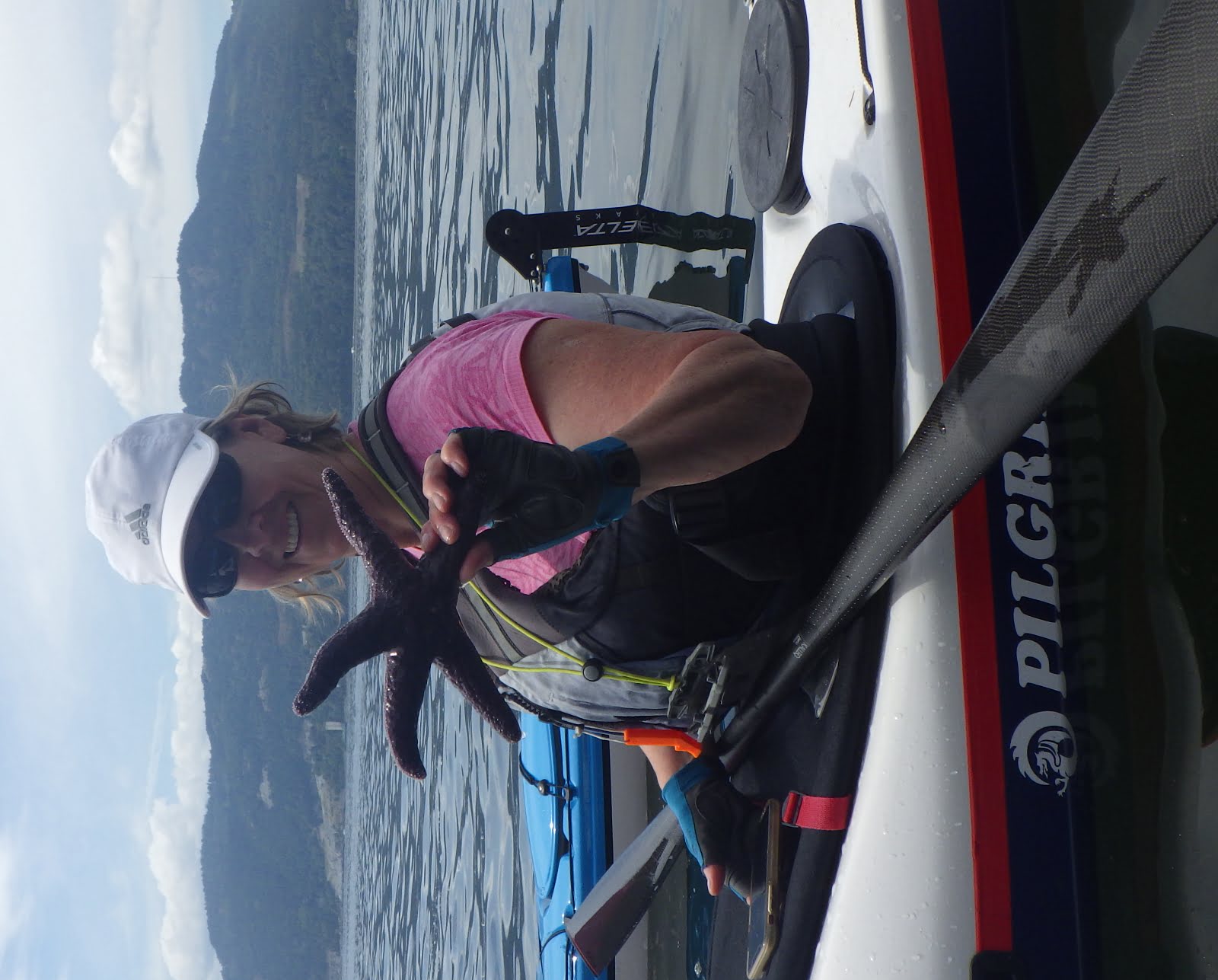 Cheryl with sea star.
---
Tips from the Trips
by Debbie Leach
HIGH AND DRY!
Dromedaries have been known to float off from the beach at higher tides. Make sure yours are secure.
---
Camp Cookery
by Lynn Baier
On a recent three week trip our esteemed president, weary of dehydrated dinners, opened a can of spam for his meal. Then, as we stared in wonder, he stuffed a piece of fruitcake into the empty can. When quizzed for an explanation, he explained that the fruitcake had become somewhat crumbly, but still delicious, and he didn't want to lose any. We had a few gales on our trip, but none that compared to the gales of laughter that followed.
Three weeks out can be a long time. Just sayin'………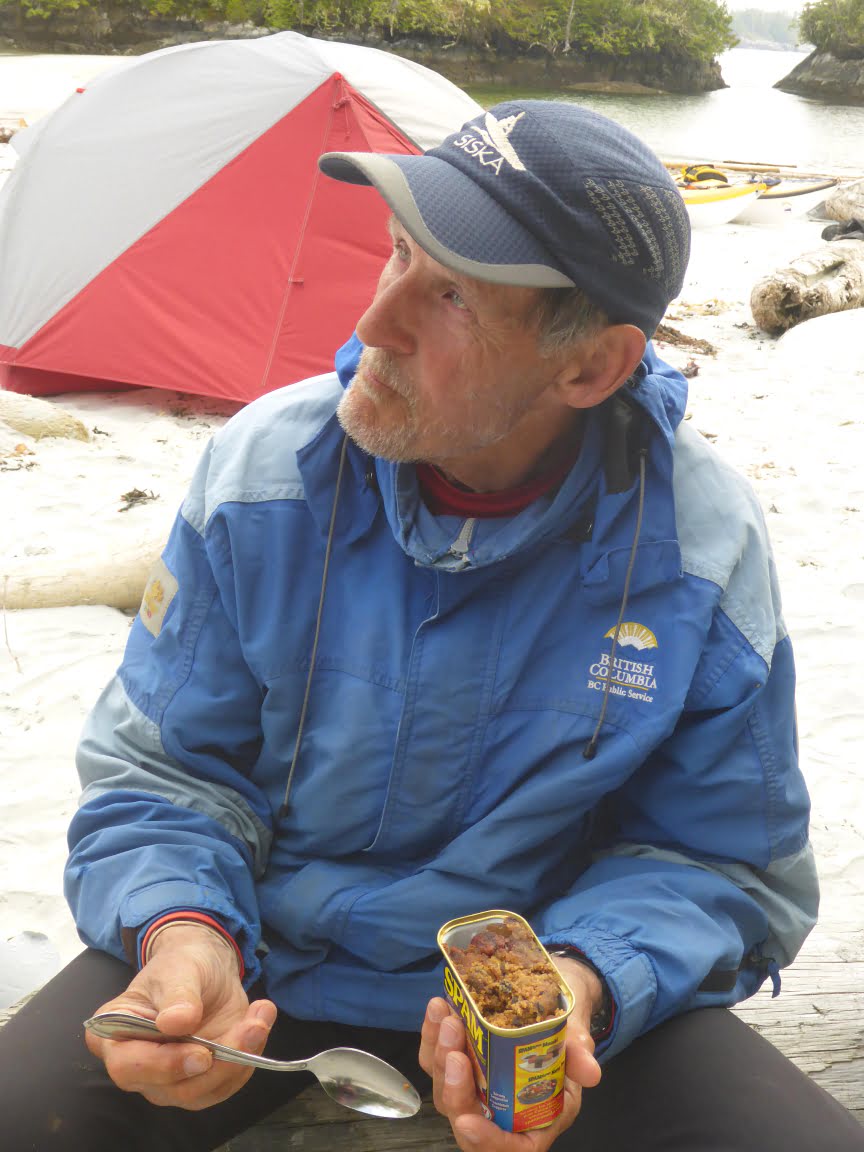 ---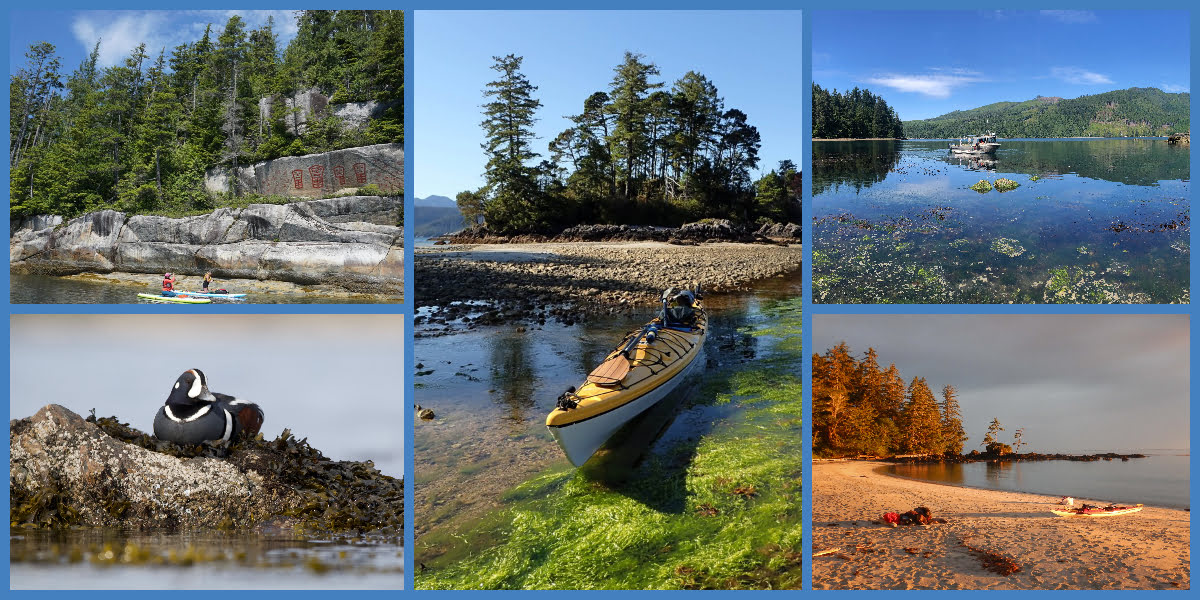 BC Marine Trails News
https://www.bcmarinetrails.org
---
To Buy or Sell
Wanted:
A sturdy kayak cart to rent out.
Contact: Graham Lilly lglilly@shaw.ca
For Sale:
---
SISKA's Kayak Skills Course Partners
There are some fine discounts available from our kayak skills course partners for SISKA members who sign up for their skills training programs. Have a look HERE
Our partners are: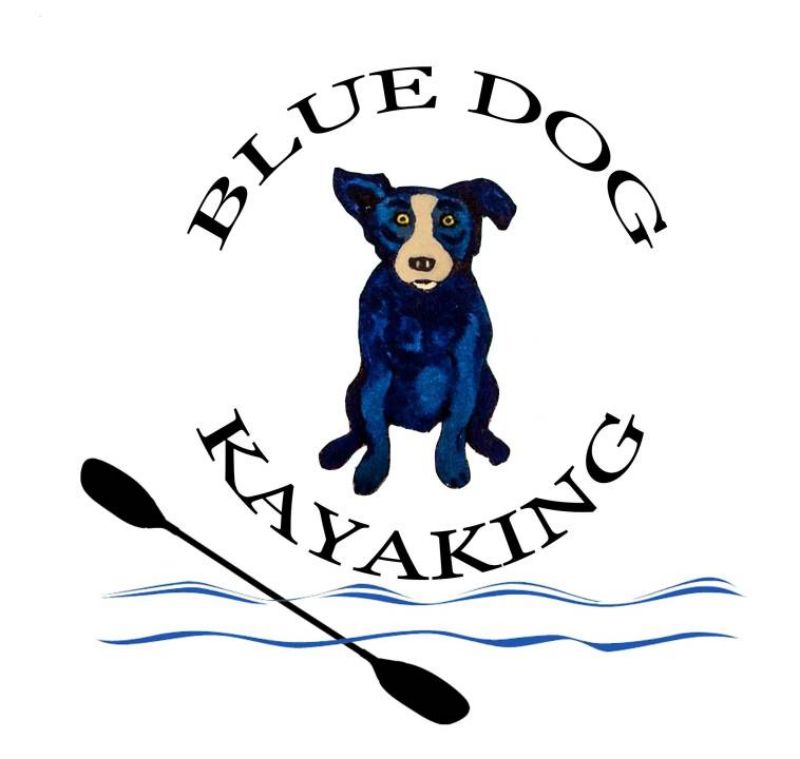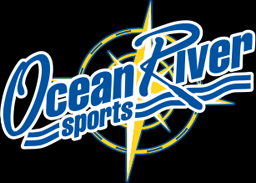 Related Posts
December 2023 | November 2023 | October 2023 | September 2023 | August 2023 | July 2023 | June 2023 | May 2023 | April 2023 | March 2023 | February 2023 | January 2023 | December 2022 | November 2022 | October 2022 | September 2022 | July 2022 | June 2022 | May 2022 | April 2022 |