Introduction
Thanks to those members who contributed photos and materials. After enjoying a SISKA event or paddle, please consider sending a short (100-150 words) summary article; for more information, contact one of us, newsletter@siska.ca . If you would like to start a regular column, please let us know!
Jane Jacek (SISKA president) and Tony Playfair (editor)
---
Convenient Links
PPPS: Siska's Newsletter Archive - Mailchimp or Siska Newsletters Backup
PPPPS: Rocky Point Demolition Blasting Notices
---
Upcoming SISKA Events
Sunday, October 01st, 2023 - 9:15 AM to 3:15 PM - Energizer Paddle - Maple Bay Rowing Club to Genoa Bay one way Paddle
Sunday, October 01st, 2023 - 9:30 AM to 3:00 PM - Energizer Paddle - Island View Beach to D'Arcy Island
Saturday, October 14th, 2023 - 9:30 AM to 3:30 PM - Energizer Paddle - Spirit Bay to Cabin Point Paddle
Sunday, October 15th, 2023 - 9:30 AM to 3:30 PM - Energizer Paddle - Telegraph Cove to Discovery Island Paddle
Thursday, October 19th, 2023 - 9:30 AM to 3:30 PM - Light Paddle - Telegraph Cove to Gordon Point Paddle
Saturday, October 21st, 2023 - 9:30 AM to 3:30 PM - Relaxed Paddle - Spirit Bay to Movie Set Beach (NEW MEMBERS) Paddle
Wednesday, October 25th, 2023 - 7:00 PM to 9:00 PM - Monthly Meeting
Saturday, October 28th, 2023 - 9:30 AM to 3:30 PM - Energizer Paddle - Cadboro Bay to Gonzales Bay Paddle
Sunday, October 29th, 2023 - 9:30 AM to 3:00 PM - Energizer Paddle - Telegraph Cove to Discovery Island
Saturday, November 04th, 2023 - 9:30 AM to 3:30 PM - Energizer Paddle - Brentwood Bay Ferry Wharf to Spectacle Falls and Mackenzie Bight Paddle
Sunday, November 05th, 2023 - 8:30 AM to 2:00 PM - Relaxed Paddle - Telegraph Cove to Margaret Bay
Sunday, November 12th, 2023 - 9:30 AM to 3:30 PM - Relaxed Paddle - Cooper Cove to Sooke Harbour NEW MEMBERS PADDLE Paddle
Sunday, November 19th, 2023 - 9:30 AM to 3:30 PM - Relaxed Paddle - Brentwood Bay Ferry Wharf to Mackenzie Bight Paddle
Wednesday, November 22nd, 2023 - 7:00 PM to 9:00 PM - Monthly Meeting
---
Upcoming NonSISKA Events
---
Siska October General Meeting Agenda
by Fred Pishalski
John Kimantas: Westcoast Publishing and Dream Trips along our Coast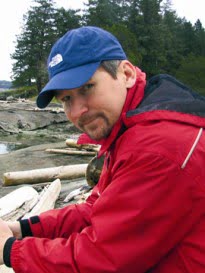 Wednesday, October 25, 2023 @ 7pm
SISKA Monthly Meeting
We are pleased to meet in-person in the Garth Homer Centre's spacious auditorium, 813 Darwin Ave, Victoria.
Please join us to hear John Kimantas: Westcoast Publishing and Dream Trips along our Coast.
John has worked at several daily newspapers across Canada, beginning as a cub reporter in The Pas, Manitoba, in 1986, moving on to become a magazine editor in Ontario and then managing editor at a daily newspaper in Nanaimo. When arriving in BC he was struck by Vancouver Island's natural beauty.
John took an immediate interest in the water and explored the coast by kayak. He was disappointed to see that most road maps did not include many backroads or other info/features that lay close to the water. John struggled to find a comprehensive guide to help access the world of recreational wonderment that he knew Vancouver Island held. As a result, John began to write and research his first book, The Essential Vancouver Island Outdoor Recreation Guide.
Since then, John has founded Wild Coast Publishing and is the author of the BC Coast Explorer Guide Book series, BC coastal recreation map sheets / Deck Topper series and hiking/trail topographic maps. He also helped BC Marine Trails develop their incredible series of online maps.
John will talk on the new resources his company is producing for paddlers plus speak about his "dream trips" and why they remain his favourite destinations when it comes to locations to visit again. There will be copies of Wild Coast publications available for sale at the meeting. Further information is available at https://www.thewildcoast.ca.
Please join us at 7:00pm at the Garth Homer Centre, 813 Darwin Avenue, Victoria BC V8X 2X7.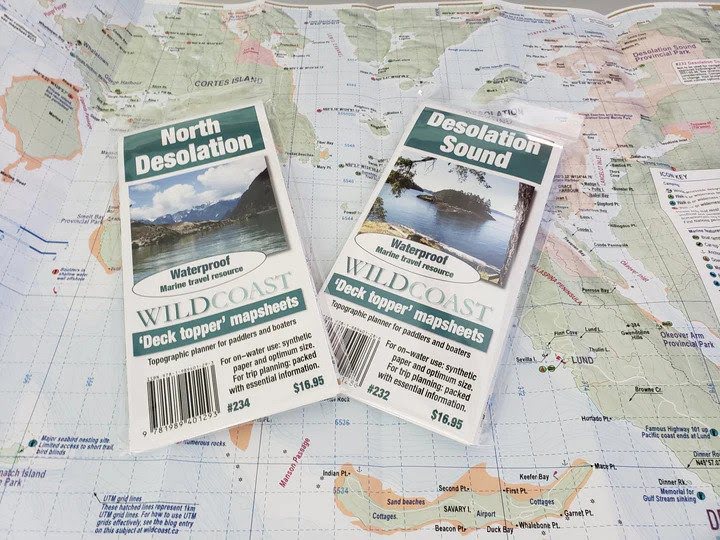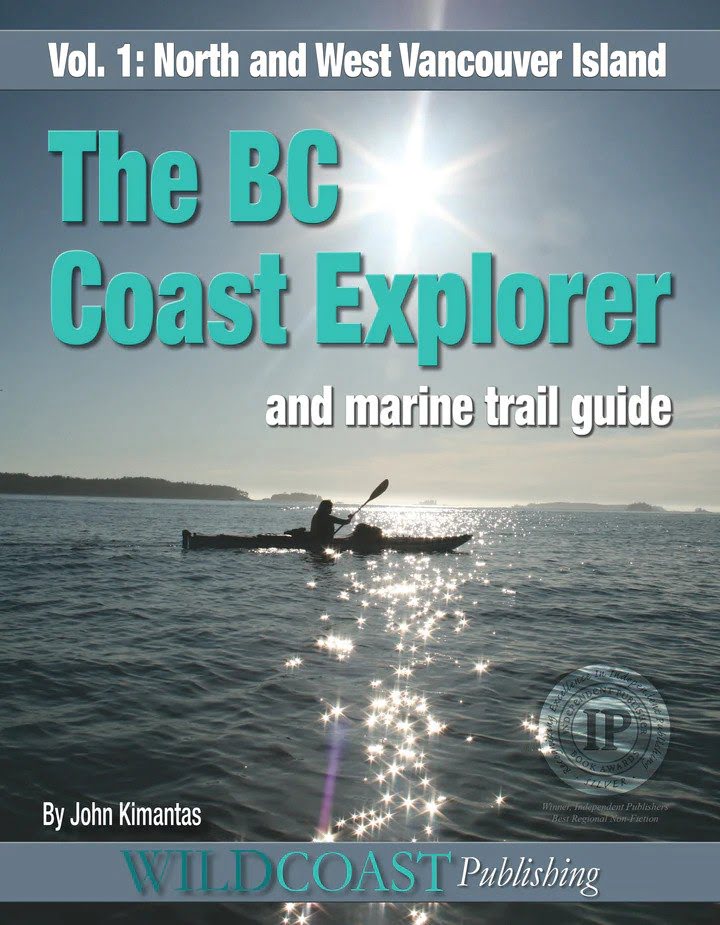 Along with our presentation, we will be having a gear sale. A number of you have gear to sell, but were unable to make the picnic/gear sale, so this is your opportunity.
Come at 6pm and choose one of the tables set up. All must be wrapped by 7pm, for the start our meeting.
---
SISKA Picnic Report
by Jane Jacek
Saturday September 16
We were blessed with sunshine and warm weather for this year's picnic, Approximately 75 people attended.
The gear swap was once again busy, with a wide range of gear exchanging hands as well as a few kayaks. Socializing was also a key focus.
Members also appreciated the opportunity to have their kayak deck lines reinforced. Thank you Andrew Cusack for this.
I wish to also thank Jennifer Sutton for the snacks and beverages, and Gary Jacek for helping with the set up and take down. And thanks to all three for help throughout the event.
Stellar Kayaks also joined us to give our members the opportunity to check out their kayaks and there was also the opportunity to do short demos.
After lunch a group of 10 paddlers circumnavigated Cadboro Bay. A beautiful day to be on the water, and a chance for a few to try out their new to them kayaks.
One of the paddlers shared the following:
"I really enjoyed the paddle yesterday! What a great club we have!"
Members are what make a club, so thank you to all members who made this the enjoyable event it was.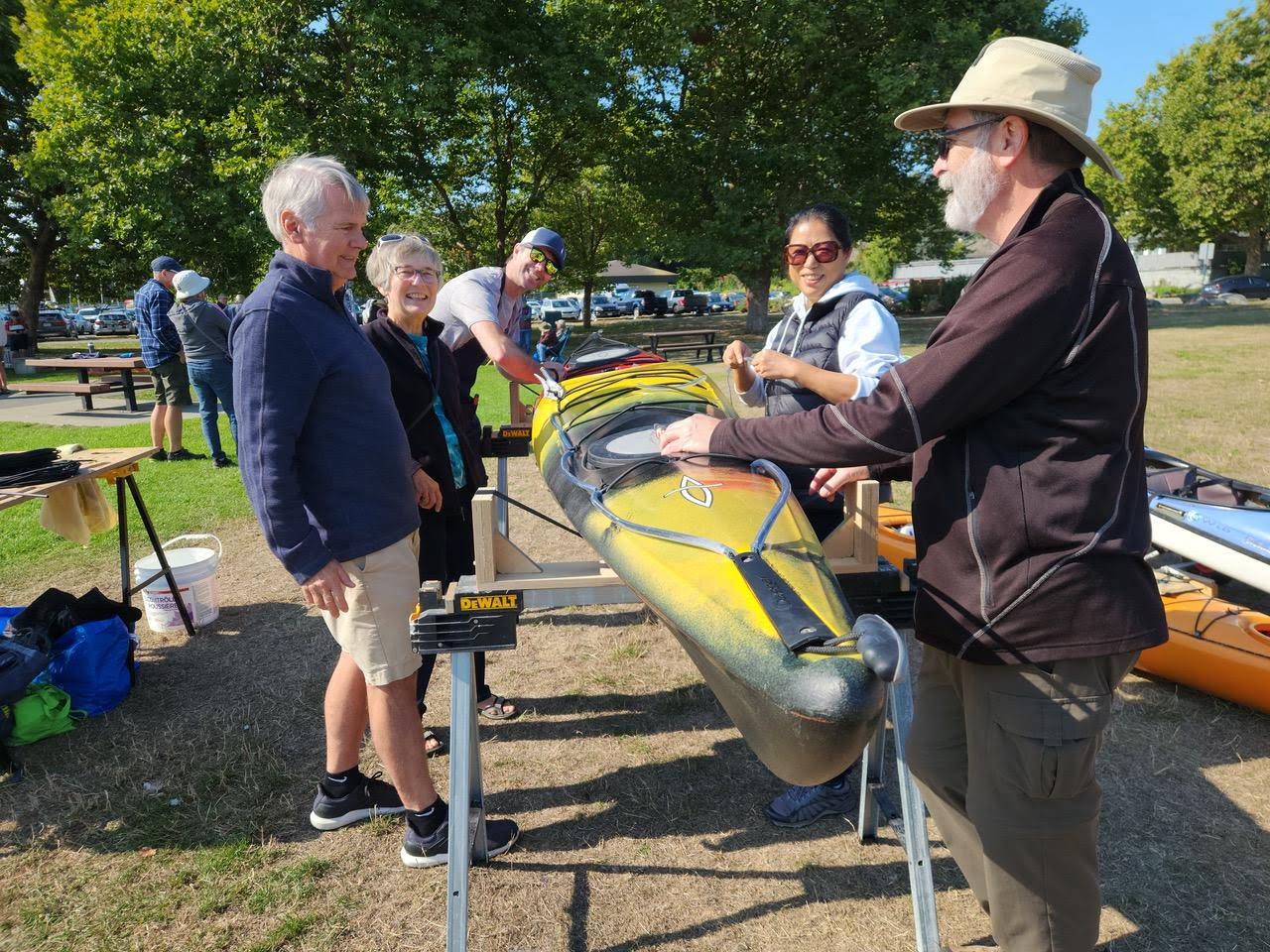 ---
The Best Part of SISKA
by Gary Jacek
A short time ago I chanced to meet Gary Allen and Glynis Newman - two of SISKA's founders. Both were surprised and delighted at how SISKA has grown and developed. But I am not surprised at all.
From the start, Gary and Glynis made it clear that SISKA must be volunteer driven, with many hands moving the club forward. Early on, I volunteered as the first off-water events coordinator. Later I became your first librarian and tried to make it easy to know what was on the shelf and how to get hold of it. Now I've been the paddle coordinator for a few years.
All of these roles have one thing in common. I took them on knowing very little about what was needed. And so I learned.
Volunteering is the best part of SISKA. It is your chance to take something on and grow into the role.
Try it, you like it!
ps. I'm told we are looking for an inexperienced Chief Elf.
---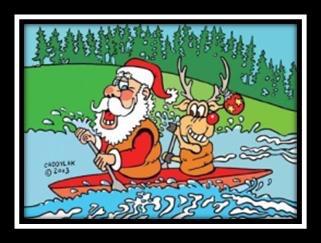 Christmas Party
by Jennie Sutton
Looking For -
An organized and enthusiastic individual to take on the "Chief Elf" or Chairperson position of the December Annual Christmas Party. It is an amazingly fun job working with a committee of crazy, creative volunteers and liaising with the RVYC staff. There is some detail planning involved which usually starts in September. There will be a complete handover given.
Please contact Jennie Sutton if you have any questions about the position at jlsutton50@gmail.com
---
Siska Organized Trip Reports

2nd Annual SISKA Easy Peasy Campout 2023
by BJ Porter
Wallace Island, September 8, 9, 10
Six campers took part in this multi-day kayak camping excursion: Danielle Boisvert, Michael Hayden, Serge Linarello, Evon Soong, Rod Stiebel, and BJ Porter.
After launching from Hudson Point, we camped at Conover Cover where the large grassy areas affords multiple tent sites. It was busier than last year, with kayakers both nights and a (somewhat noisy) group of boaters on the first night.
On the first day we just paddled across to Wallace and set up camp, enjoyed a short walk to the south end of the island, and shared a potluck meal. On the second day we hiked the length of the island in the morning as both east and west launches from Wallace were muddy. In the afternoon we paddled north on the west side of Wallace and then the east side of the Secretary Islands, heading around the outside of Jackscrew Island to see the totems and sculptures.
Some of the totems have been refreshed and some new sculptures added, particularly on the SOUTH side of the island in a small bay that is easy to miss if you think all the installations are on the west shore.
On the last day, we opted to explore the east side of Wallace and then cross to the lovely beach near the north end of Saltspring. There are some prominent No Trespassing signs at the high tide line but I assured paddlers that we were indeed free to land. We respectfully gave a person working at the north end of the beach a wide berth.
We had splendid, perfect weather for camping with sun and virtually no wind, until (as usual) a southerly of about 7 knots made our return to Hudson Point a bit of a challenge. Although the Easy Peasy paddles are supposed to conform to Relaxed Paddle criteria, conditions were a little more lively than expected!
My only disappointment is that so many individuals, having left their name on the manifest for months since my "Save The Date" e-mail of June 14th, cancelled in the last few days. At that point it is too late to expect people to undertake a multi-day campout at short notice. Between 4 and 6 paddlers would have appreciated this experience but were denied the chance.
I sincerely hope that I hope that SISKA can offer this much appreciated paddle again next year.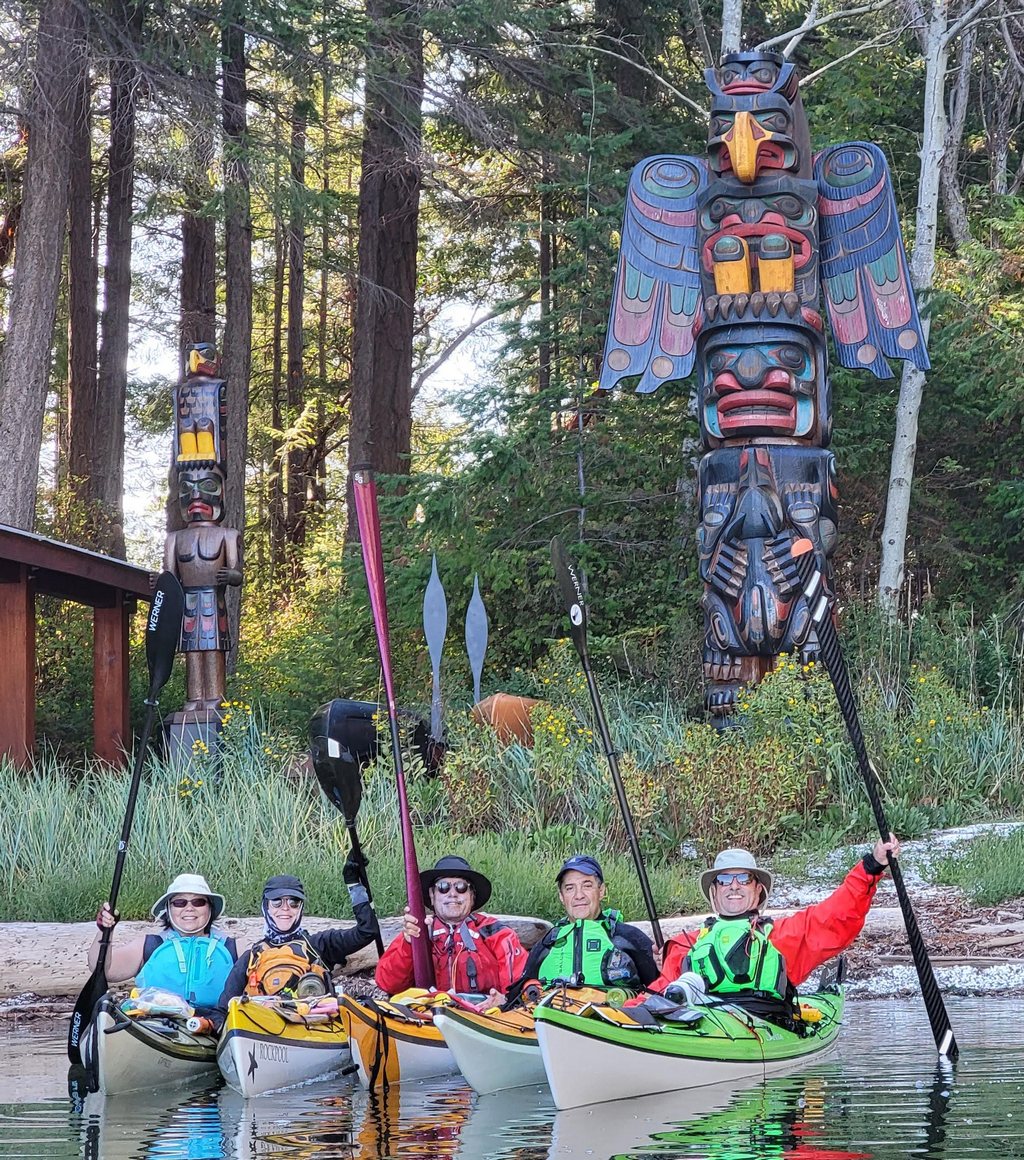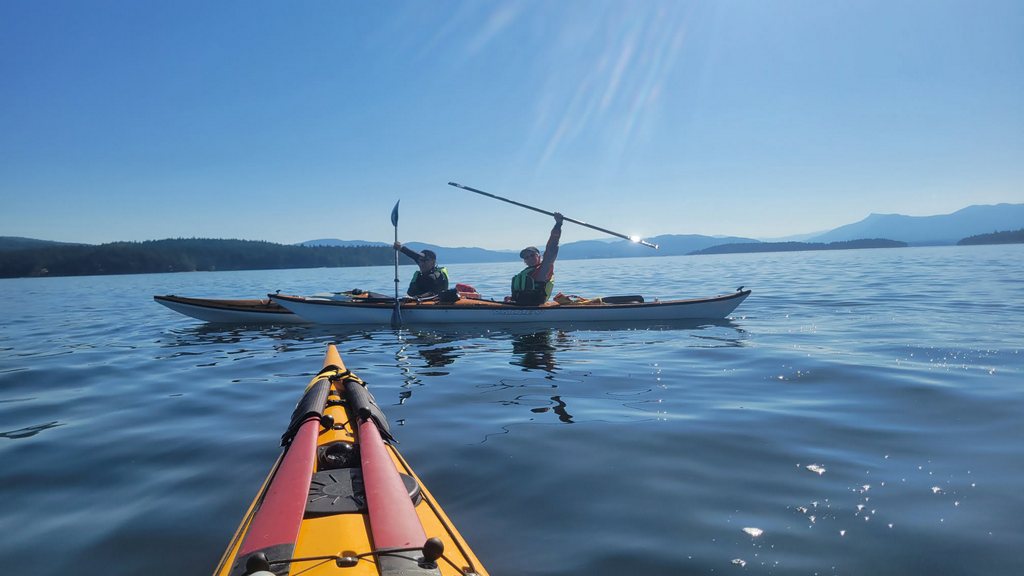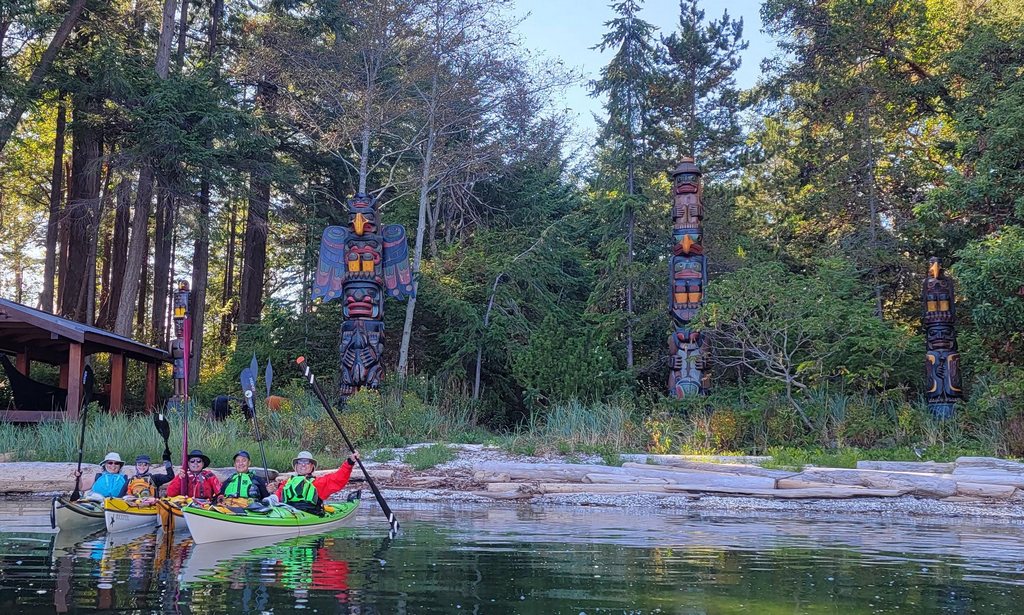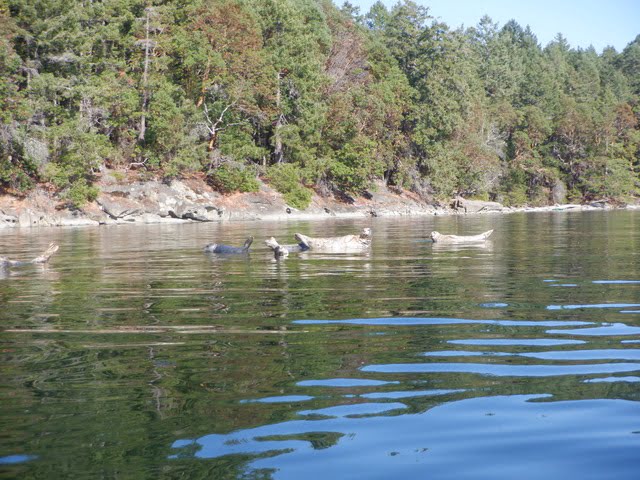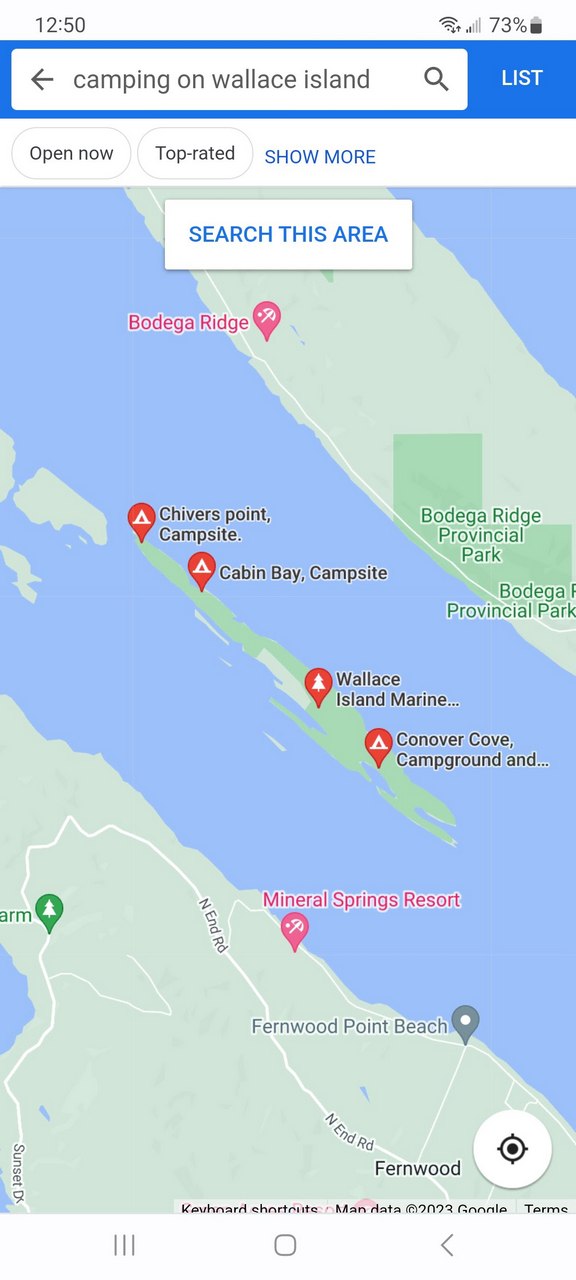 ---
Cole Island Paddle
by Sandy Senyk
"Which way is north?" demanded the Seventh Earl of Cole Island. And when we were properly oriented, Charles Wilton — self-styled earl, resident caretaker and colourful tour guide — began our visit to the national historic site at Cole Island, at the top of Esquimalt Harbour.
We were seven SISKA members on an Energizer paddle around the harbour on Labour Day Sunday and the loop included a stop at Cole Island, where conservationists have been busy restoring the old munitions warehouses first built by the Royal Navy in the 1800s. We clambered out of our kayaks at the floating dock, tied them up and then mounted the wooden walkway, where Charles was waiting with a history lesson.
Britain was engaged in the Crimean war with Russia in the 1850s and cast a nervous look at Russian ambitions on the Pacific Coast, he recalled, so it kept well-armed naval vessels here. Cole Island — first called Magazine Island — was where the navy stored its gunpowder and munitions to supply those ships.
Charles led us through the restored guardhouse, where he has fashioned a cozy home filled with navy memorabilia (and a portrait of Queen Victoria over the mantel). And then it was up the path to one of the brick warehouses. Most of those bricks arrived as ballast aboard ships from Britain, he said. Graffiti by modern vandals have been whitewashed over, but the conservationists carefully left the scribblings of 19th-century sailors. Inside are huge fir roof beams and doors that open onto upper platforms where workers would winch up munitions from moored barges. The roofs were designed to blow straight up, not sideways, if there was an explosion, Charles said.
It was an hour's visit jam-packed with details, and Charles seems to know them all! Better yet, he is happy to welcome future SISKA visitors.
Then it was back into our kayaks to head for lunch and the last leg back to Fleming Beach. Conditions had been calm throughout the paddle, but blew up into the 15-knot range for a lumpy Energizer return!
Photos by Tracy Eeftink. 1. Charles Wilton (centre left) describes the building of munitions magazines for visiting SISKA paddlers. 2. Visitors can inspect the brick archways that support the munitions warehouses.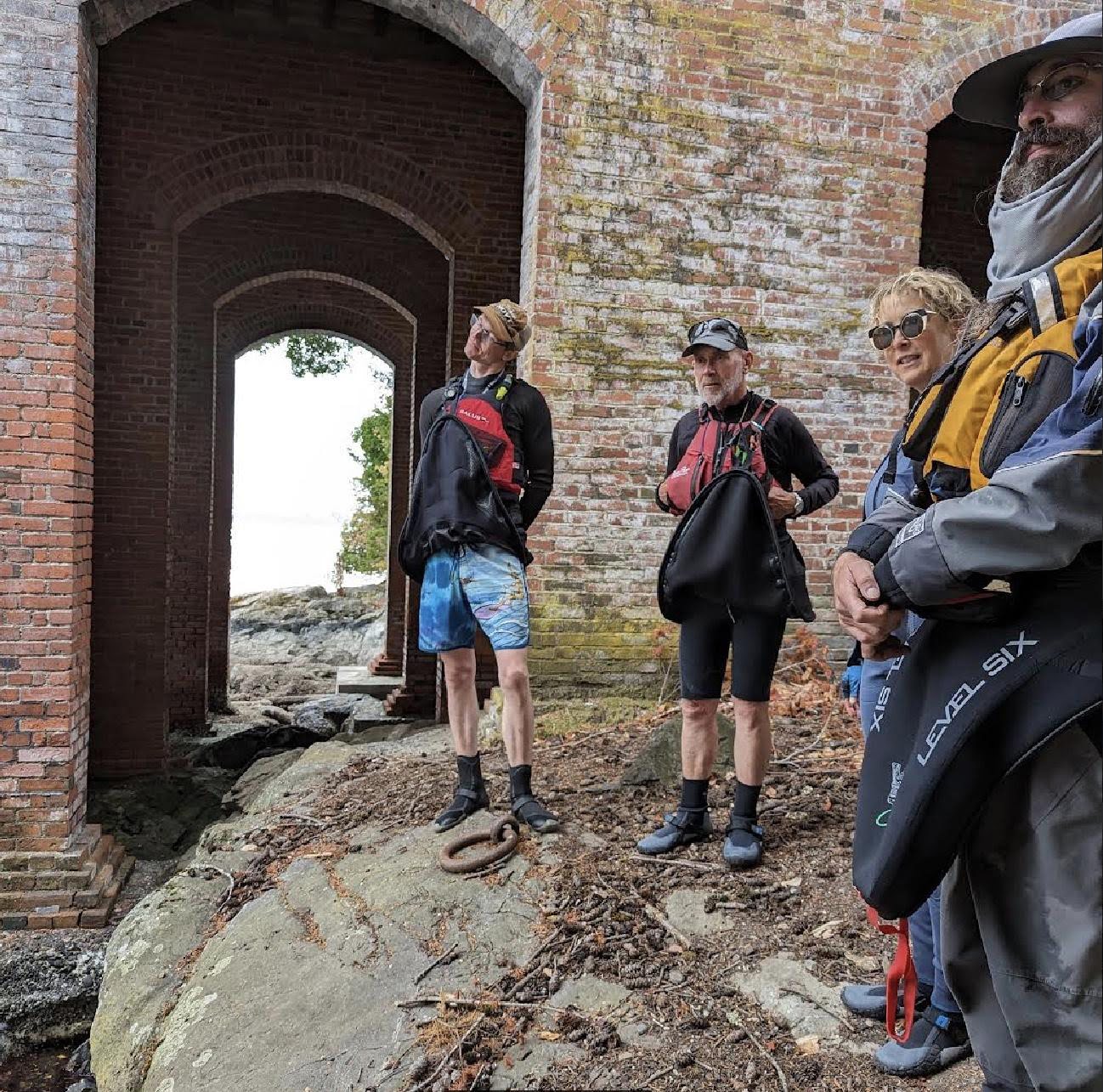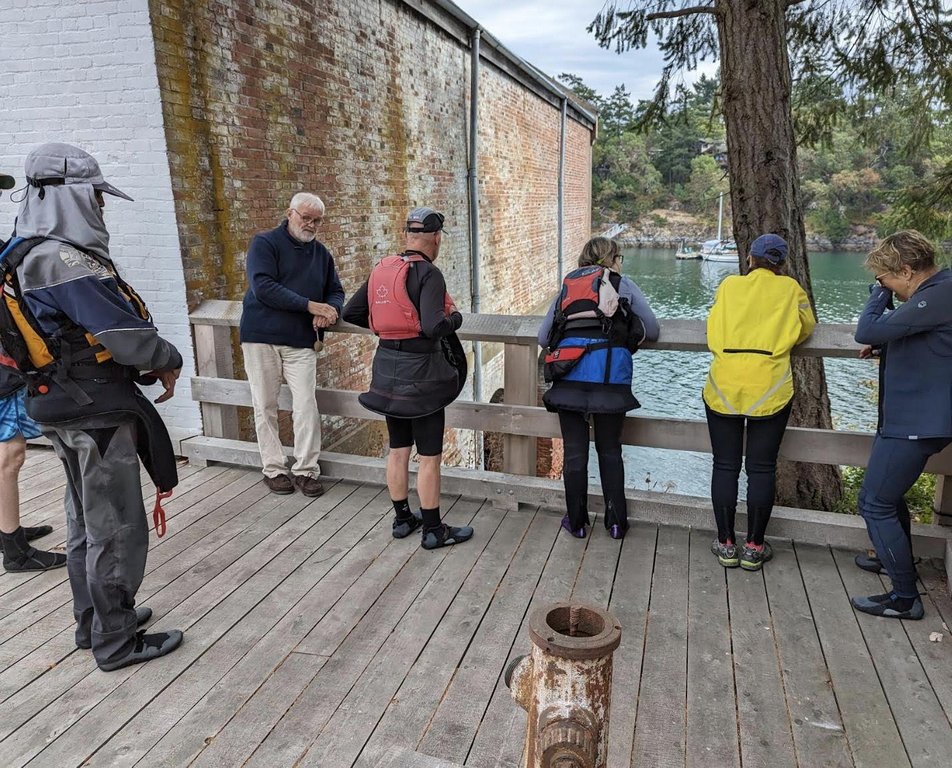 ---
Lose yourself in the Broken Group
by Tim Frick / Konrad Sechley / Dan Dunaway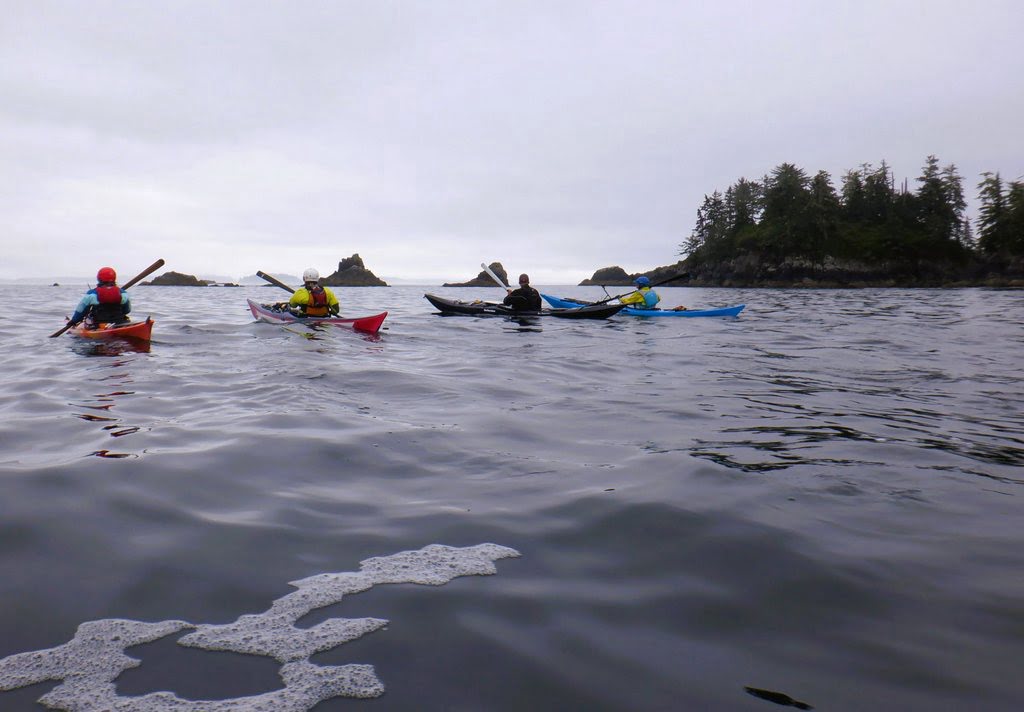 Yes, you can lose yourself in the Broken Group. And you are in fact encouraged to do just that. This year 28 SISKA paddlers did their very best to lose themselves both literally and figuratively.
On the opening night of this 'must do' trip, our SISKA navigational guru noted that when in the Broken Islands you might not know where you are, but you're never lost. True, there was a lot of time spent studying the chart and looking around to figure exactly where we were, and true, we weren't really lost per se. On the other hand, we did lose ourselves in the beauty of it all - the islands, the landscape, the seascape, the forests and the friendship. We also lost ourselves in the fun of paddling in this most amazing kayaking wonderland. There were also moments of losing touch with the present and immersing ourselves in the culture and history emanating from the powerful First Nations presence in the islands. We lost track of time as we marvelled at the sea life and the antics of the local bears. So yes, we weren't ever lost, but we did lose ourselves in the beauty, the history and the milieu.
If you have been on the trip, you will undoubtedly want to go again to explore new areas and to revisit the wonderful feel of familiar sights. If you haven't been yet, then you must find a way to experience the 5 days of gourmet meals, the incredible paddling destinations, the fascinating presentations and the great camaraderie. The Broken Islands Lodge becomes home and the vast array of islands become a kayak playground, a historical classroom, a geological wonder, and a wildlife delight.
When back at the lodge in the evening you will hear things like 'the Effinghams, or the Pinkertons or the Wouwer walls were spectacular today', or 'did you find the fish traps and canoe runs and the longhouse site?', or 'the whales or the bears were amazing today', or 'those slots and chutes and arches and caves were simply stunning' or 'did you see the sea life along the shore, in the clam gardens, in the lagoons?.
You will be so lost in this magical experience that you might even inadvertently put gravy on your dessert cake instead of chocolate sauce, but eat it and enjoy anyway!
The best way to sum up the experience is with the Tseshaht First Nation saying about the area: "Ahts 7ahts ap shilth" or, "When you're there it is so beautiful you don't want to leave".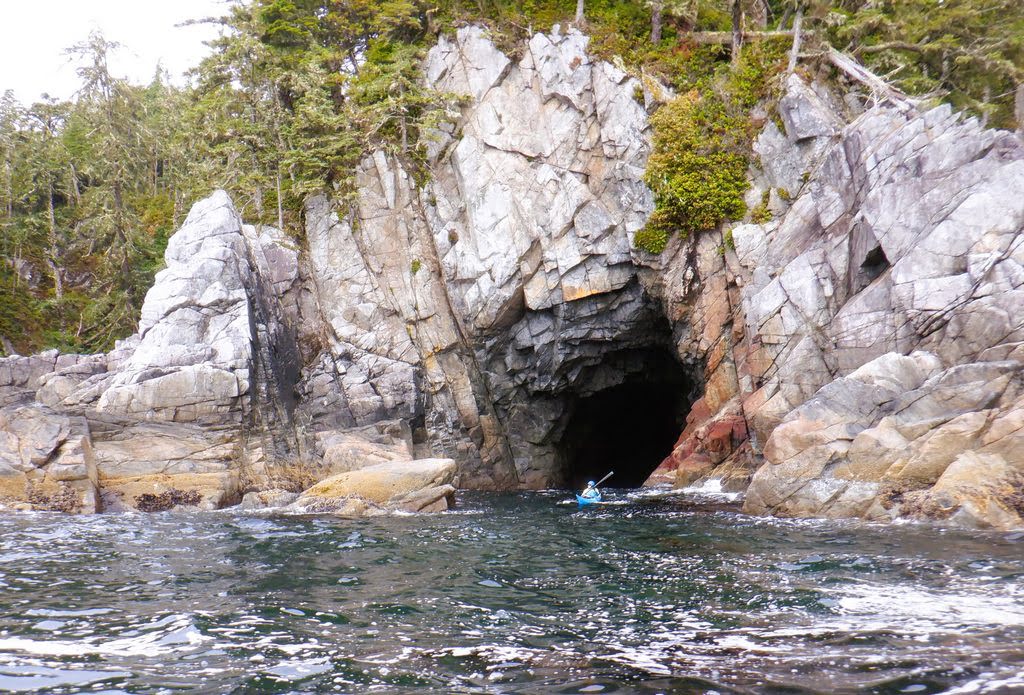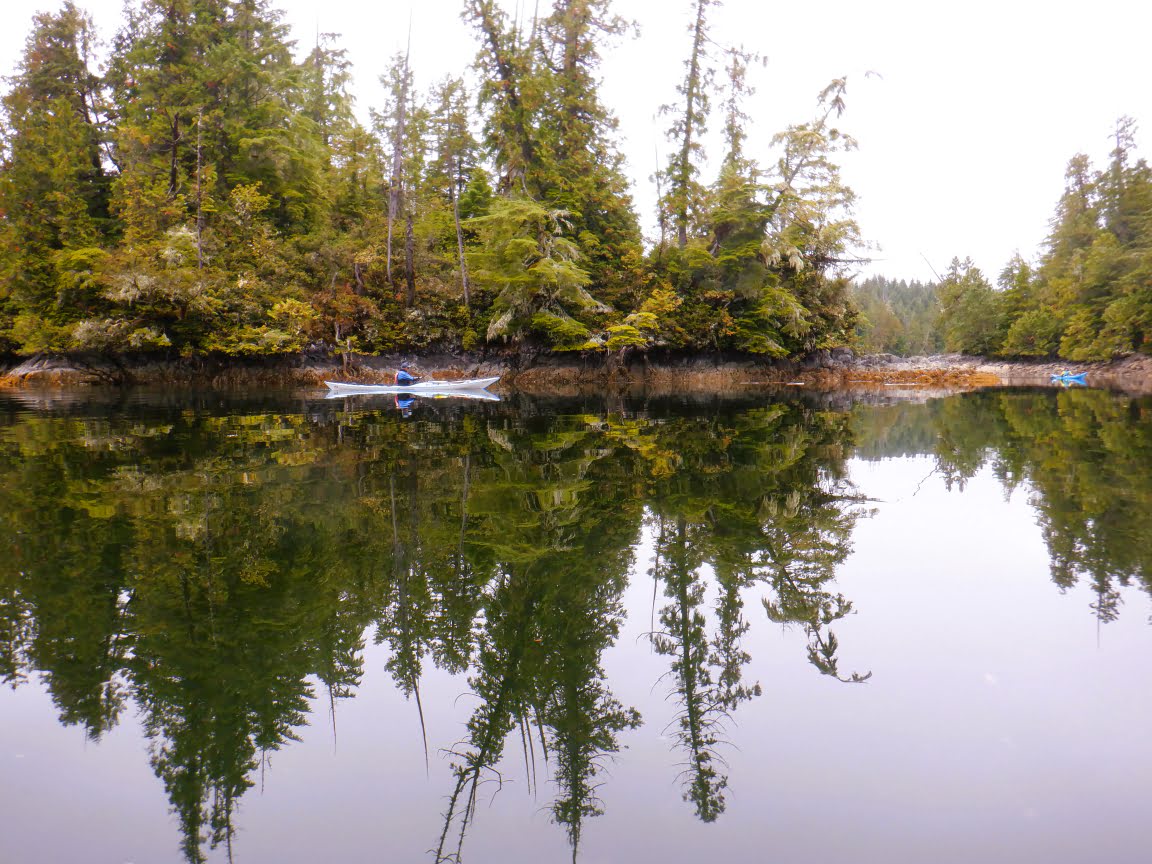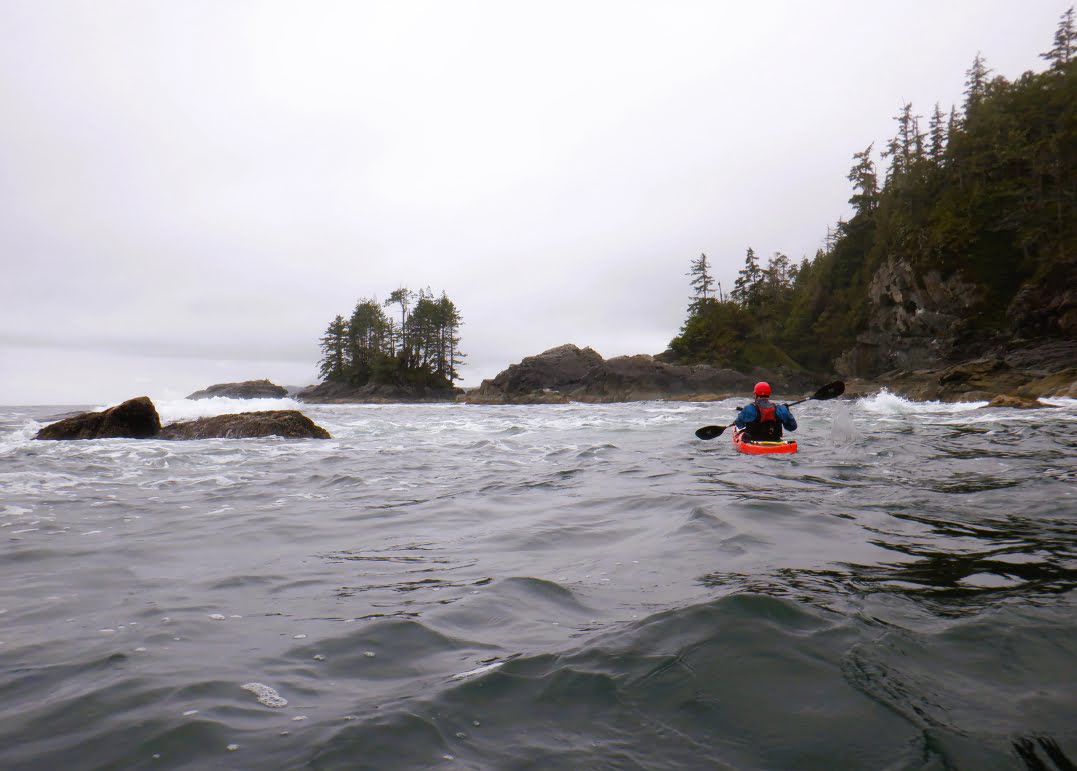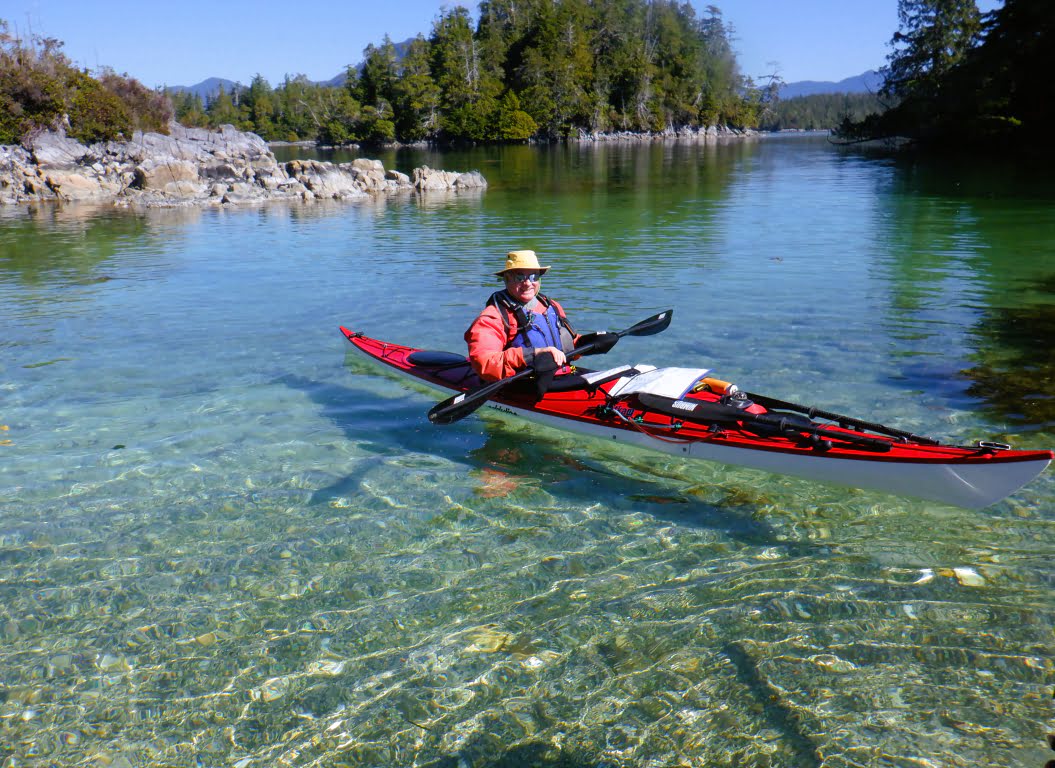 ---
Spirit Bay to Cabin Point
by Anton Cepeliauskas
September 17, 2023
When planning a day on the water it is usually wind, waves and weather that get the final say. In some cases, something else gets the final word: the Canadian Department of National Defence.
This was the case on September 17th for the planned Pedder Bay to Whirl Bay paddle. Upon hearing that the Canadian Navy was conducting both underwater and above-ground demolition exercises in Whirl Bay and surrounding area, we moved our launch point just up the road to Spirit Bay, with our planned route to Cabin Point and back.
The sky was sunny and wind was forecast to be NW 10-15 knots, rising in the afternoon to 15-25. While this outlook would call for caution, especially along the unprotected shoreline towards Cabin Point, we had perfect weather with almost flat-calm sea state and no wind (with the exception of some localized gusts in Becher Bay when we departed). Upon launching, we paddled in a clockwise direction along the shoreling before cutting across Becher Bay towards Creyke Pt via Frazer Island.
Once we reached Creyke Point we had a great time exploring the shoreline towards Cabin Point. Some of our more adventurous paddlers brought their helmets, and enjoyed rock-gardening and noodling close to the rocks. We saw numerous sea lions, and were treated to the sight of two humpback whales meandering slowly before doing their signature 'tail dive' before disappearing from view – always an impressive sight! After a leisurely lunch break at Cabin Point, we headed home. We were then treated to the amazing sight of a pod of Orcas heading right towards us! We stopped paddling and watched in awe as the group travelled slowly by us. And we thought our day couldn't possibly get any better…..
This trip was definitely a 'paddle of the year' candidate - the year isn't quite over, but we all agreed: this trip will be tough to beat.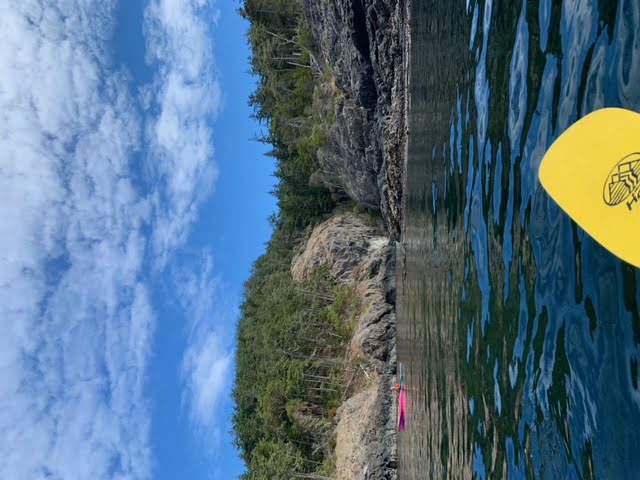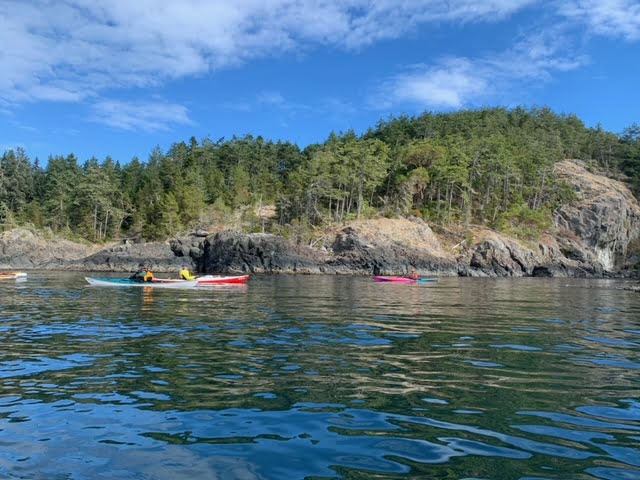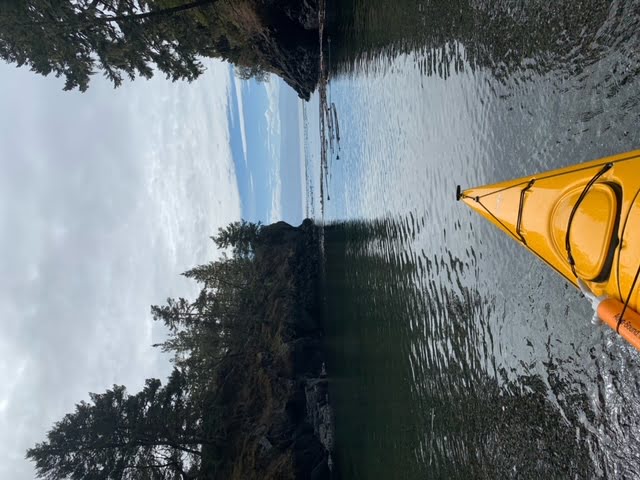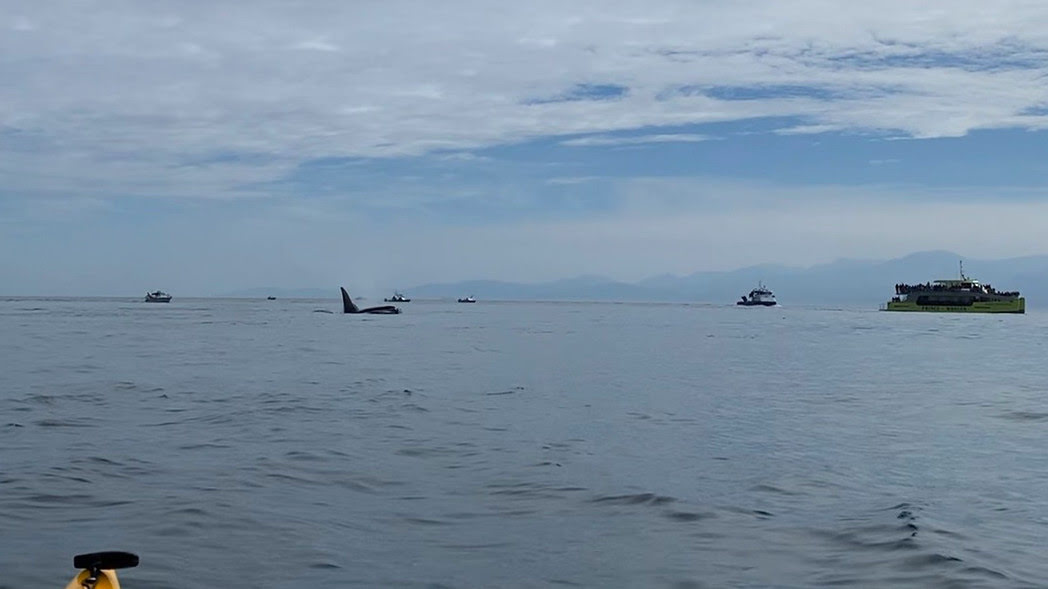 ---
Private Organized Trip Reports

Why Kayaking and Covid Do Not Mix
by Fred Pishalski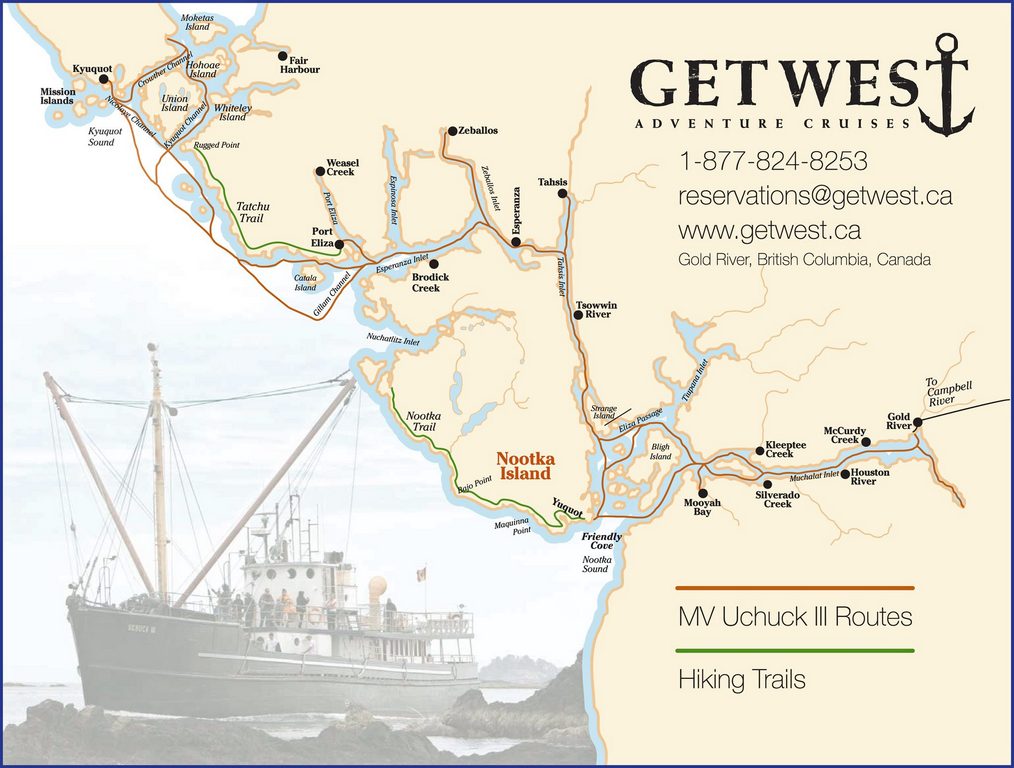 This turned out to be the kayak trip from hell, inviting Covid along for the paddle - not a great idea! There were 8 of us originally; one dropped out a couple of weeks prior, one dropped out the night before because he was feeling ill (later tested negative), one showed up with his driver at the meeting spot in Ladysmith after testing positive that morning. He stayed with the group, wore an n95 mask, and took the Uchuck III from Gold River to Kyuquot, where the rest of us got off and paddled to Spring Island. He was feeling sick so was allowed to sleep on the Uchuck that night. He came back with the boat to Gold River, overnighted and drove home the next day. I woke up the third day of the trip on the island very ill. I was able to contact Nootka Air (via our InReach satellite communications system) and they picked me up off the beach and flew me back to Gold River. I drove home that afternoon/night, which in retrospect was not the smartest thing to do because of how ill I was.
There were a series of weather systems with high winds and rain scheduled to hit the Kyuquot area for a number of days starting the evening of the day I got sick. It was the right call to charter Nootka Air (regardless of the cost) as I did not want to be laying in my sleeping bag as the wind/rain battered the tent for days on end while feeling like death warmed over.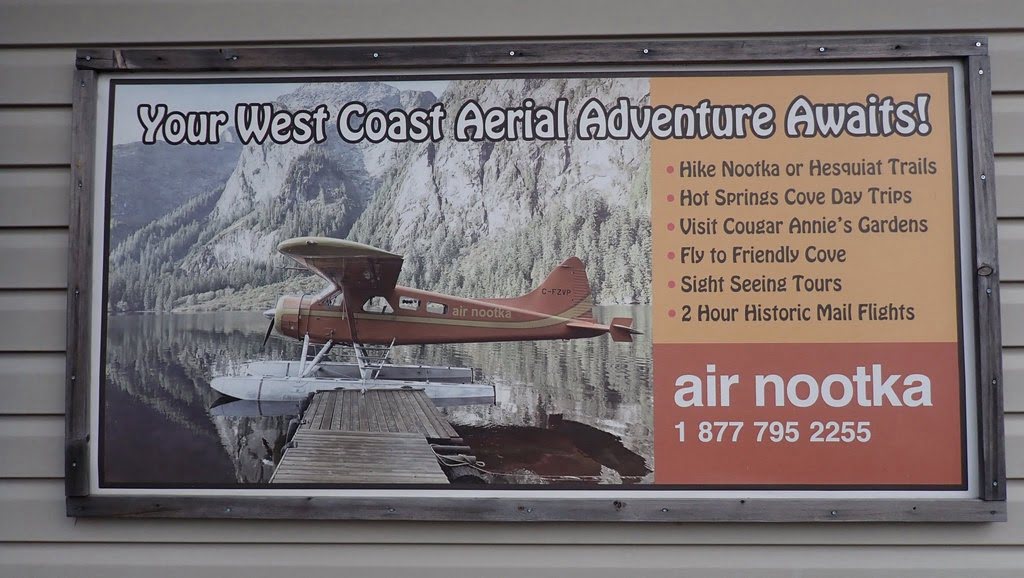 Upon arriving home, feeling and looking awful, Gail placed me in isolation upstairs in the guest bedroom. I tested positive the next morning, did so for the next 10 days and was contagious for much of that time. As a result of being immunocompromised with moderate Covid symptom, I went through the BC Covid program and was prescribed an antiviral drug.
Four of the original group remained on Spring Island for the rest of the week, which is one of the loveliest paddling areas along our coast. At the end of their trip, they tested themselves while heading south in Campbell River where 3 were negative and one, who turned out to be asymptomatic, tested positive. One of the group who even tho had tested negative headed to Salt Spring Island where he stayed for a week before heading home to Vancouver because of his concern over passing any illness on to his wife who has health issues.
In retrospect, the group should have made a better decision when meeting in Ladysmith, pertaining to the paddler who had tested positive and others who may have been already exposed. As a result of this experience, the Catfish Group has now established strict Covid or flu protocols which will be followed in the future. This has been a learning experience for all of us.
I really want to thank Nootka Air https://www.airnootka.com, Uchuck III (https://getwest.ca), West Coast Expeditions (https://westcoastexpeditions.com), and the people from Kyuquot/Checlesent First Nations Kyuquot as they all had a hand in helping us along on this trip.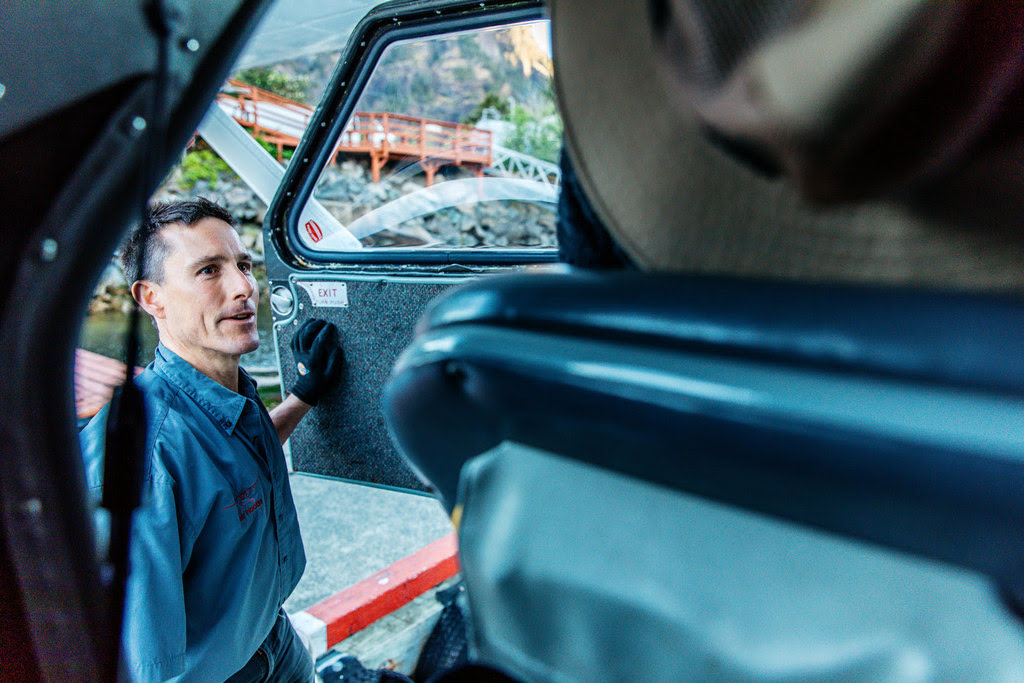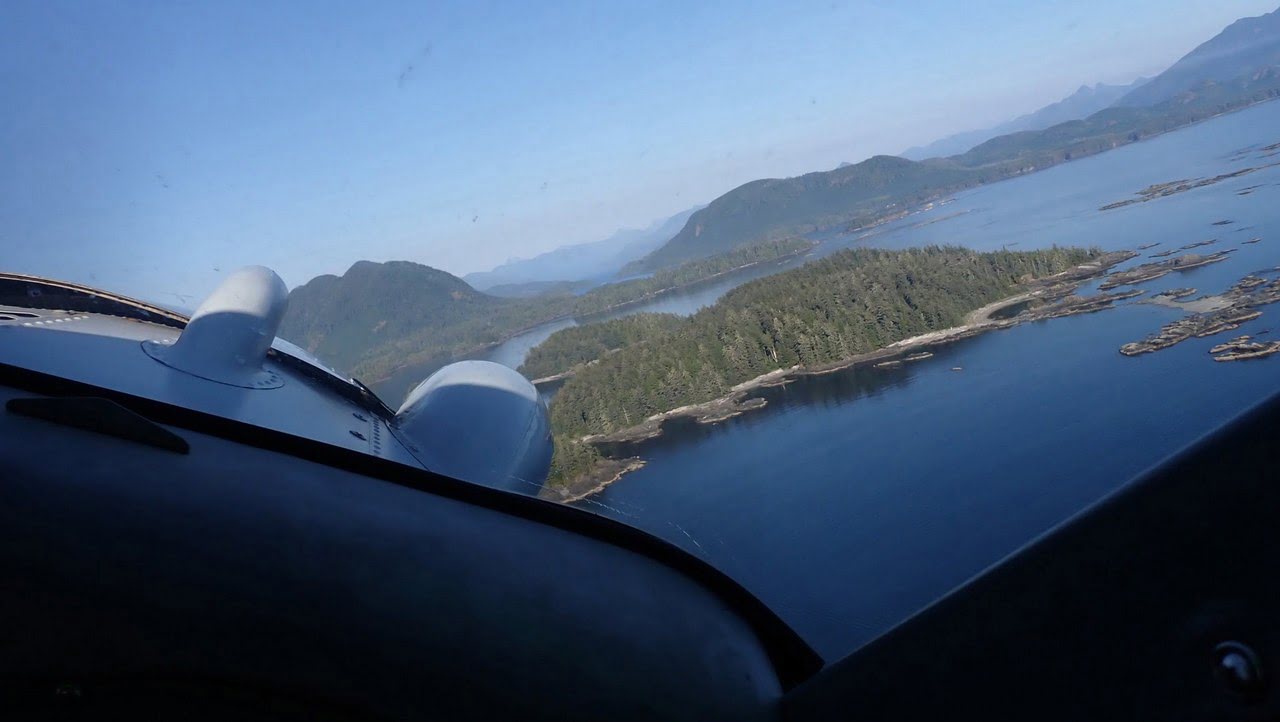 ---
Department of National Defence (DND) Bentinck Island Blasting Update
by Jennie Sutton
From now until December 14th here is to be no kayaking or boating within the "no go" area from Pedder Bay to past Whirl Bay, including Race Rocks, as shown by the large circle on our marine charts.
The reason for such a long blasting period is because during the summer with the extreme fire danger no blasting could be done and now DND needs to catch up!
If you have any questions for DND, you can phone their Duty Officer at Range Control at 250-508-3577, 250-391-4184 or 250-978-3778.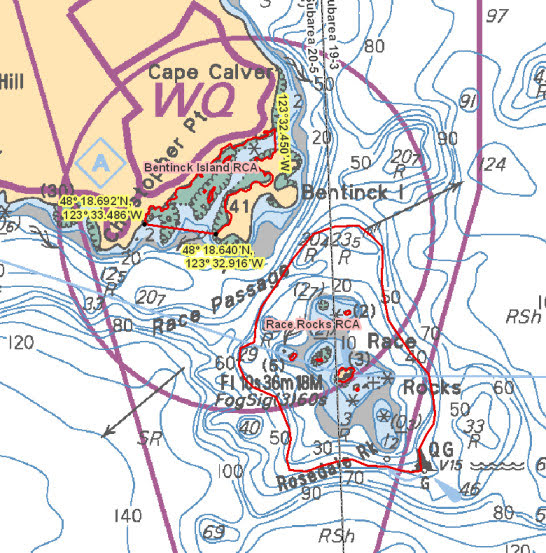 ---
Tips From The Trips
by Debbie Leach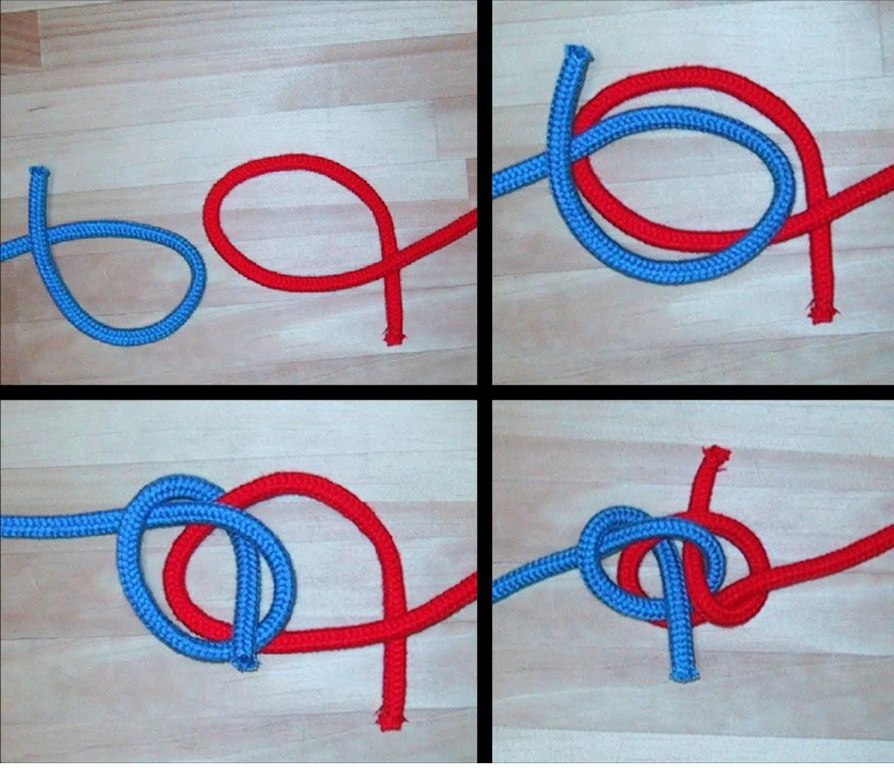 SHOCKING? The best knot to use for bungee cords on your kayak is a Zeppelin Bend. Who knew?…Lynn Beak.
---
Camp Cookery
by Lynn Baier
Cold Soaked Pasta Salad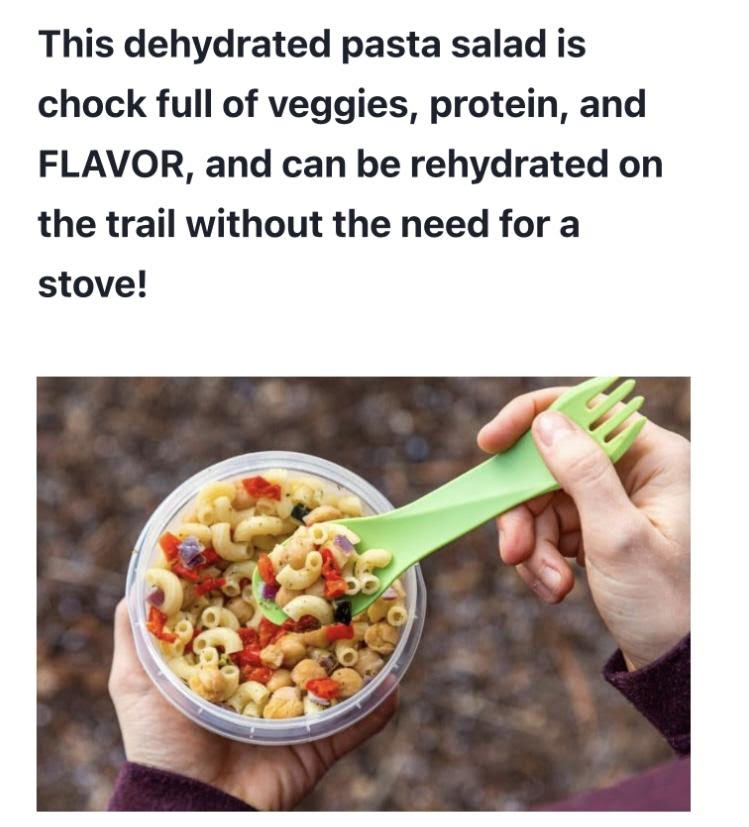 https://www.freshoffthegrid.com/cold-soaked-pasta-salad/
---
From our Librarian
by Heather Jones
Just a reminder: Now that the rains have begun and we have more time indoors, please take a little time to check out your bookshelves, under your bed, or tucked in a box somewhere?…there may be a book or two with "Property of Siska" stamped on the front cover. Our library is missing many books and if you could bring back books that you may have had for 2 months, or two years….I would love to have them back in our library!
Sincerely, Heather Jones
---
BC Marine Trails News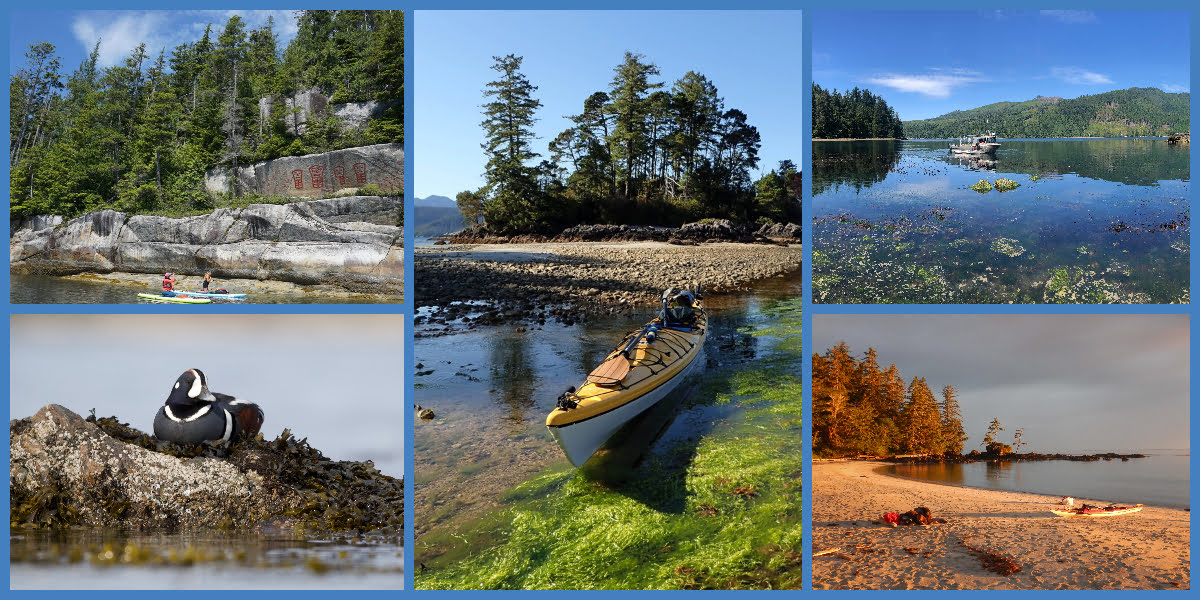 ---
Marine Education and Research Society
It is back-to-school season and our latest newsletter is on-theme with opportunities to learn, participate in citizen science, and the reason boaters should think of our waters as "school zones". Read on to find out more…Newsletter
---
To Buy or Sell
For Sale:
I am looking to sell my Atlantis Spartan VI Kayak. This kayak has a skeg.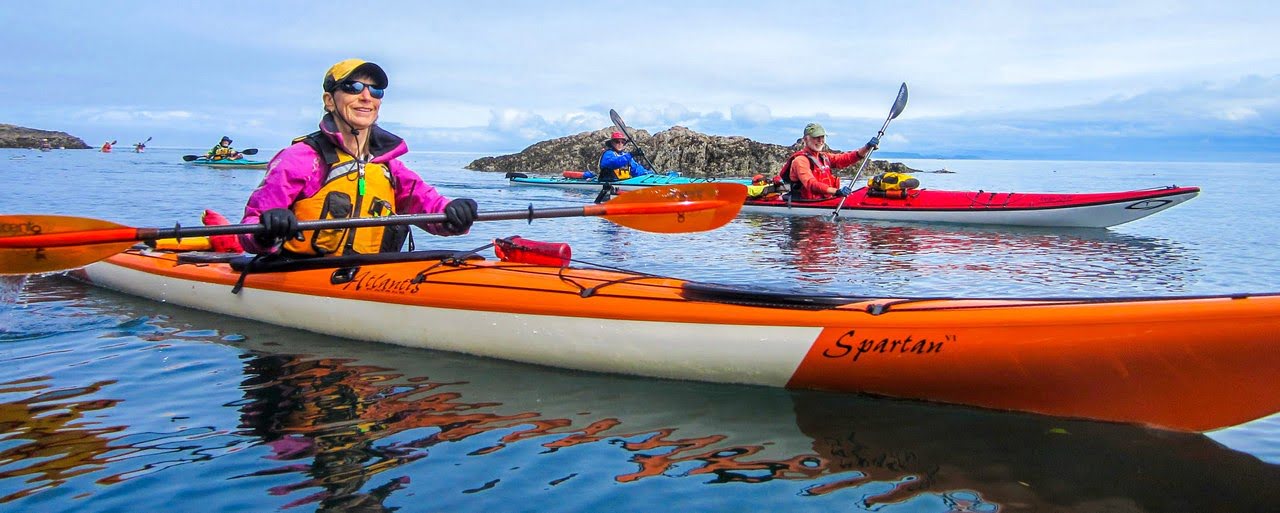 Asking Price: $1,400
Description (by Atlantis Kayaks)
Designed to excel in advanced conditions, every curve, nuance, and subtlety of the SpartanVI was put there for a purpose. Its muscular profile communicates its ability to react explosively to paddle strokes, enabling the paddler to easily command swift and effective movements in difficult waters.
From its avant-garde hull concept to its advanced materials and techniques construction, the SpartanVI was designed to contain only the purest essentials of kayaking. Within this powerful persona lie the qualities that make the SpartanVI a true warrior on the water.
Features
KEVLAR reinforced hull in high impact/wear areas
Structural reinforced hull in keel and chine areas
Deck reinforcements in critical areas
Full wrap fiberglass inside/ outside seam
Lightweight urethane fiber matrix end pours.
Raknid™ Seat System
Specs
Length: 17' 5"- 5.3m
Beam: 21.25" - 54cm
Depth: 10.5"- 26.7cm
Weight: 52 lbs - 23.6 kg
If interested please contact Gail Miller at (250) 598-7333 or gailmiller@shaw.ca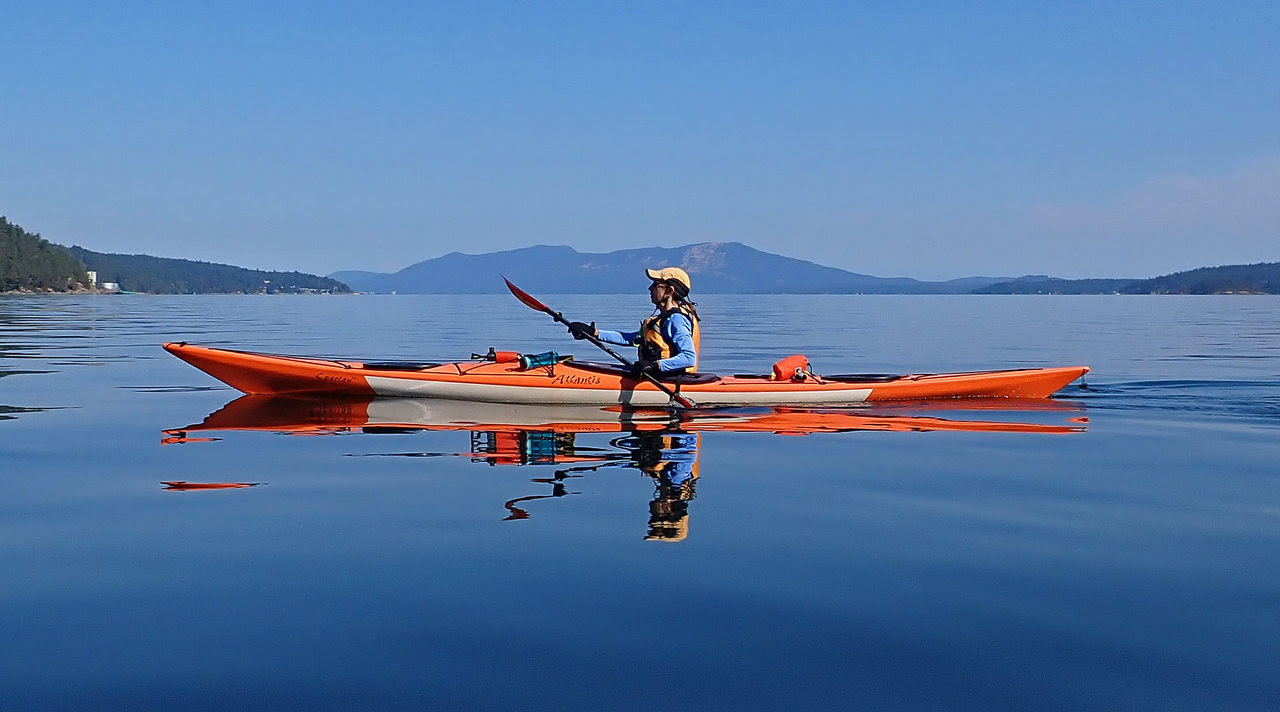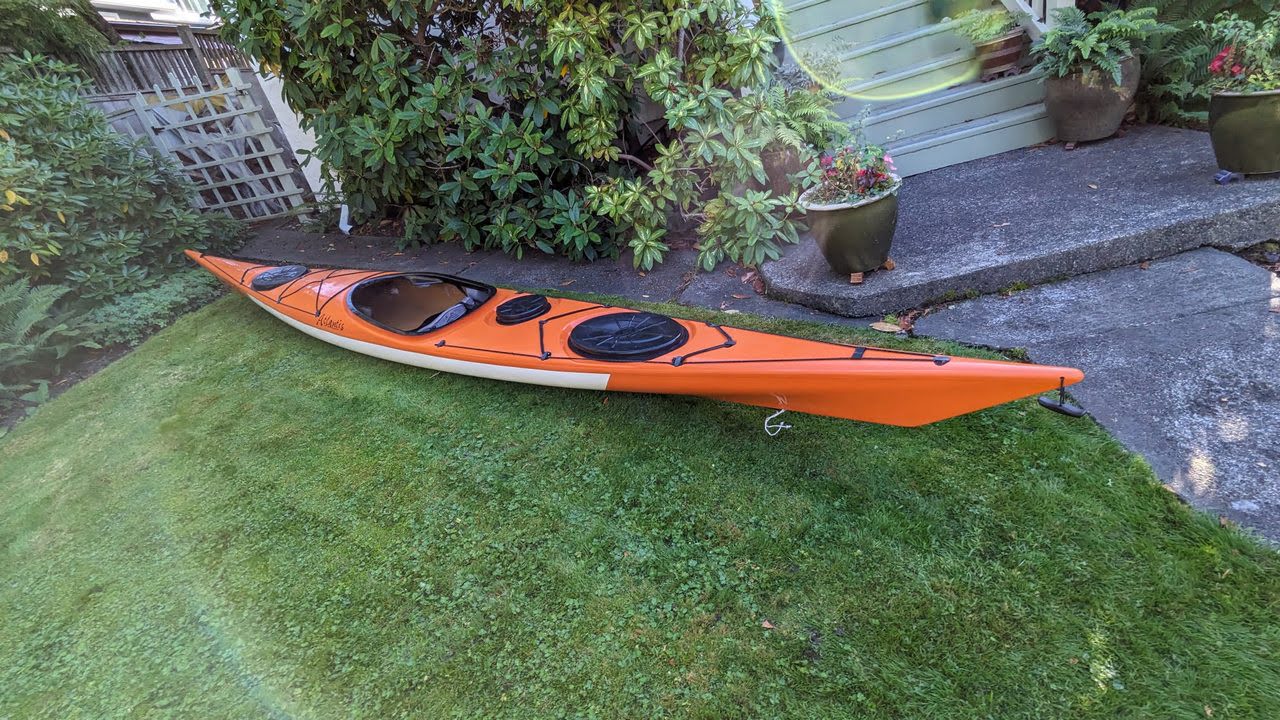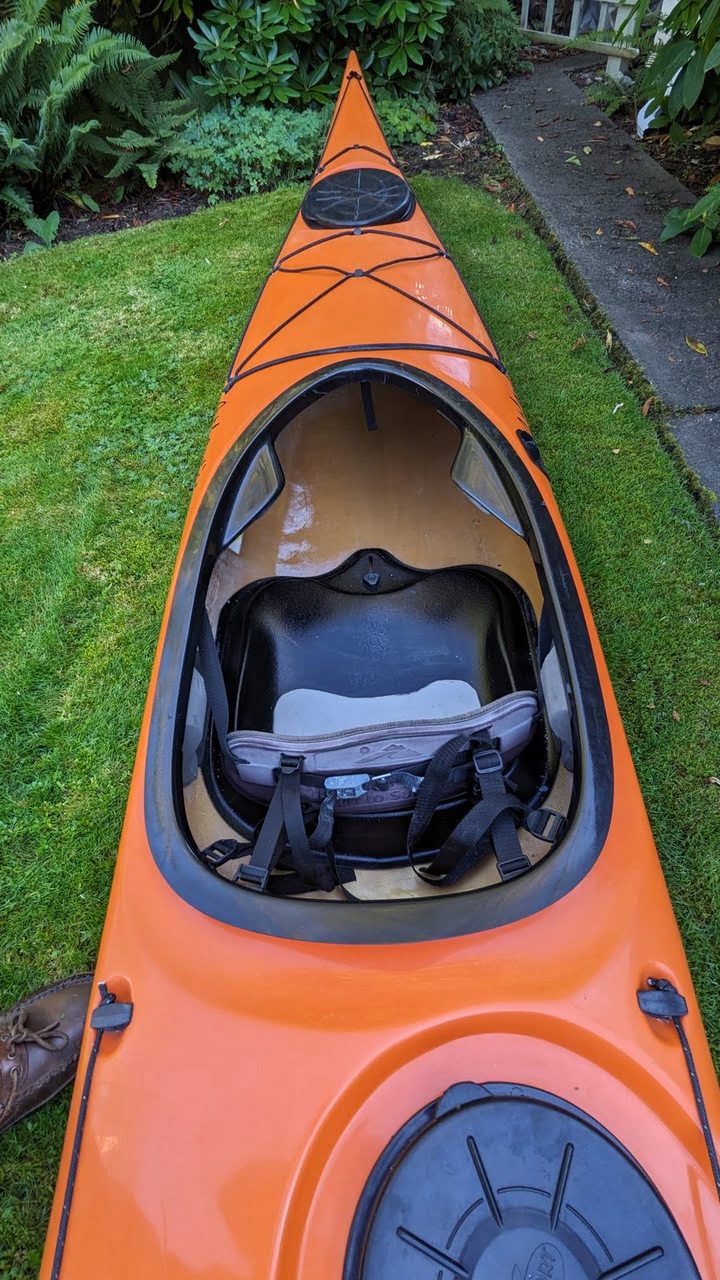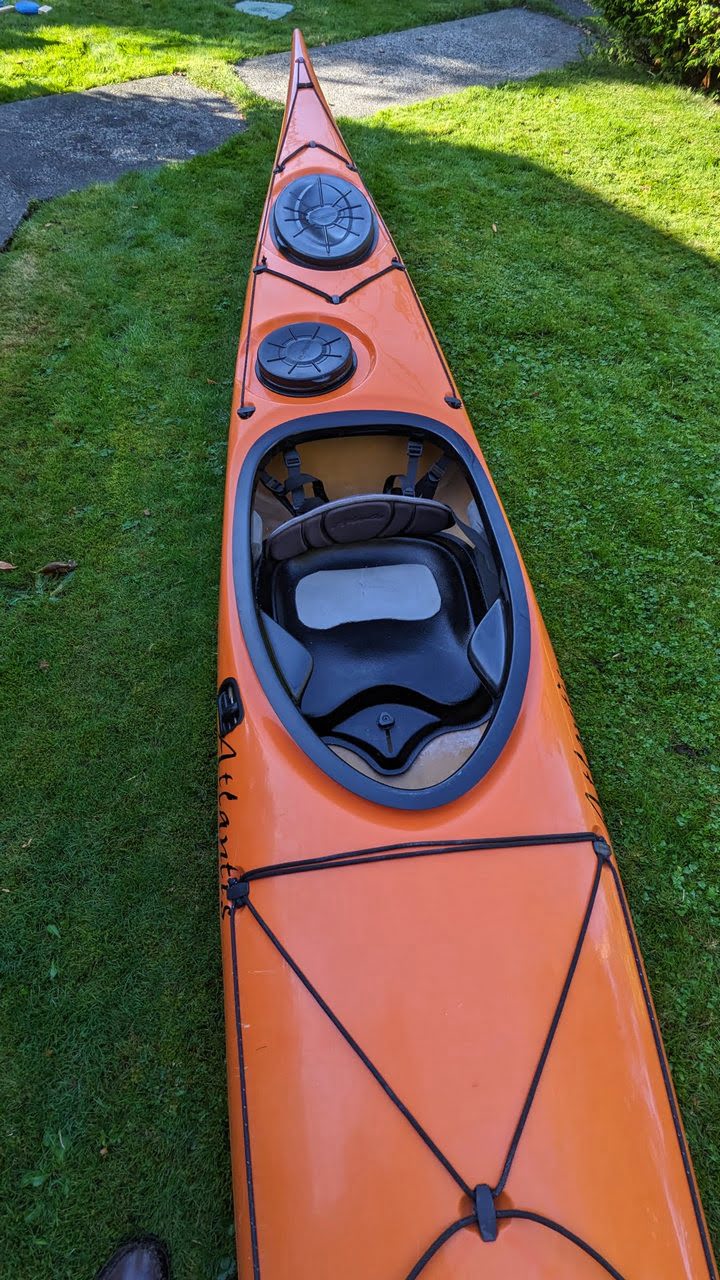 ---
Wanted To Buy:
---
SISKA's Kayak Skills Course Partners
There are some fine discounts available from our kayak skills course partners for SISKA members who sign up for their skills training programs. Have a look HERE
Our partners are: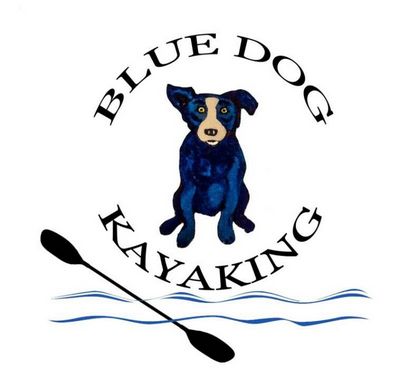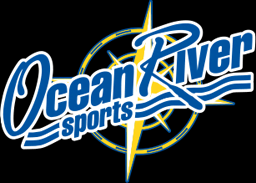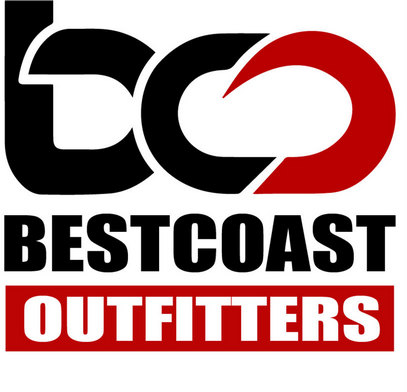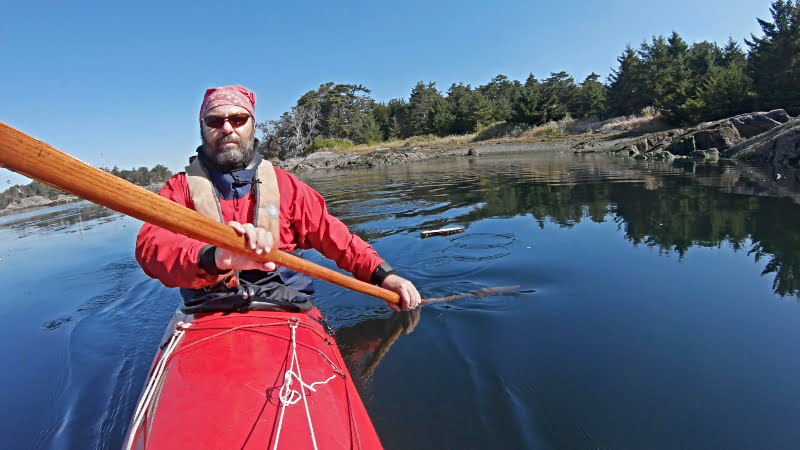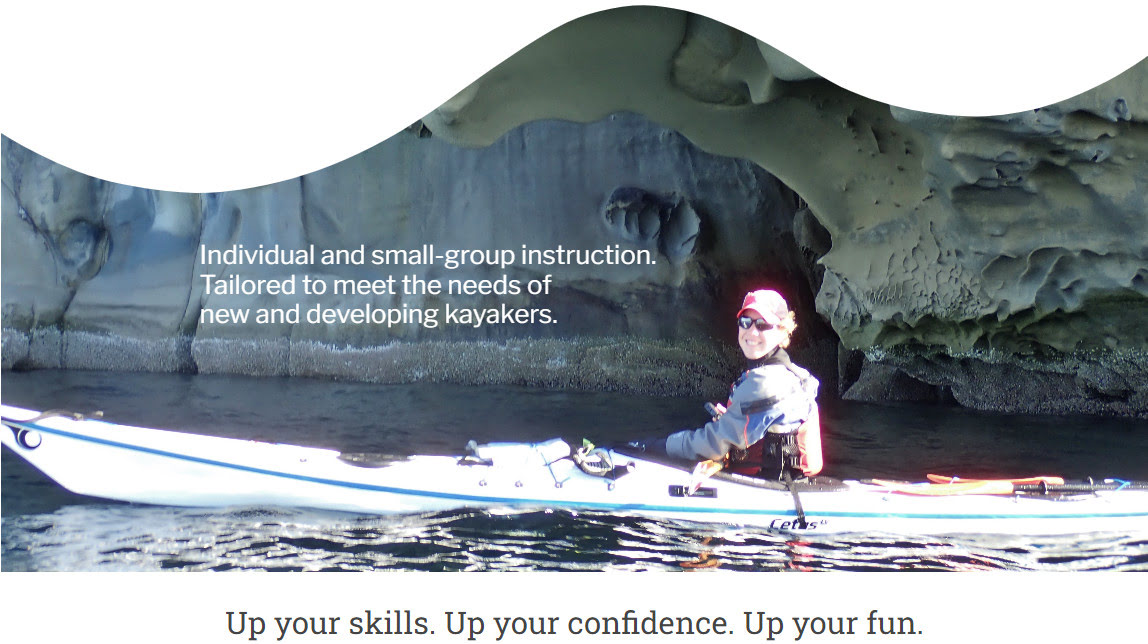 Related Posts
December 2023 | November 2023 | September 2023 | August 2023 | July 2023 | June 2023 | May 2023 | April 2023 | March 2023 | February 2023 | January 2023 | December 2022 | November 2022 | October 2022 | September 2022 | August 2022 | July 2022 | June 2022 | May 2022 | April 2022 |