Introduction
Thanks to those members who contributed photos and materials. After enjoying a SISKA event or paddle, please consider sending a short (100-150 words) summary article; for more information, contact one of us, newsletter@siska.ca . If you would like to start a regular column, please let us know!
Alan Campbell (SISKA president) and Tony Playfair (editor)
---
PS: You can find SISKA on Facebook at this link.
PPS: Siska has it's own Youtube Channel HERE
PPPS: You can find the SISKA newsletter archive HERE
---
Upcoming SISKA Events
Saturday, May 07th, 2022 - 9:00 AM to 11:00 AM - Strokes and Maneuvers Refinement
Saturday, May 07th, 2022 - 9:30 AM to 3:30 PM - Energizer Paddle - Island View Beach to D'Arcy Island Paddle
Saturday, May 07th, 2022 - 9:30 AM to 3:30 PM - Relaxed Paddle - Fleming Beach to Esquimalt Harbour (NEW MEMBERS PADDLE) Paddle
Saturday, May 07th, 2022 - 1:00 PM to 3:00 PM - Self and Assisted Re-Entries
Sunday, May 08th, 2022 - 9:00 AM to 11:00 AM - Strokes and Maneuvers Refinement
Sunday, May 08th, 2022 - 1:00 PM to 3:00 PM - Self and Assisted Re-Entries
Sunday, May 08th, 2022 - 6:30 PM to 8:30 PM - Pool Session
Friday, May 13th, 2022 - 8:30 AM to 12:00 PM - Forward Stroke ain't no Joke
Friday, May 13th, 2022 - 1:00 PM to 4:30 PM - Sit up and Pay Attention
Saturday, May 14th, 2022 - 8:30 AM to 12:00 PM - Pushing the Edge
Saturday, May 14th, 2022 - 1:00 PM to 4:30 PM - Getaway Driver
Sunday, May 22nd, 2022 - 9:30 AM to 3:30 PM - Energizer Paddle - Spirit Bay to Whirl Bay (NEW MEMBERS PADDLE) Paddle
Sunday, May 22nd, 2022 - 9:30 AM to 3:30 PM - Relaxed Paddle - Brentwood Bay Ferry Wharf to Mackenzie Bight Paddle
Sunday, May 22nd, 2022 - 9:30 AM to 3:30 PM - Relaxed Paddle - Island View Beach to James Island Circumnavigation Paddle
Thursday, May 26th, 2022 - 9:30 AM to 3:30 PM - Light Paddle - VCKC Clubhouse to Selkirk Waterway Paddle
Friday, May 27th, 2022 - 8:30 AM to 4:30 PM - First Aid Scenarios - May 27
Saturday, May 28th, 2022 - 9:00 AM to 11:00 AM - Advanced Self and Assisted Re-Entries
Saturday, May 28th, 2022 - 12:30 PM to 3:30 PM - Intermediate Rough Water
Sunday, May 29th, 2022 - 9:00 AM to 11:00 AM - Advanced Self and Assisted Re-Entries
Sunday, May 29th, 2022 - 9:30 AM to 3:30 PM - Energizer Paddle - Cedar to Valdez Paddle
Sunday, May 29th, 2022 - 1:00 PM to 4:00 PM - Intermediate Rough Water
Thursday, June 02nd, 2022 - 8:30 AM to 2:30 PM - Energizer Paddle - Swartz Bay/Barnacle Road Public Dock to Gulf Islands camping tour Paddle
Thursday, June 02nd, 2022 - 10:00 AM to 4:00 PM - Relaxed Paddle - Brechin St Boat Launch in Nanaimo to Newcastle and Protection Islands Paddle
Sunday, June 05th, 2022 - 9:30 AM to 3:30 PM - Energizer Paddle - Brentwood Bay Ferry Wharf to Mackenzie Bight via Spectacle Falls (NEW MEMBERS P Paddle
Sunday, June 05th, 2022 - 9:30 AM to 3:30 PM - Relaxed Paddle - Cooper Cove to Anderson Cove (NEW MEMBERS PADDLE) Paddle
Thursday, June 09th, 2022 - 9:30 AM to 3:30 PM - Light Paddle - Telegraph Cove to Arbutus Cove Paddle
Saturday, June 11th, 2022 - 8:30 AM to 4:30 PM - First Aid Scenarios - June 11
Thursday, June 23rd, 2022 - 9:30 AM to 3:30 PM - Light Paddle - Cooper Cove to Roche Cove Paddle
---
Upcoming NonSISKA Events
Wednesday, May 04th, 2022 - 7:00-9:00 PM - Nanaimo Paddlers Meeting, Port Hardy to Coal Harbour via Cape Scott
For more details, go to the SISKA website
---
Community Events of Interest
These events are not formally supported by SISKA, but considered to be of interest to a significant number of our members.
Any member may request an event to be included in this section by sending a note to chairperson@siska.ca
---
Siska May 25 General Meeting
by Fred Pishalski
Watch your email for the upcoming agenda!
---
SISKA's Annual General Meeting, April 27, 2022
by Alan Campbell
SISKA's Annual General Meeting (AGM) on April 27 may have set a record – for brevity! With commendable efficiency, the 45 members present at Garth Homer Society's Auditorium approved the 2021 Financial Statements and 2022 Budget, received the several reports on last year's club activities, and elected/re-elected members to Board positions for another year. Impressive! Financially, SISKA remains in excellent health, with surplus operating funds intentionally reduced by a number of additional member skills training and support initiatives, while remaining at a prudent level for our ongoing operations.
We elected a new Secretary, Lisa Lasagna, to replace Delcie McLellan who completed her second 2-year term in that position (thanks to both!), passed a motion permitting Roger Botting to continue as Treasurer for another term (thank you, Roger!), and re-elected BJ Porter and Debbie Leach as Directors-at-Large, each for their second 2-year terms (thanks again!).
The various reports tabled in advance for the AGM are posted on the club website under Members, Documents, and the draft AGM Minutes have now been posted there as well.
While club administration is ably overseen by our Board of Directors, SISKA's widely-recognized success as a sea kayaking club is primarily due to the 100+ volunteers who regularly coordinate and/or lead our many paddles, coordinate and/or instruct on- and off-water courses, organize social events, refreshments, monthly meetings and presentations, maintain our library, Newsletter, Facebook, YouTube, Zoom and email communications, safety standards, membership records and website functionality – well, you see what I mean…we are very fortunate to have so many members doing so many things on behalf of all of us in SISKA!
So, thanks to everyone for being part of what I think is one of the best sea kayaking clubs anywhere!
---
Many Thanks to Delcie McLellan, now retired as SISKA Secretary!
by Alan Campbell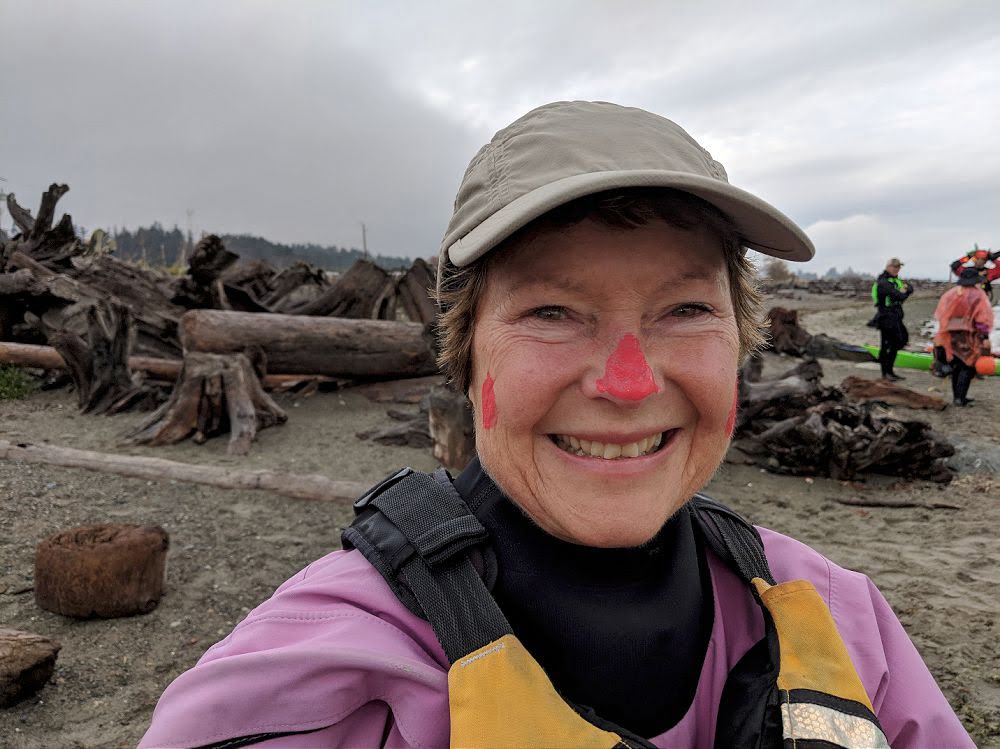 Delcie in fine sea kayaking form for a festive paddle with some of her many SISKA paddling friends
As of our April 27th Annual General Meeting, Delcie McLellan has retired as SISKA's Secretary, after completing four years in that position, successfully keeping us all organized – no mean feat! Delcie, who is one of those amazing people who seems to be naturally good at everything, will continue sea kayaking with us, but will have more time for some of her many other pastimes in future as well.
Raised on the BC Coast, Delcie is also an accomplished sailor, an avid gardener, an active dancer (swing and ballet), a keen horseback rider, plus a regular cyclist and hiker – she is one busy and fit lady! It has been wonderful having Delcie on our SISKA Board as Secretary over the past several years, but she obviously has many other things to do, places to go and people to see!
Thanks also, and a warm welcome to Lisa Lasagna, our new SISKA Secretary!
---
Victoria Waters - Ocean Photography by Roger Botting
by Alan Campbell
My apologies to those who joined our monthly meeting by Zoom on April 27, but missed seeing Roger Botting's amazing underwater images taken in Victoria waters. Repeated WiFi problems forced us to stop Zoom.
We have posted Roger's presentation as a slideshow on YouTube where you can see his many incredible photographs.
---
Siska Campout
by BJ Porter
Save the Date! Monday Aug. 29 to Thursday Sept. 1
There are plans afoot for the club to offer an outing for those who are new to camping, or want a relatively easy camping experience. The location will be the south end of Wallace Island which is a large grassy expanse with lots of space to gather, water on tap and even a roof to get out of the rain. There are excellent day paddles available as well as a walk the length of the island on a wide level path.
Support for inexperienced campers will be provided beforehand regarding menu planning, kayak packing and general camping practices.
Details will be made available closer to the date.
BJ Porter
---
Free Fishing Weekend - Crabbing Clinic
by Edmond Duggan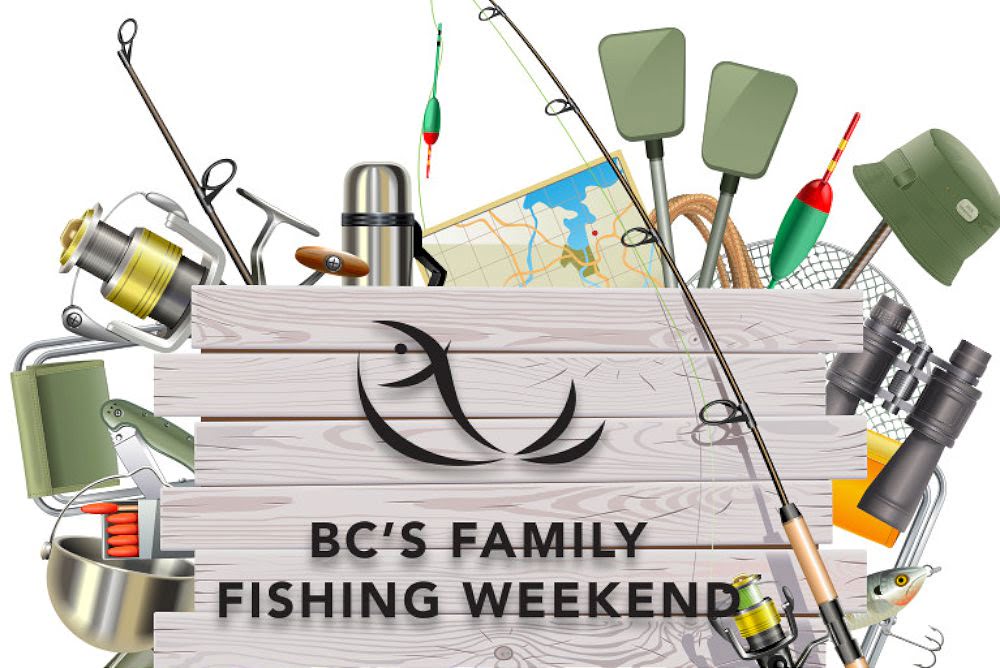 The club is working on hosting a crabbing clinic over the free fishing weekend in June (17th - 19th) During the Father's Day weekend the federal and provincial governments open fishing/crabbing up without requiring purchase of a licence. https://www.gofishbc.com/Blog/About-Us/BC-s-Family-Fishing-Weekend.aspx
The event starts a little bit of an oceanfront clinic, then trap setting followed by a light paddle while waiting for the main "guests" (the crabs) to arrive. Once back on shore a group crab boil is held with demonstrations on how to prepare the main course. Usually corn is added to the meal and some other items in a pot-luck manner, capping a pleasant day on the water.
This event is a perfect opportunity to try out fishing with no investment. Learn about the techniques then go try them out them first-hand. Volunteers provide some equipment (trap, rope& buoys) to loan out. The catch is shared amongst all paddlers so no one goes home hungry, and usually there are leftovers too. If you are interested considering saving any fish trim or chicken scraps in the freezer beforehand. An old empty large plastic detergent bottle is another item to collect for the day.
In the past the club has held the event at Island View Beach on the Saturday, but for this year final plans are yet to be decided. A different location may be chosen that would provide both crab and fin fishing opportunities. Watch the club website for further details.
Edmond D. & Victor T.
PS - If you are interested in helping out (crabbing or fishing) please do contact us soon.
---
Recent Level 1 Course
by Elizabeth Purdon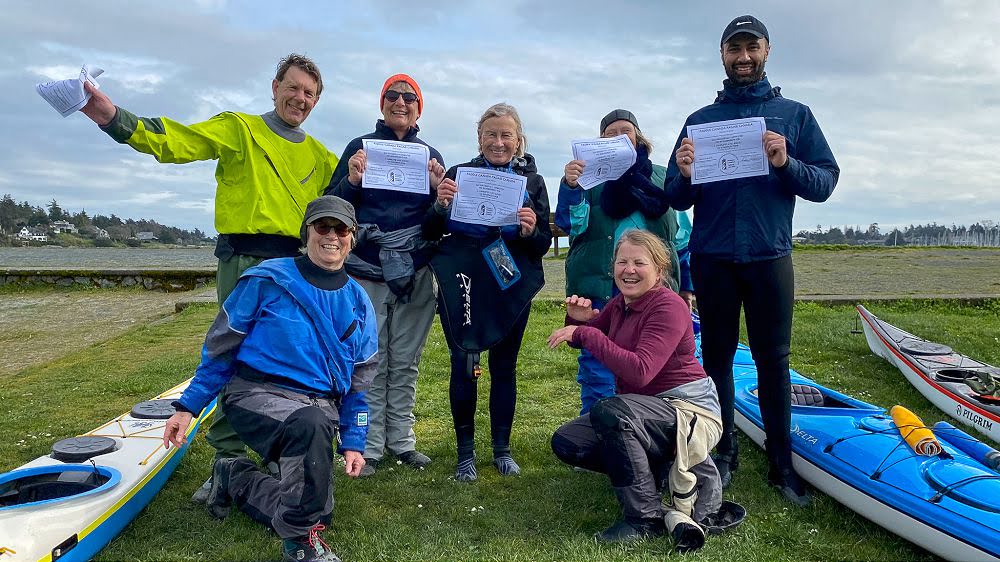 Congratulations are in order for SISKA's latest group of Level 1 paddlers (top row from left to right in the picture): Charles, Diana, Lynda, Jewel and Abdullah. They braved cold, wind and adverse conditions much beyond what is expected at this level. The first day was spent hiding from the wind in Telegraph Cove. Day 2 was a journey around Jemmy Jones Island and crossing to Cattle Point and then to Oak Bay Marina for lunch. Headwinds made for a difficult return to Cadboro Bay. Along the way there were wet exits, rescues, remounts and all sorts of games. In spite of the weather, a fun time was had by all including instructors Elizabeth and Ali.
---
Spring Training 2022
by Alan Campbell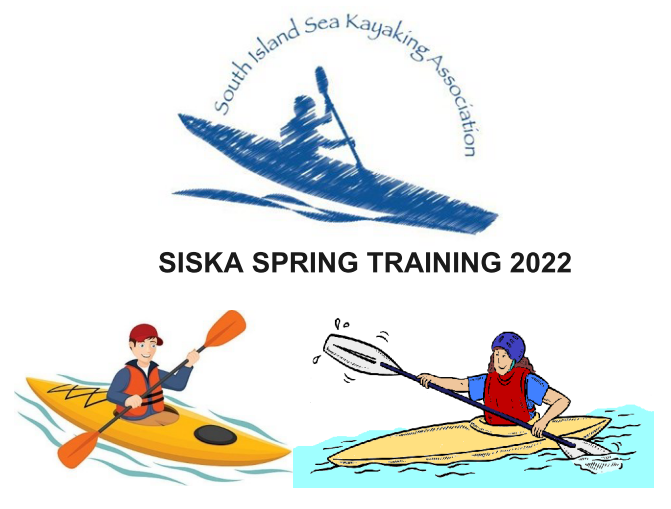 Latest Update HERE
---
BC Marine Trails is asking paddlers to help complete Site Condition Reports and Site Assessments
by Fred Pishalski
Win great prizes! BC Marine Trails is sponsoring a Site Condition Reporting contest from May 1 to September 30. Complete a Site Condition Report and get entered into the contest.
Your input is critical. When you have been out paddling and stopped at a site, let us know what it was like. It will help keep things safe and sustainable for everyone who wants to enjoy the BC coast. BCMT has recently updated its reporting system including developing apps for phone and computer. To learn more about the new system and to try it out please simply click on the link below.
Below is a list of mostly Day Use or Launch Sites that BCMTs is especially looking for input on. Have a look at the BCMT's interactive map, link below, if you need to check where a site is located.
Nanaimo
Cypress Street
Boat Harbour Marina
Ladysmith
Crofton
Osborne Bay
Osborne Bay Beach
Saanich
Manley Creek
Beaufort Road
Goddard Road
Rothesay Avenue
Briarwood Place
Braemar Avenue
Yarrow Point northwest
Cy Hampson
Tsartlip Brentwood Bay
Willis Point
Gowlland Tod
Saanich Inlet east
Tod Inlet
These ferry terminals could also be assessed. The main idea would be how to land near the ferry and roll a canoe or kayak onto it, or vice versa.
Descanso Bay ferry
Nanaimo Gabriola ferry
Thetis Island ferry
Penelakut Island ferry
Chemainus ferry
Crofton ferry
Sidney ferry
Mill Bay ferry
---
Easier Overnight Parking at Island View Beach to Kayak Camp in the Gulf Islands
by Alan Campbell
Thanks to new SISKA member Steve Bergen for finding and pointing this out! Overnight parking at Island View Beach has been made easier for those kayaking to camp on nearby Darcy, Sidney or Rum Islands, or to destinations further away as part of a multi-day camping trip. Central Saanich has an online form you complete and submit, then call the municipal office to pay in advance by credit card. Just print out the permit to display you receive by email and you're good to go!
https://www.centralsaanich.ca/our-community/parks-recreation-culture3/island-view-beach-overnight-parking-permit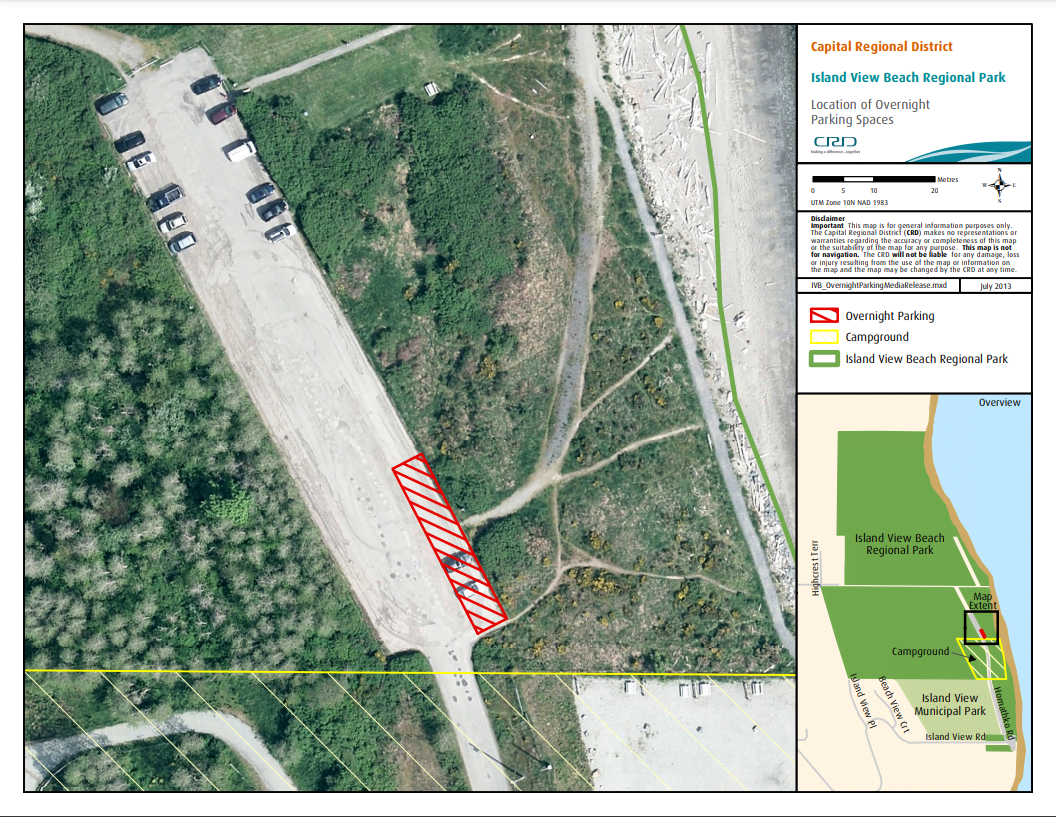 Steve also mentioned that the dilapidated ramp at the end of Island View Road has been cleared of the logs deposited by winter storms, so the adjacent beach is more accessible for launching and landing.
---
Cameras and Kayaking
by Roger Botting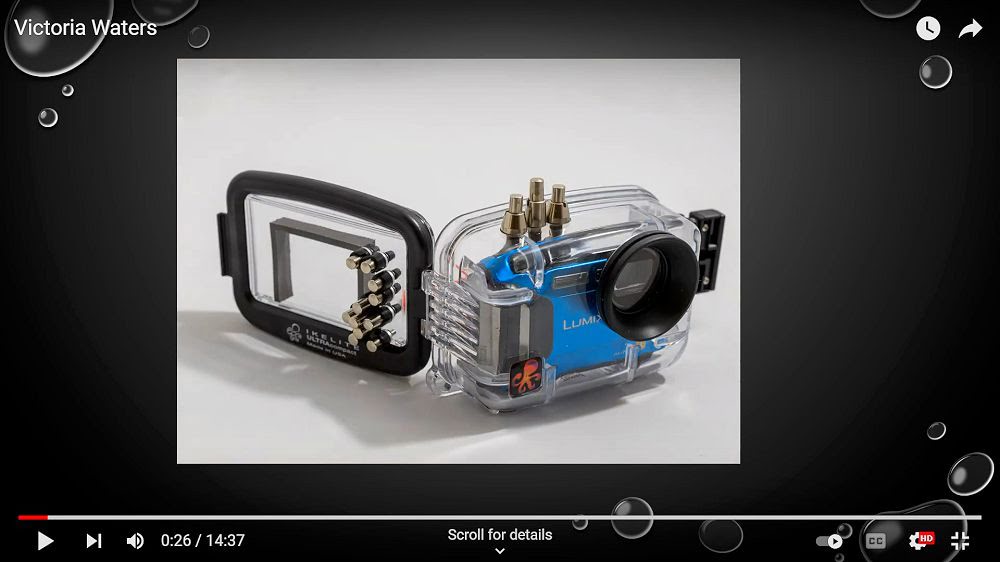 Cameras and water have never gotten along too well but there are no good reasons why kayakers can't enjoy taking photos.
Salt water is usually fatal to cameras but with a bit of effort and good choices you should get some worthy looking photos.
Cameras I would suggest are made for the type of lifestyle that we lead. They are cameras that are designed to get dropped and banged and they shrug off getting wet. Olympus TG-6 and Panasonic TS-5 are two that I use. Olympus also makes a scuba grade case for their cameras.
They are both capable of being wet to several meters due to the water sealing that is built into them, especially around the openings for the memory card and battery. They will both give images capable of 20 x 25cm enlargements and both do HD quality video.
How to keep them working
Carefully read the instruction manual about how to keep the waterproof doors clean and water tight. The doors do need to be carefully cleaned every time they are opened. Use a soft toothbrush if your camera does not come with the proper cleaning brush. Gently brush the two mating surfaces to make sure that no lint or sand or anything gets in the way of the door sealing tightly. Make sure that you lock the door properly and engage the safety catch. And look before you close. It only takes one hair to cause a leak.
When you have finished for the day and wish to download your photos, first soak the camera in clean water for a minute or two. Do not rinse it under a tap. That will force the salt water into the interior of your camera and ruin it.
Once you have soaked the camera, wipe it down to dry and only then open the camera.
Both of the cameras I suggest have clear glass ports over their lens. To best clean them, soak the camera leaving a few drops of water on the lens. Then use half a drop of dish washing liquid and gently wipe the lens with a soft piece of cloth. Use a clean piece of cloth to dry. You can do the same thing with the LCD screen on the back.
I carry a piece of soft cloth when I kayak, just to wipe the lens should it get wet.
Having witnessed several radios drift off to Davy Jones locker, I secure my camera to my PFD with the supplied carrying strap and then put the camera into the front pocket of my PFD.
While I have no personal experience with them, SeaLife makes an underwater camera that is completely sealed, though it is somewhat limited in functionality. They also make a waterproof housing for your smart phone. A couple of people I scuba dive with use them.
Go Pro and similar cameras can also be used for kayak photography but I do find them limiting for what I do. Lastly, as far as I know, there are not any video cameras suitable for the kayak photography that I do, I just use my waterproof point and shoot camera.
Camera housings can also be used but they do tend to make the camera much larger and heavier, but do usually allow your camera to tolerate harsher conditions. Ikelite and Ewa Marine are two brands.
---
Kayaking Klips
by Debbie Leach/Jennie Sutton
Please send in your short and educational or entertaining kayaking videos.
---
Tips from the trips
by Debbie Leach
ZIP! Sandy had Godfrey's put in a new zipper on his PFD… $28.00!!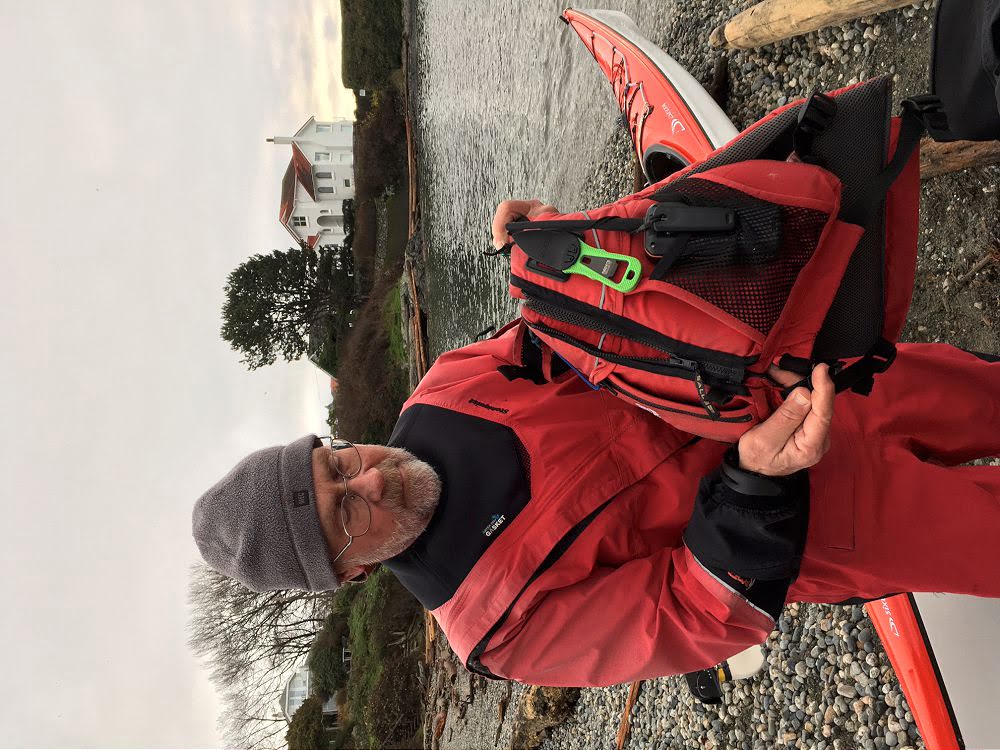 ---
Camp Cookery
by Lynn Baier
I decided to get brave after reading some rave reviews on Facebook and try dehydrating eggs. I mixed a couple of dozen eggs well, then poured one dozen into the dehydrator, after making a tray out of silicone paper by stapling up the corners.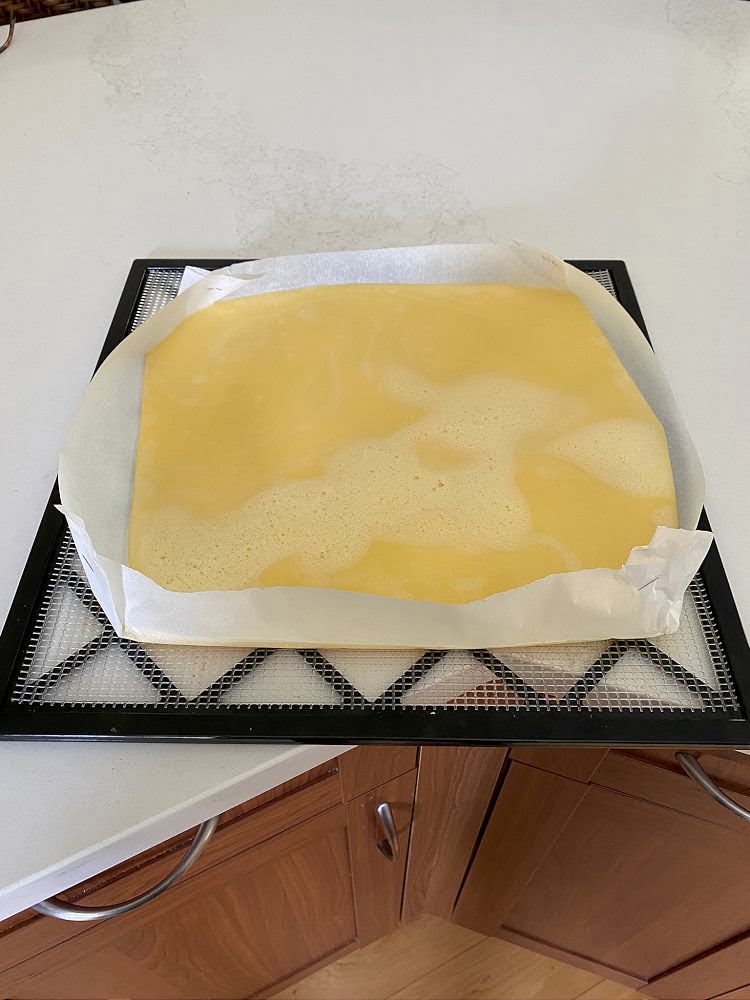 The second dozen wound up being more like a half a dozen after a bit of a load shift. I recommend pouring it after the tray is in the dehydrator.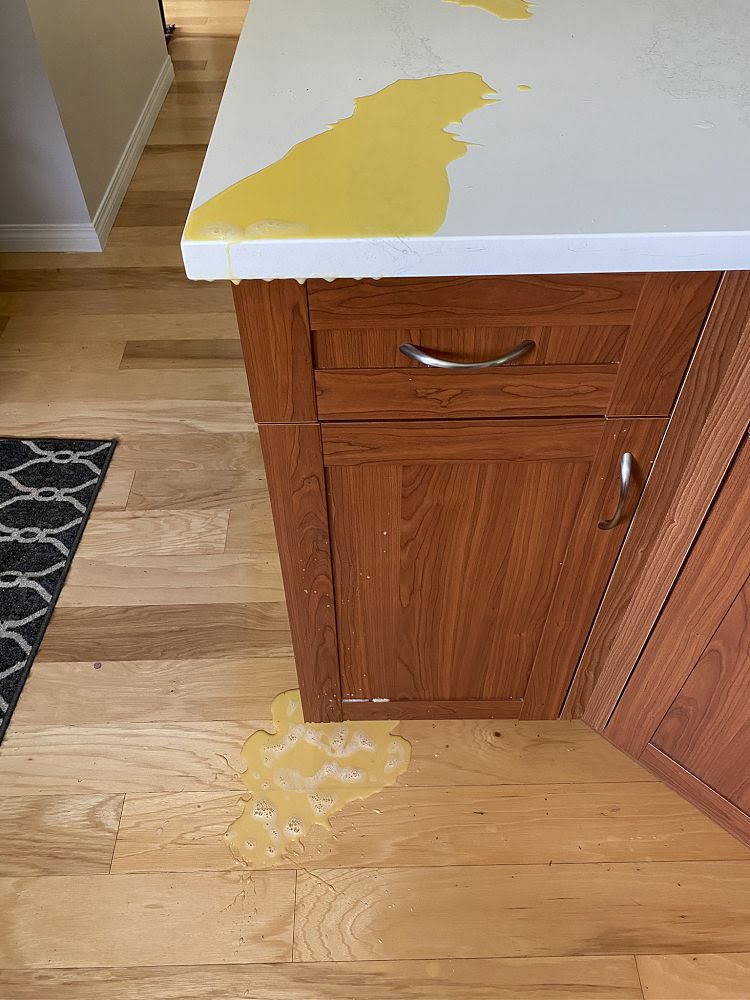 I dried them at 140 F until the eggs were a 'bark'. I then broke them up and put them in the food processor and dried them further. I found them a bit oily so moved them onto paper towels and back to dry a bit longer. I rehydrated them using a 1⁄8 measure. One measure of egg to two of water roughly equals one egg. I scrambled a couple and they were pretty good, but a bit grainy.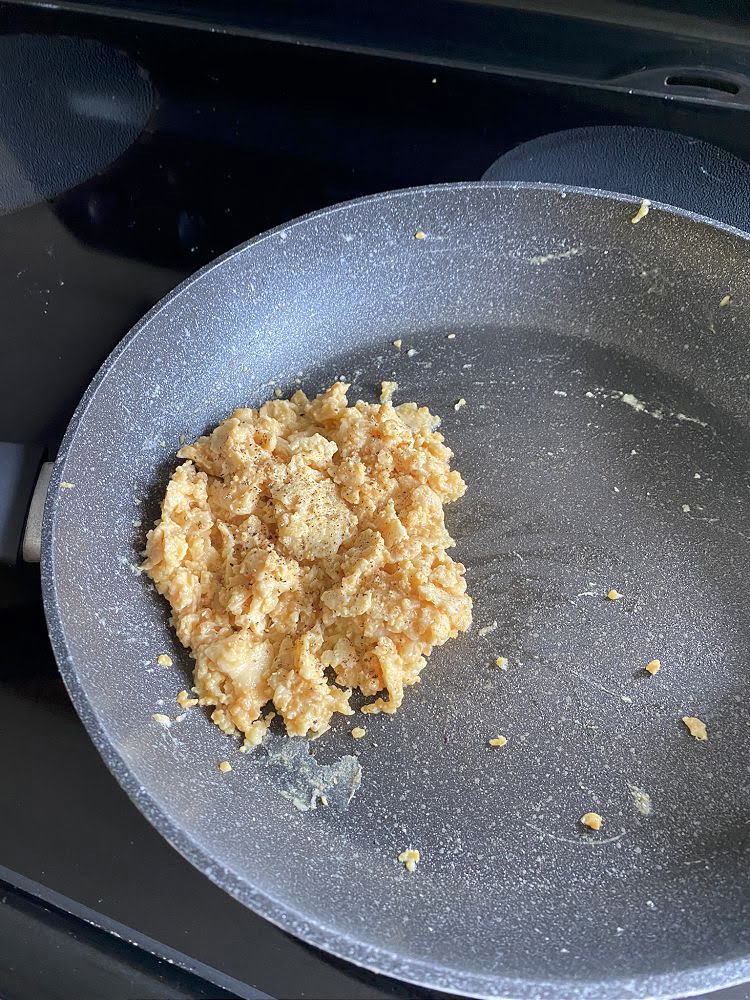 I then put them through a coffee grinder and turned them into a powder. This did the trick and this morning I had a delicious cheese omelette down in browned butter.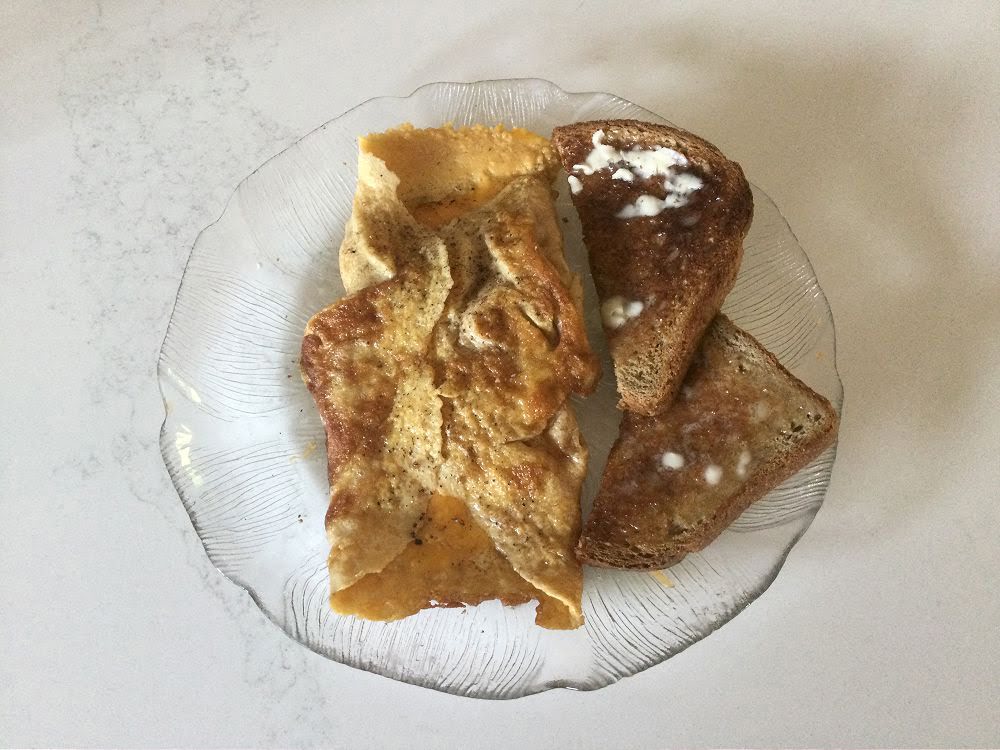 I found it a bit fiddly but the result was good, so if space and weight is an issue, try it!
---
Trip Reports
Birding Paddle - Sunday, April 24th
by Jennie Sutton
SISKA's First birding paddle in over two years! Yeay! And what a perfect day it was…by the time we arrived at the beach the unexpected early morning fog had burned off, the sun was shining and there was a very light breeze.
12 kayakers in 10 kayaks enjoyed a perfect Spring day on the water. Liam Ragan was our birding resource person, ensconced in the front seat of Alan Campbell's double kayak. This allowed Liam to use his binoculars to spot and identify birds and use the VHF radio to describe the various birds and explain their habits and habitats. That worked very well as we could keep paddling and listen to Liam's commentary on our own radios!
We saw too many different birds to list here but needless to say there were plenty! An added bonus was the two groups of Stellar sea lions near the Discovery Island Lighthouse. The further out rock was totally covered in them and about a half dozen more were on another smaller rock closer to shore…needless to say we paddled past at a good pace!
Our lingering lunch at Rudland Bay was in the warm sun and no wind. The Olympic Mountains were spectacular, clothed in white snow stark against the blue sky. Paddling back to the launch site became a little exciting for three of us as a significant rip current caught up with us… paddling hard and not making any forward progress was interesting…for a while! Everyone managed very well in the waves and ebb current and once out of the rip the ebb rewarded us with speeding our return to the Oak Bay Marina.
A few of us enjoyed debriefing and socializing at the Marina cafe.
After enjoying a SISKA event or paddle, please consider sending a short (100-150 words) summary article.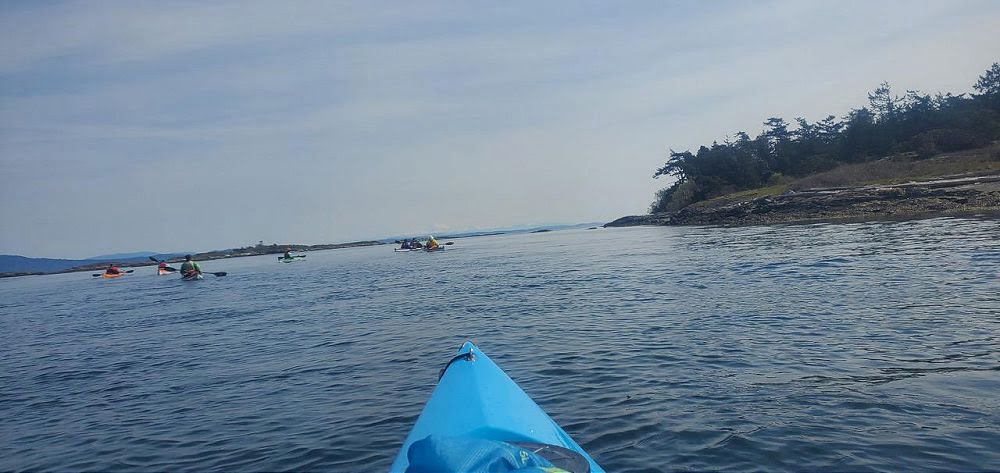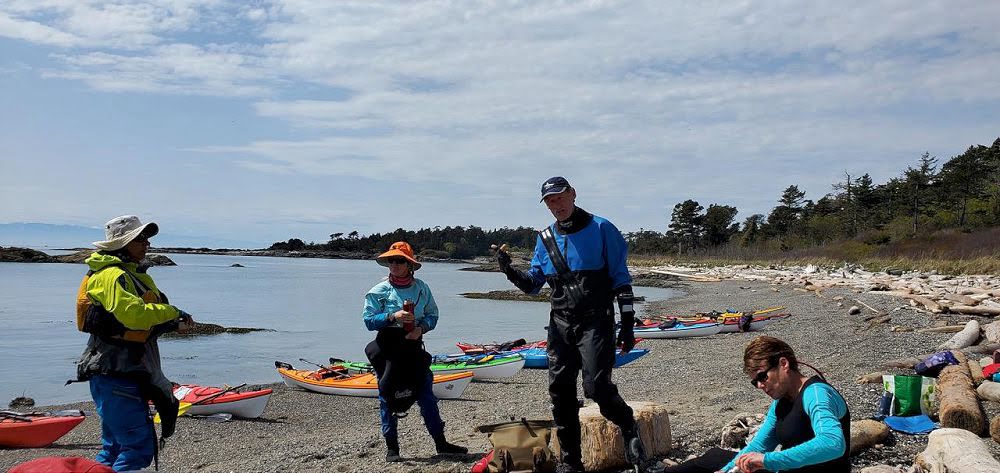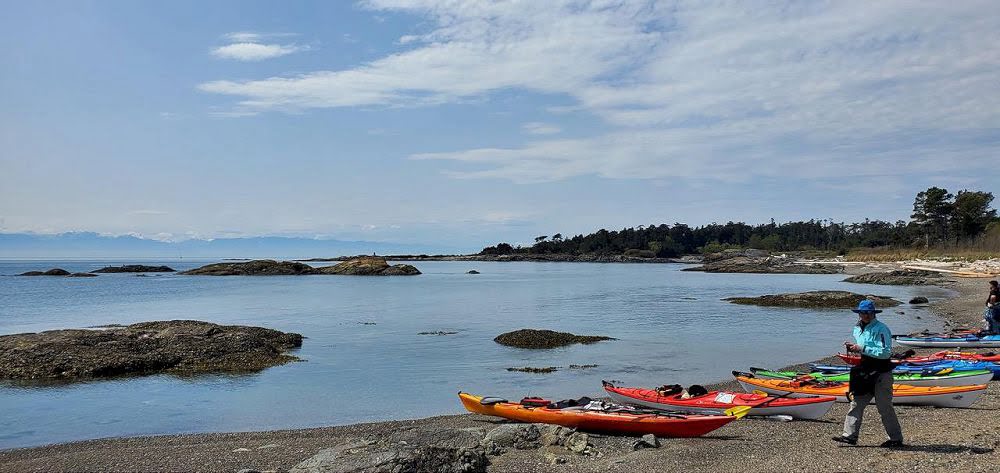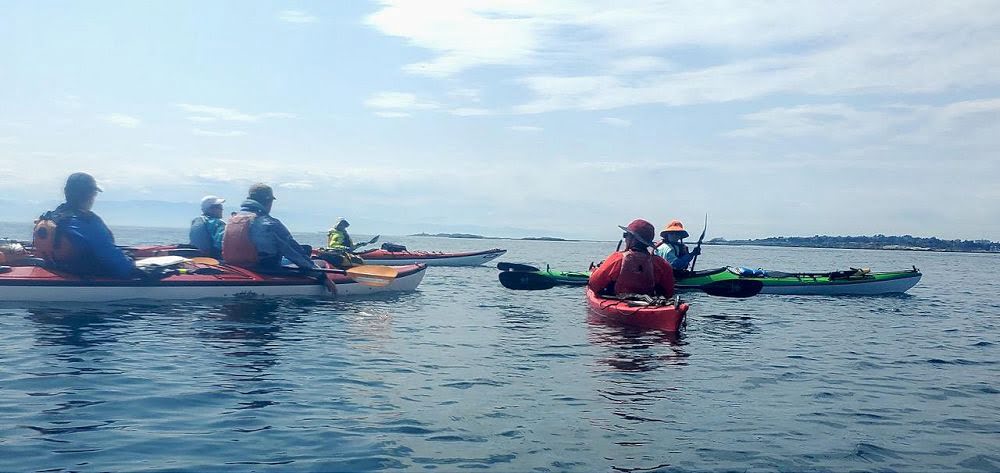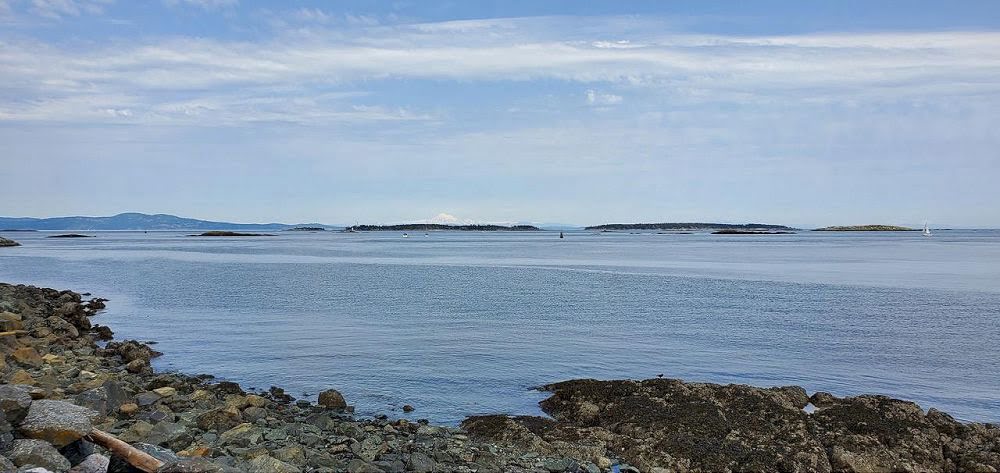 These photos below from Liam of a few of the birds we saw on the paddle are of excellent quality – he has a DSLR with a big lens and took these on another occasion when he had that with him - Alan.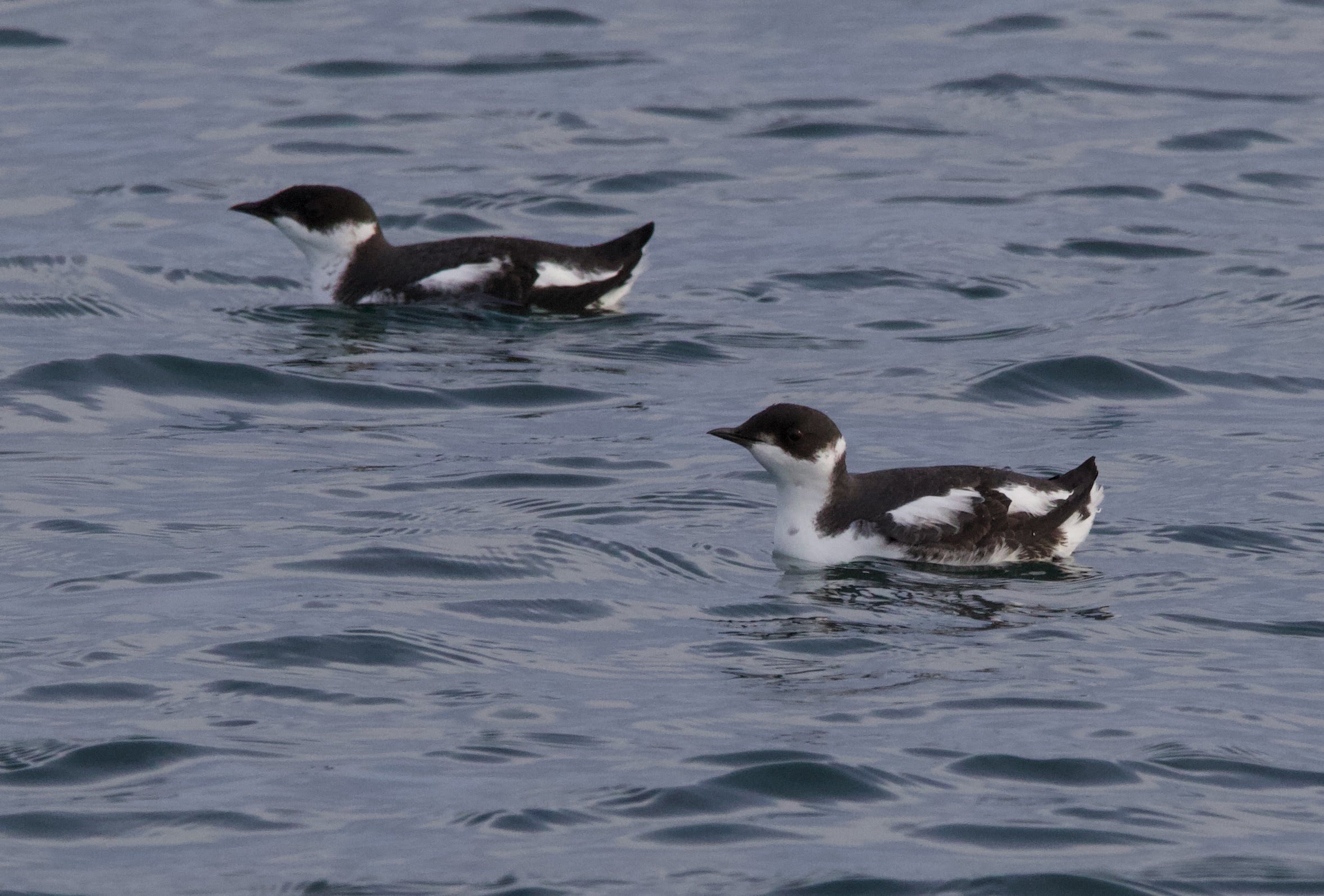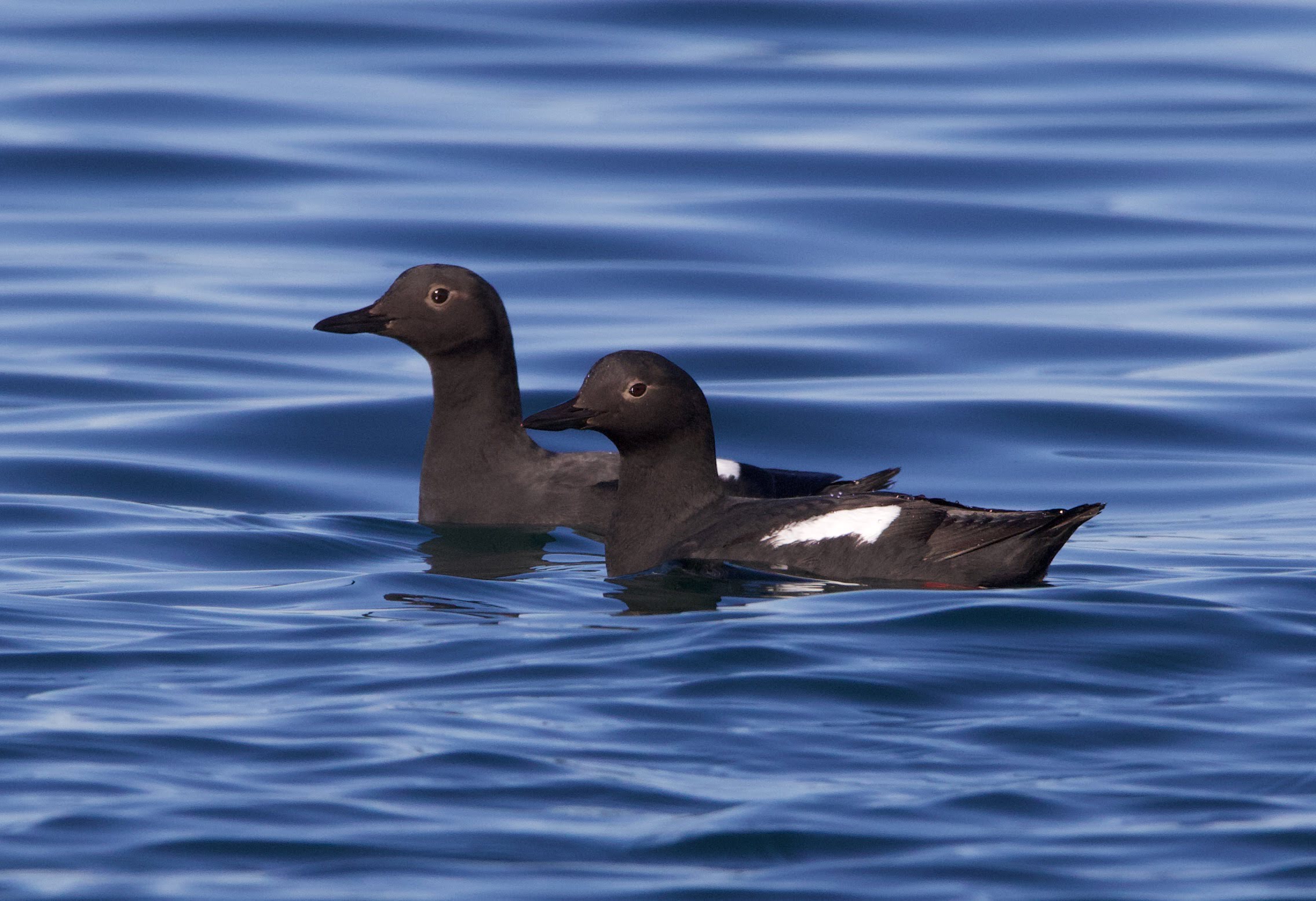 Here is Shannon's video of the day!
---
Navionics Videos
by Sheldon Spier
Sheldon from Nanaimo has created 3 videos on the Navionics Navigation App. Thanks Sheldon!
Click the map to go there. Scroll to the bottom of the page for the youtube links.
---

BC Marine Trails April Newsletter
BCMT Mid-April News / Workshop Reminder
---
Is Your Email Address Changing After Roger's Purchase Of Shaw?
by DaveO
Most of you have probably heard by now that the sale of Shaw Communications to Rogers has been approved.
With this sale it is expect that all emails ending in @shaw.ca will be migrated to yahoo.com. Rogers moved their email customers to yahoo.com a few years ago. The time frame for completion of this migration is rumored to be June 30th.
If your email is currently with Shaw there are a few thing you need to be aware of regarding the Yahoo mail service:
Yahoo has had some major security breaches which they attempted to keep from users
is relatively slow
allows its corporate partners to data mine every email a users sends or receives
does not allow the automatic forwarding of emails.
it seems that Rogers wants to eliminate any reference to Shaw so it is quite possible that @shaw.ca could be replaced with something else, such as @yahoo.com, which would mean you would need to change your email address. How this would be handle and would affect users is not clear at this time. When Telus moved it's email service to Google's gmail users kept their @telus.net email address
So what does this mean to you? If you are not concerned with any of the issues above you need not do anything. If you do have concerns you might want to consider moving your email to a different provider.
There are many "free" email provider but the three main ones are:
Google's gmail but be aware that Google allows its corporate partners to data mine its user's email
Microsoft's Outlook
Apple's iCloud is the best solution if all of your devices are Apple
Before you make a change in your email provider research to make sure that what they offer will meet your requirements.
Signing up for one of these free email providers is relatively simple. You will have to pick a user name and may find that the one you used @shaw.ca is not available.
When moving to a different email provider one of the biggest issue is what you do with any of the emails you have sitting on Roger's email servers. If you want to keep them you may want to move them to the new service. Depending on how you view/manage your emails this can be relatively simple or could be somewhat daunting.
If you do change your email to a different provider:
let all your contacts know about the change
if possible consider setting up an auto reply letting senders know your new email address
check your old email regularly to make sure some one is not still using your old email address
if you have any accounts that use your email address for security issues such as resetting passwords make sure this address is changed
if you receive bills through email change you email there
if you receive notification from CRA through your email you'll definitely want to change that email address
change your email address on SISKA's site to make sure you continue to receive emails. You can change you email address on SISKA's web site by using the Change Your Email Address which you will find under Members/My Profile. You will need to logon using your old email address
contact newsletter@siska asking that they change your email assress so you continue to receive the monthly newsletter This is just a partial list and will be different for everyone.
And if you have a @hotmail.com email address you should beware that Microsoft is phasing out this service and will be moving these account to @outlook.com. This has been in the works for sometime but was delayed by covid.
---
To Buy or Sell
For Sale:
---
SISKA's Kayak Skills Course Partners
There are some fine discounts available from our kayak skills course partners for SISKA members who sign up for their skills training programs. Have a look HERE
Our partners are: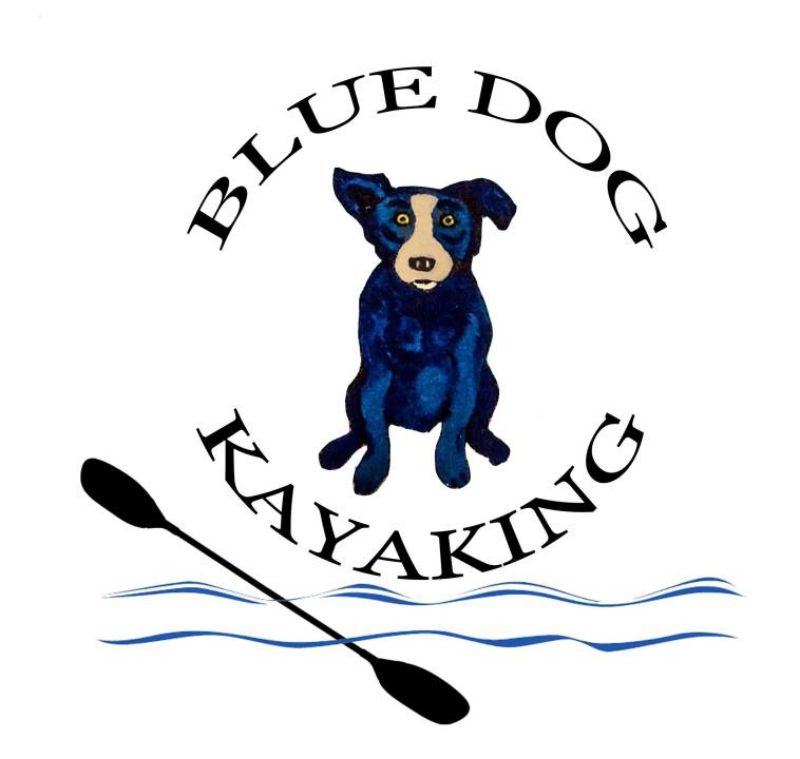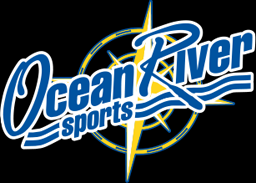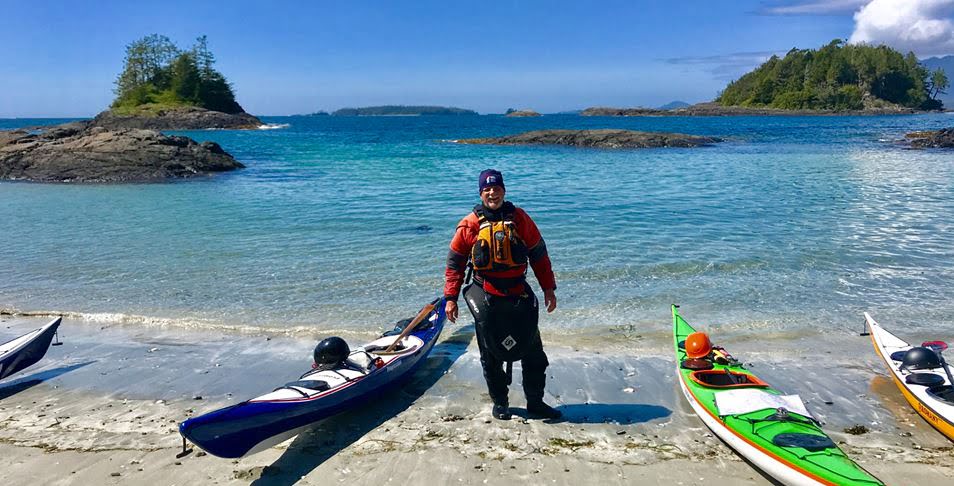 Related Posts
December 2023 | November 2023 | October 2023 | September 2023 | August 2023 | July 2023 | June 2023 | May 2023 | April 2023 | March 2023 | February 2023 | January 2023 | December 2022 | November 2022 | October 2022 | September 2022 | August 2022 | July 2022 | June 2022 | April 2022 |