Introduction
Thanks to those members who contributed photos and materials. After enjoying a SISKA event or paddle, please consider sending a short (100-150 words) summary article; for more information, contact one of us, newsletter@siska.ca . If you would like to start a regular column, please let us know!
Alan Campbell (SISKA president) and Tony Playfair (editor)
---
PS: You can find SISKA on Facebook at this link.
PPS: Siska has it's own Youtube Channel HERE
PPPS: You can find the SISKA newsletter archive HERE
---
Upcoming SISKA Events
Thursday, September 01st, 2022 - 9:30 AM to 3:30 PM - Light Paddle - Brentwood Bay Ferry Wharf to Todd Inlet Paddle
Saturday, September 03rd, 2022 - 9:30 AM to 3:30 PM - Relaxed Paddle - Oak Bay Marina to Ten Mile Point (NEW MEMBERS PADDLE) Paddle
Saturday, September 10th, 2022 - 10:00 AM to 4:00 PM - Energizer Paddle - Broken Islands Lodge to FULL Broken Group Islands (Multiday) Paddle
Thursday, September 15th, 2022 - 9:30 AM to 3:30 PM - Light Paddle - Spirit Bay to Becher Bay Paddle
Sunday, September 18th, 2022 - 12:30 PM to 4:30 PM - Relaxed Paddle - Cadboro Bay to Caddie Bay Tour 1pm-3pm Paddle
Saturday, September 24th, 2022 - 9:30 AM to 3:30 PM - Energizer Paddle - Brentwood Bay Ferry Wharf to Mackenzie Bight via Spectacle Falls Paddle
Thursday, September 29th, 2022 - 9:30 AM to 3:30 PM - Light Paddle - Fleming Beach to Esquimalt Coastline Paddle
Saturday, October 01st, 2022 - 9:30 AM to 3:30 PM - Relaxed Paddle - Spirit Bay to Movie Set Beach (NEW MEMBERS PADDLE) Paddle
Thursday, October 13th, 2022 - 9:30 AM to 3:30 PM - Light Paddle - Brentwood Bay Ferry Wharf to Todd Inlet Paddle
Saturday, October 15th, 2022 - 9:30 AM to 3:30 PM - Energizer Paddle - Telegraph Cove to Discovery Island (NEW MEMBERS PADDLE) Paddle
Saturday, October 22nd, 2022 - 9:30 AM to 3:30 PM - Light Paddle - Genoa Bay to Maple Bay one way Paddle
Thursday, October 27th, 2022 - 9:30 AM to 3:30 PM - Light Paddle - Deep Cove to Deep Cove and Moses Point tour Paddle
Saturday, October 29th, 2022 - 9:30 AM to 3:30 PM - Energizer Paddle - Whiffin Spit to Cabin Point Paddle
Saturday, October 29th, 2022 - 9:30 AM to 3:30 PM - Relaxed Paddle - Brentwood Bay Ferry Wharf to Mackenzie Bight Paddle
---
Upcoming NonSISKA Events
For more details, go to the SISKA website
---
Community Events of Interest
These events are not formally supported by SISKA, but considered to be of interest to a significant number of our members.
Any member may request an event to be included in this section by sending a note to chairperson@siska.ca
---
Siska September 28th General Meeting Agenda
by Fred Pishalski/Alan Campbell
BC Central Coast Kayak Trip – Bella Bella to Port Hardy - July 7-24, 2022
SISKA members Alan Campbell, Barry Copeland, Debbie Leach, Jennie Sutton, Lynn Baier, Michael Egilson and Morley Eldridge, all experienced long-distance kayak trippers, were tested on this coastal journey by plenty of inclement wind and weather, several long paddling days, and some very marginal campsites – in other words, a real slice of Central Coast kayaking!
The route followed was not exactly the one favoured in advance as the group adapted to challenging conditions and minimized potential risk by making timely paddling decisions together.
The Great Bear Rainforest showed off many of its amazing moods and features: from endless rain to long sunsets, wind- and current-whipped seas to placid bays and quiet channels, wide sandy beach camps to tiny forest tent nooks, lengthy open-water crossings to exhilarating islands and coastlines!
We'll do our best to give you the trip's high- and low-lights, tell some stories and share things we learned.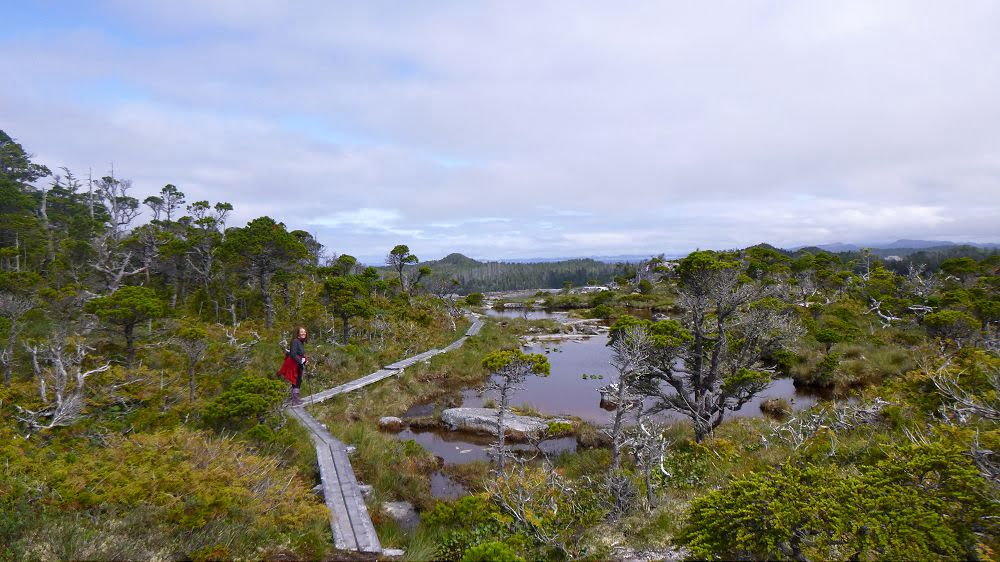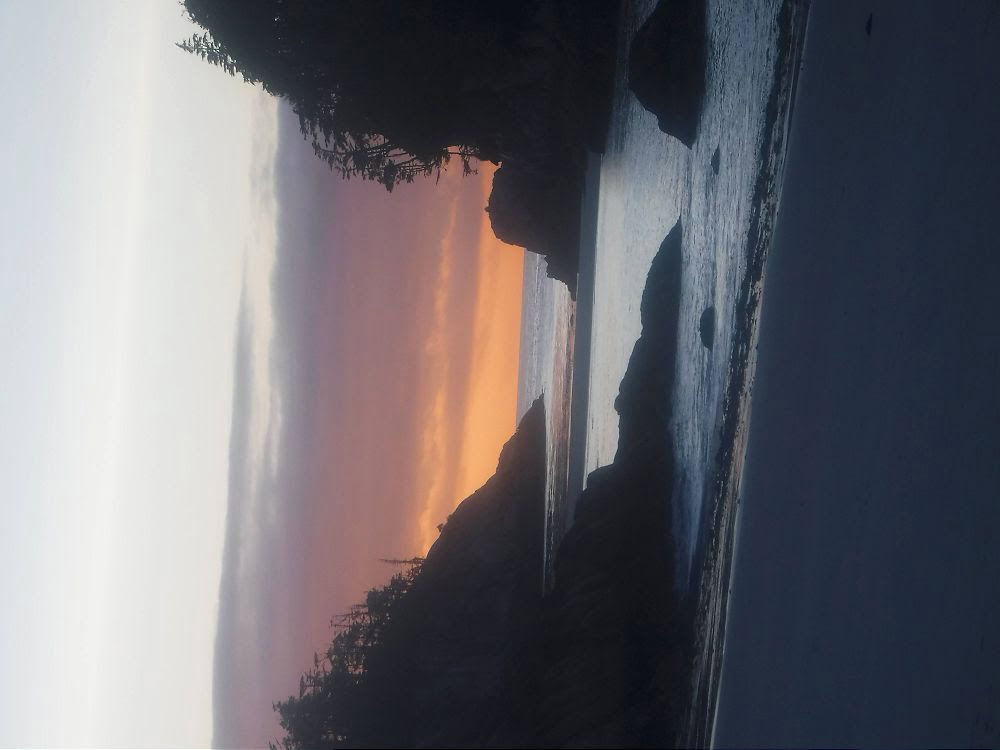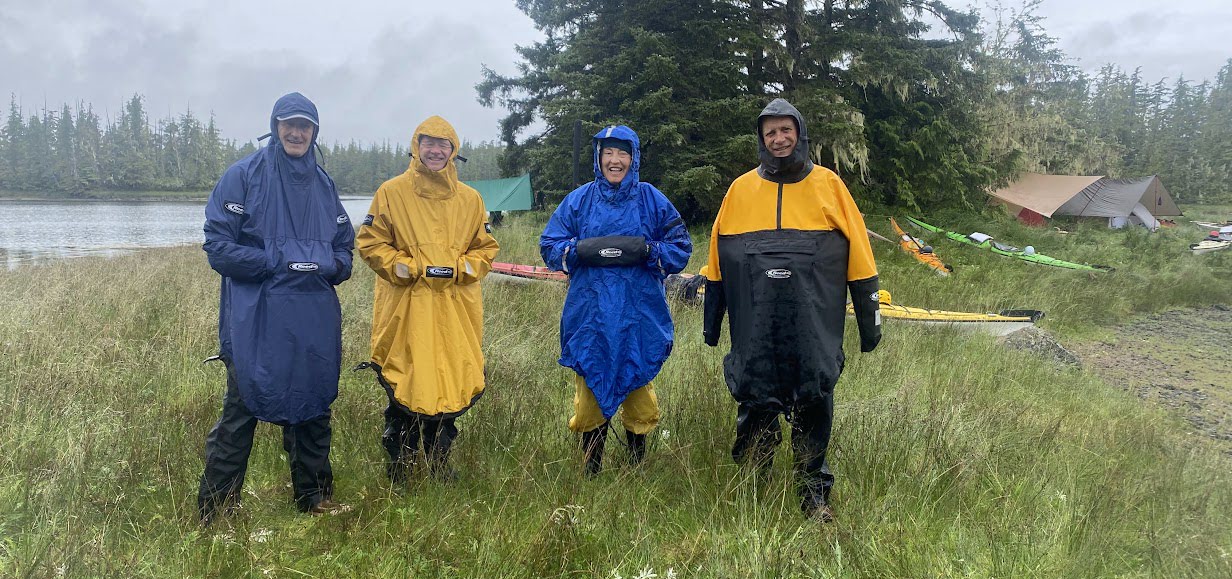 ---
SISKA - Invitation to Nanaimo Paddlers Wed Sep 7 Zoom Presentation
by Alan Campbell
Our thanks to Nanaimo Paddlers for this invitation…
The Shawnigan Salmon Enhancement project was the top Coho enhancement project on the BC coast in 2021. It is a unique, manmade, labour intensive project, that has operated since 1978. Through the time and efforts of many volunteers, donating countless hours of time, the project helps salmon make their way home to spawn.
Ken Gray is the Secretary and a Director of the Mill Bay and District Conservation Society. Ken farmed in Alberta for over 30 years before moving with his family to Shawnigan Lake in 2000, where he worked as a general contractor prior to his retirement. For the past 16 years, Ken has spent most of his spare time working on the salmon enhancement project. With the help of many volunteers, the Mill Bay and District Conservation Society has taken this Coho run from a few hundred to over 7000 fish.
Attend and hear this remarkable story of how a dedicated group of volunteers is making a difference.
Wed Sep 7th at 7 PM
Zoom Meeting
https://us02web.zoom.us/j/86256511953?pwd=dS9GNytGa09hNjhhekVzeXhVdnU1QT09
Meeting ID 862 5651 1953
Passcode 518860
---
A Message From Your Librarian
by Heather Jones
September 28th is our first meeting after our long summer break. Please bring back any borrowed books or other library items.
---
SISKA has a New Instructor Coordinator!
by Alan Campbell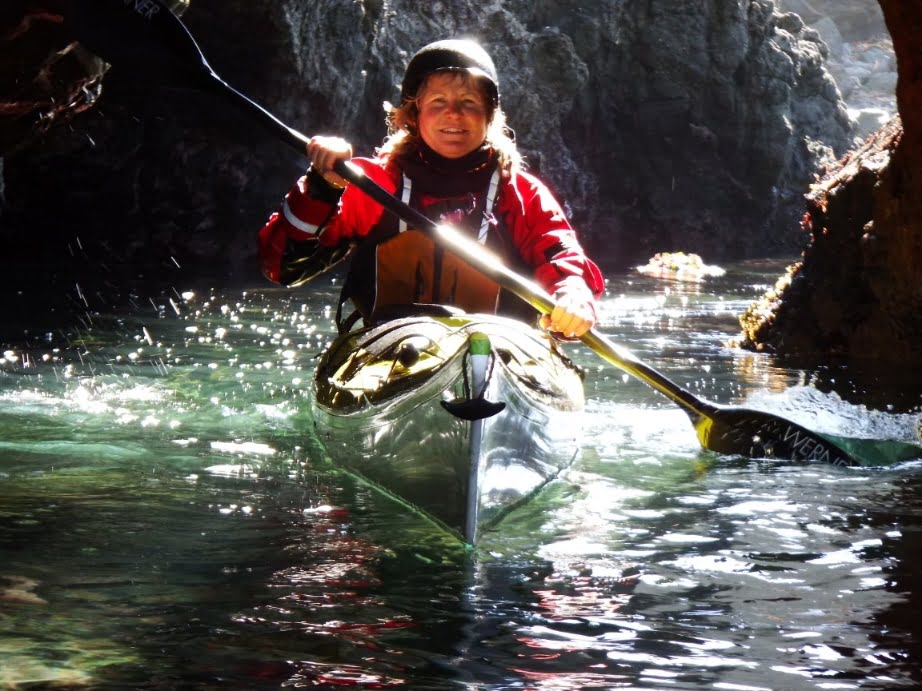 Many thanks to Alison (Ali) Morham for volunteering to be SISKA's Instructor Coordinator, taking over from Sean Finucane, who moved to Magog, east of Montreal, Quebec, several weeks ago.
Despite her busy summer schedule, Ali is already polling our club instructors to better understand their interests and needs and plans to organize a training session for them this Fall. Thanks, Ali!
We wish all the best to Sean and see that he is taking full advantage of outdoor exercise opportunities in his new home area, posting his runs and paddles frequently on Strava!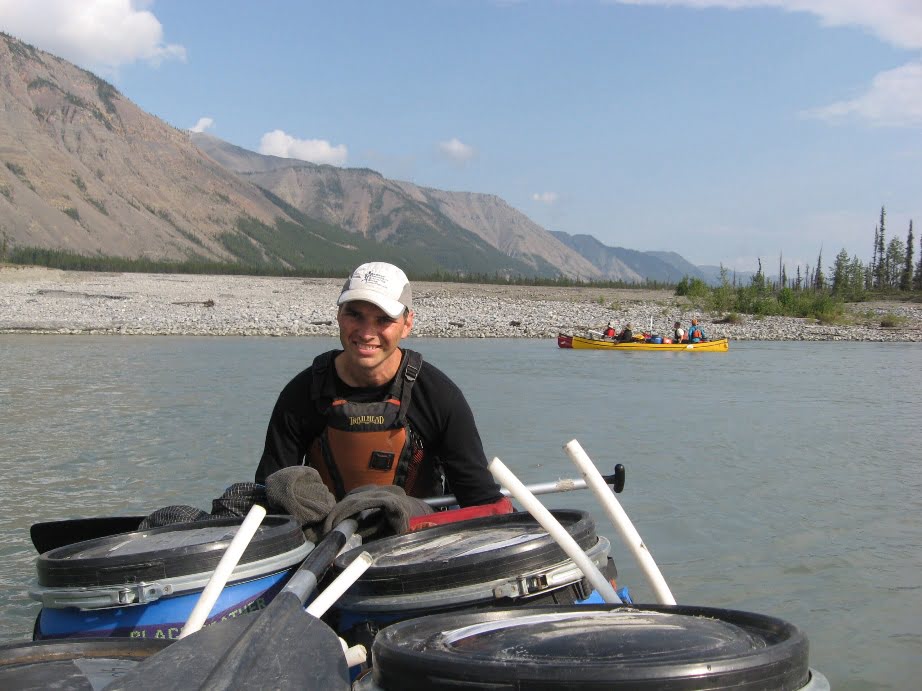 Note: Photos of Ali and Sean courtesy of Ocean River Sports website, where both are listed as kayaking instructors.
---
Siska Fall Picnic
by Jane Jacek
Sunday, September 18,2022
Cadboro Bay/ Gyro Park 9am - 2pm (rain or shine)
We have booked the group picnic table area near the washrooms.
Gear Swap 9am-12pm Looking to buy or sell kayak gear and/or a kayak? This is the event for you!
Clinics Between 10am and noon, visit resource tables to learn from knowledgeable club members
Light Paddle (afternoon) Cadboro Bay Tour
Prizes, prizes, prizes
More picnic details to come
---
Trip Reports
SISKA Energizer Paddle: Amherst to Rum Island, Sat Aug 6 – An Amazing Trip!
by Alan Campbell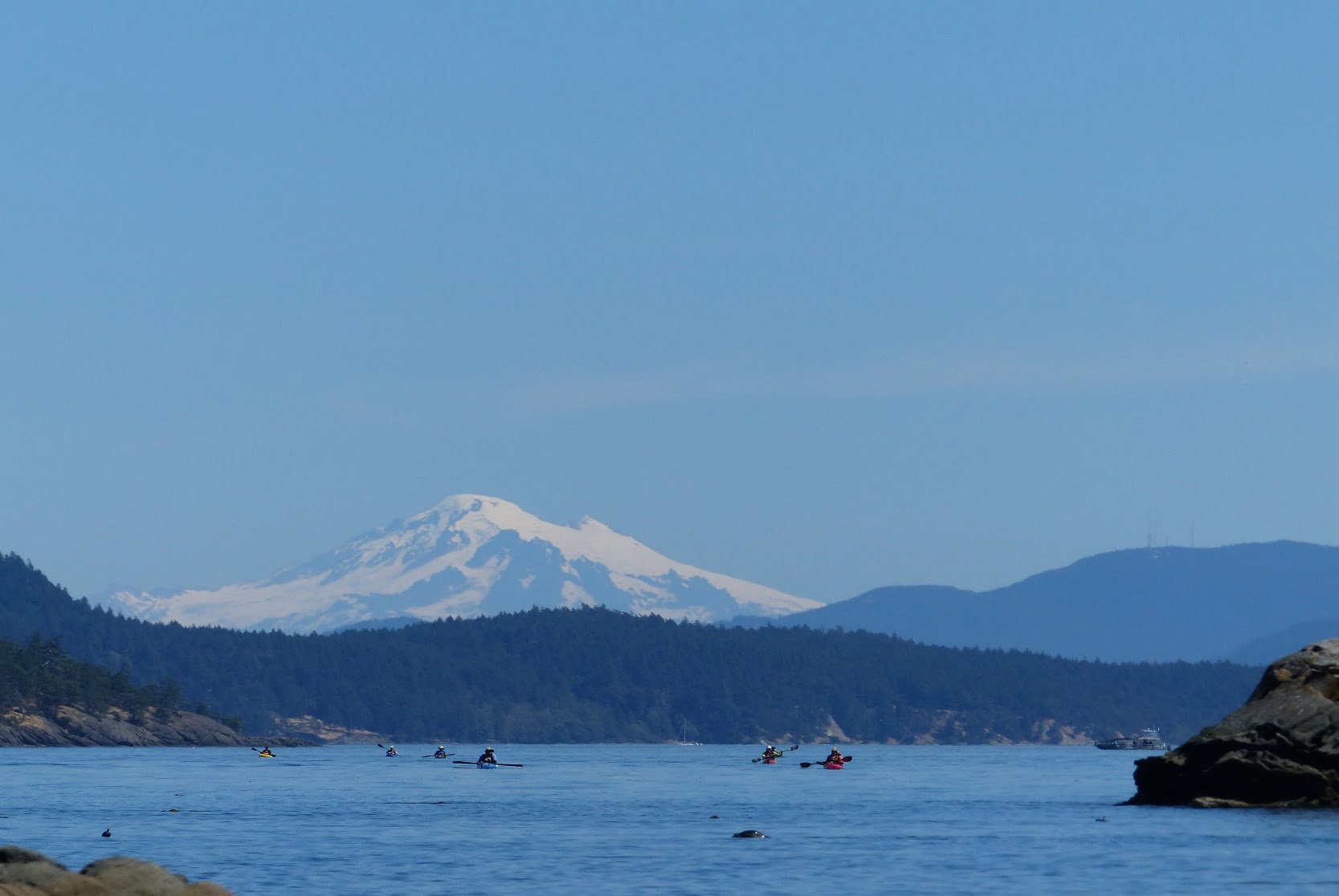 The paddle around Rum Island, near the US border east of Sidney, is typically a fairly demanding one as the tidal currents turn various ways among the islands and the usual winds create steeper waves – but not this trip! We lucked out with fine sunny weather, light current and very little wind – just a gorgeous day for 16 of us in 2 paddling pods! My thanks to Paul, Michael, Jane and Tony for helping us paddle safely and enjoy the stunning vistas. Thanks also to Konrad, who created a beautiful short video of our amazing paddle including many of his images and clips as well as those taken by others in the group…
---
---
A Trip to The Sayward Forest Canoe Circuit
By Liz Lilly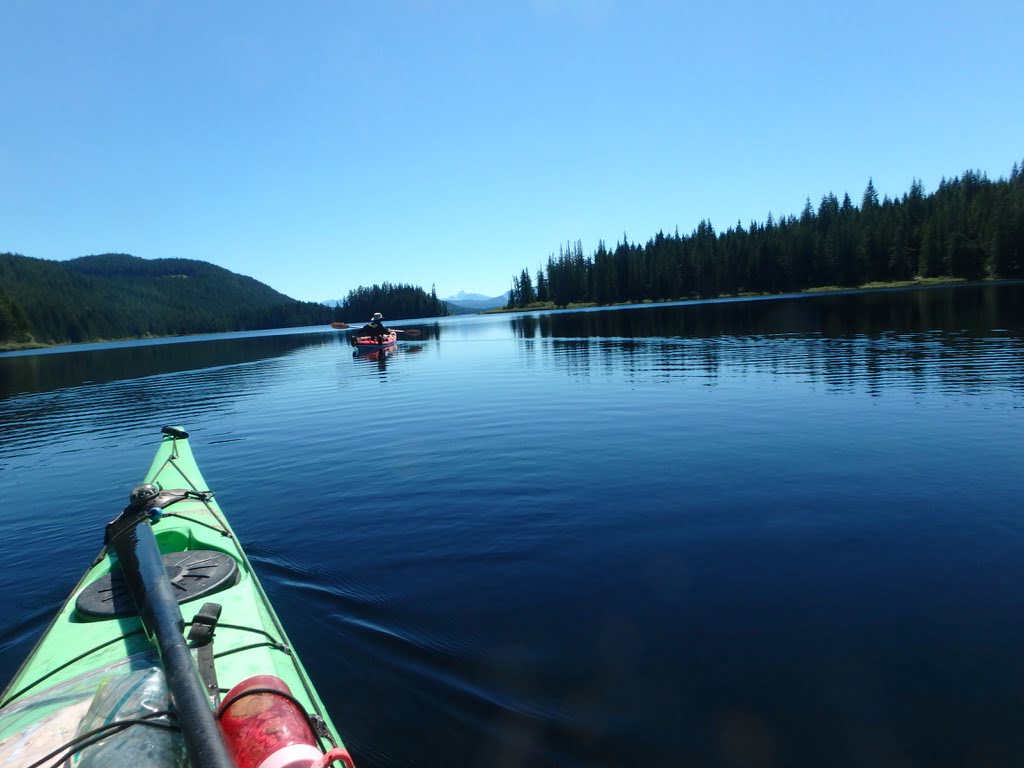 I had read a lot about the Bowron Lakes Canoe Circuit and always thought it would be fun to do it. But, you have to book and it's a long way to go from Victoria. Then I was told about the Sayward Forest Canoe Circuit and that it was as good as the Bowron Lakes. Well, that sounded even better.
So, this year, feeling in need of an adventure, my husband and I decided to give the Sayward Forest version a go. We planned our trip to the nth degree – we studied the route and decided we could do it in 4 days and 3 nights; we wrote up our float plan and gave it to family; we dehydrated our meals; we borrowed an "InReach" since there is no cell service; we packed the first aid kit; we practiced our wet exits and re-entries; we got the bear spray, the bug spray and sunscreen; - we were prepared for everything, except……
Now, there is a reason that people use canoes on a canoe circuit. We took our sea kayaks. My plastic Scorpio weighs 55lbs with nothing in it, when you add 20 lbs of gear it becomes a 17-foot battering ram. My husband's Delta 15.5 fared a bit better, but even using carts to carry the boats it was very hard work on the easiest of the portages – and there were places where we could not use the carts and we had to physically lift the boats, which just about killed us, and our marriage hung on by a thread!
I must qualify this by saying that a couple of women set out just before us, in Delta 15.5s. They had done the circuit before and I suspect they had packed much lighter than we did. We never saw them again, so I presume that, unless they sank somewhere, they managed just fine. Crucially, they looked very fit and were probably 30 years younger than us! However, we met a couple of guys in single canoes, who admitted that they were finding the portages very challenging – they were about the same vintage as us.
I can honestly say that the scenery is stunning and our first paddle up Mohun Lake and Goose Lake from Morton Lake Provincial Park was serene. We had estimated it would take an hour, but we did it in 45 minutes. Then we came to the first portage, a mere 1.6kms, we had figured that would take about an hour. Two and a half hours later, sweaty and blistered we emerged at the next lake. The trail was narrow and winding, crisscrossed by large roots and jagged rocks, and steep ups and downs. One cart kept collapsing – which may have been because we did not set it up properly, and we finally decided to transport the boats one at a time since we had to keep lifting them over the various hazards, which meant we actually travelled close to 5kms. Our schedule was blown at the first hurdle!
And it got worse from there.
We were then faced with a series of small lakes and water courses, punctuated by a short, but still demanding portage, a scramble round a beaver dam and water too shallow to paddle in. We had to pull our kayaks through the bog. It started to remind me of that children's story – "We are Going on a Bear Hunt", where they keep meeting different challenges:
We're going on a canoe circuit
We're going to take sea kayaks
We're prepared

Uh oh!
Mud
Thick, oozy mud!

We can't float over it,
We can't go under it
We'll have to go through it

Squelch, squerch
(**!# - I just lost my shoe)
Squelch, squerch
(It's up to my *#@*!$ thigh)
Squelch, squerch
(Lost my balance - *#!* %$*#@! - sat down in it)

We reached the first campsite at Twin Lake at 9:00PM, exhausted, mud dripping from our spray skirts and nowhere near where we had planned to be.
The next day began with a 0.9km portage, it was much like the first one in terms of terrain, but we were getting a bit better at managing the kayaks, and some kind people offered to carry our bags to the next lake, so the boats were significantly lighter. Nevertheless, the fatigue from the previous day made progress slow. It was 1:00PM by the time we began paddling on Amor Lake. Again, it was just gorgeous.
We arrived at the Mr Canoehead 100 metre portage at about 2:00PM. We had lunch and a serious chat. If we crossed the next lake, we were committed to a 2.3km portage before the next campsite. We opted to stay put and camp at Mr Canoehead. Our bodies could take no more, so we went for a swim.
We also made the very difficult decision to bail at the next opportunity, which was at the far end of Brewster Lake where there is a Forest Rec Campsite, and we determined that we would hitch back to the car from there (it is always important to have a Plan C!).
The 2.3km portage turned out to be the easiest one we did, along old forest roads, and we were able to move both boats at the same time – until we came to a tree across the trail. We had to physically lift the boats over it!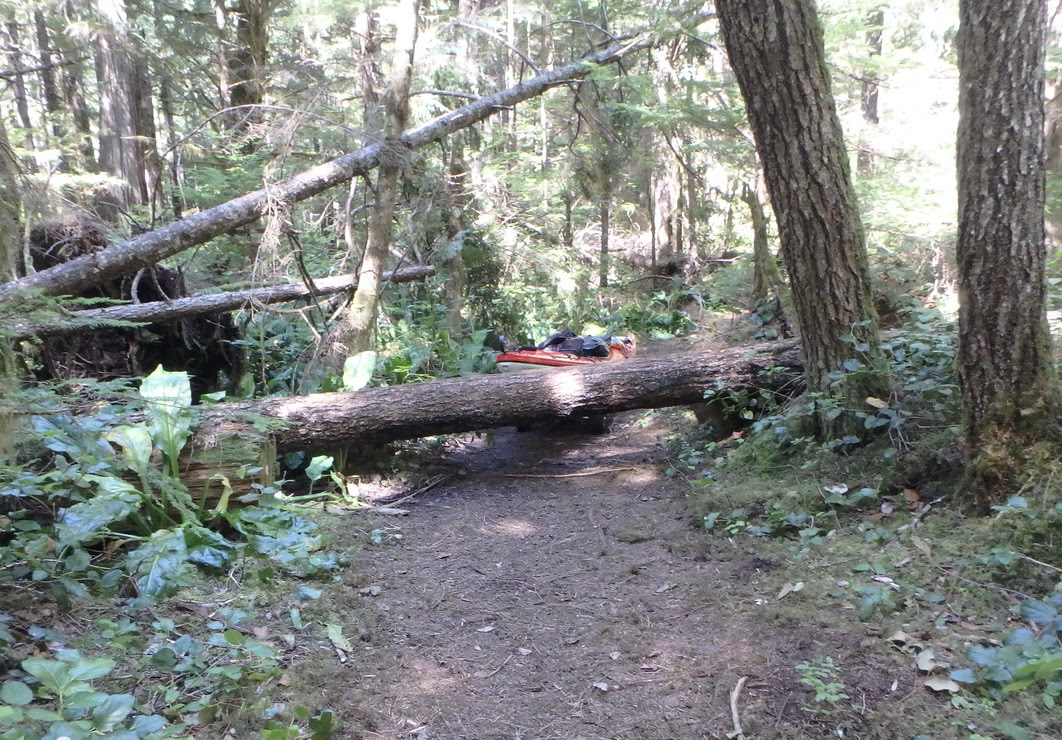 The paddle down Brewster Lake was spectacular and we were very fortunate that the first people we spoke to at the rec site offered to give us a lift back to the car. We had done about half of the circuit, although, I like to think we did the most difficult half!
This is an amazingly beautiful part of the world, and the lakes are great places for a gentle paddle and swim but, next time, we will drive to a campsite and paddle around the lake from there. We could even do a short hike if we liked – then it may feel more like a "holiday".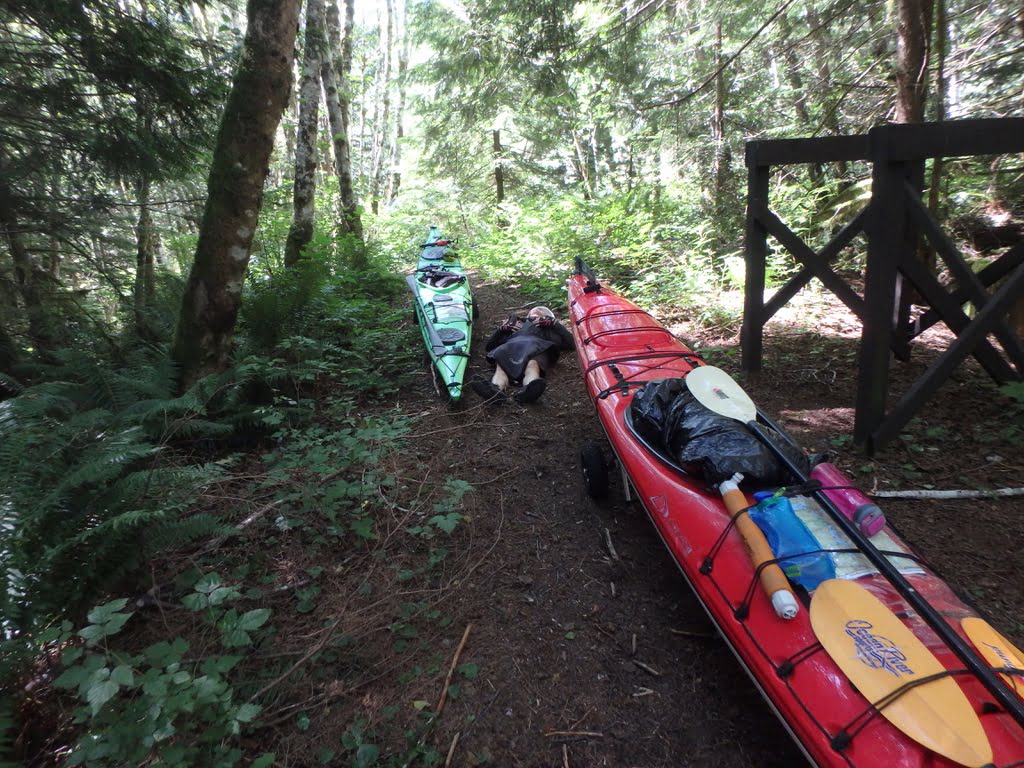 ---
Tips from the Trips
by Debbie Leach
TIME FOR A CHANGE?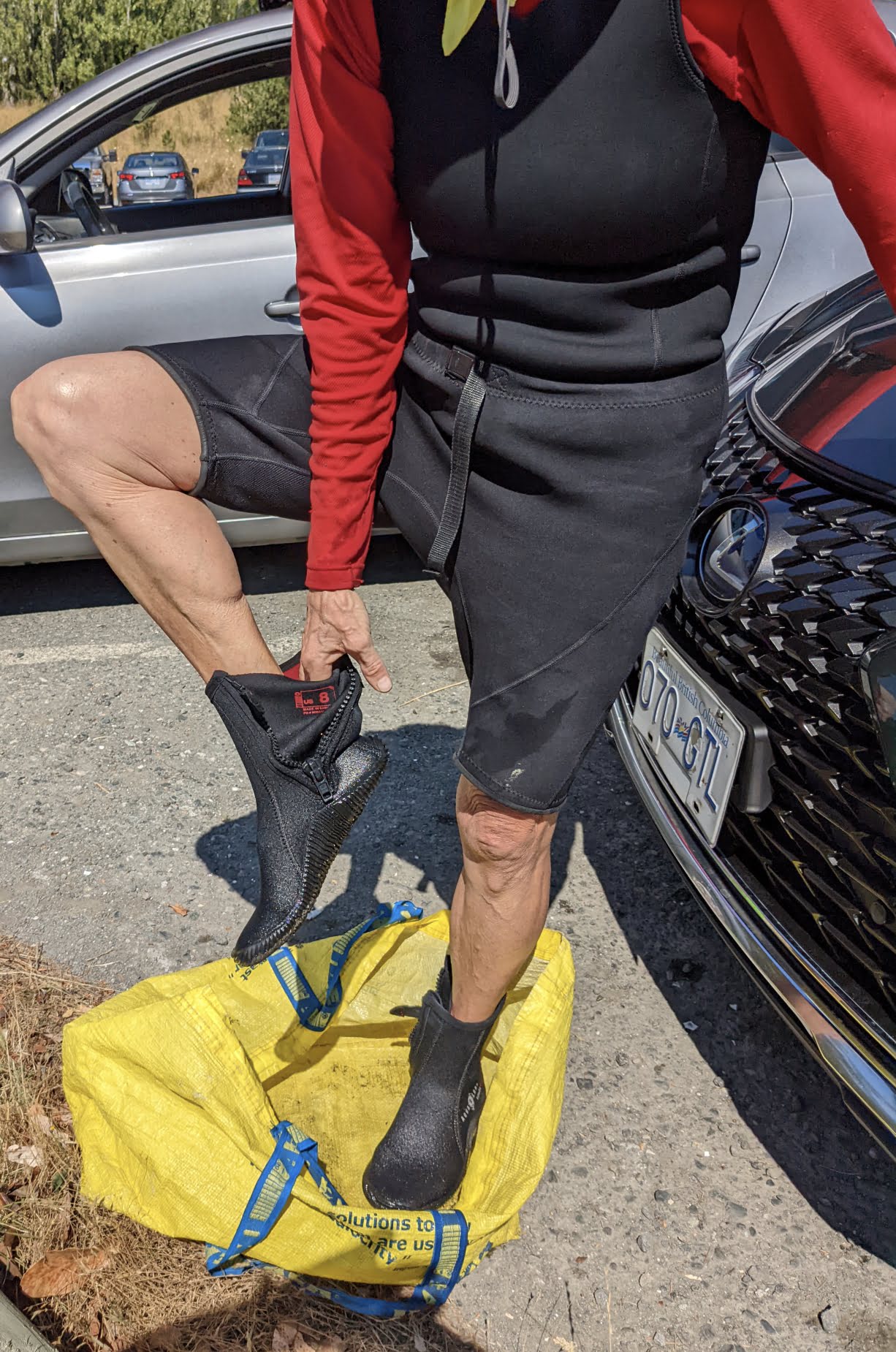 An IKEA bag is great for doffing footwear after paddling to protect your tootsies or your drysuit from gravel, mud, etc.
---
Camp Cookery
by Lynn Baier
This salad recipe is courtesy of John Minkley, who adapted it from 'Spilling the Beans' cookbook. I loved it and requested the recipe, then tried dehydrating it. As a cold soak it would be a fabulous lunch or a great dinner side.
1⁄2 cup wheat berries 1⁄2 cup pearl or pot barley 2 cups chick peas 1⁄2 cup walnut (I didn't have enough so topped it up with pumpkin seeds) 2-21⁄2 stalks chopped celery 1⁄2 cup chopped dates or figs 1 apple chopped Chopped red onion to taste Couple of tbsp parsley 1⁄4 cup olive oil 3 tbsp red wine vinegar or lemon juice (I used lime) Salt and pepper
Soak the wheat berries overnight or cover with a couple of inches of water, bring to a boil and let stand for an hour. Drain, then add the barley and cover again with a couple of inches of water. Bring to a boil and cook for 45 minutes or until firm tender. Drain then rinse under cold water to stop the cooking. Add the dates or figs. Let cool completely, then add in the rest of the ingredients. You're done! Serve immediately, chill, or dehydrate (if you're doing it solely to dehydrate, the oil can be added in camp).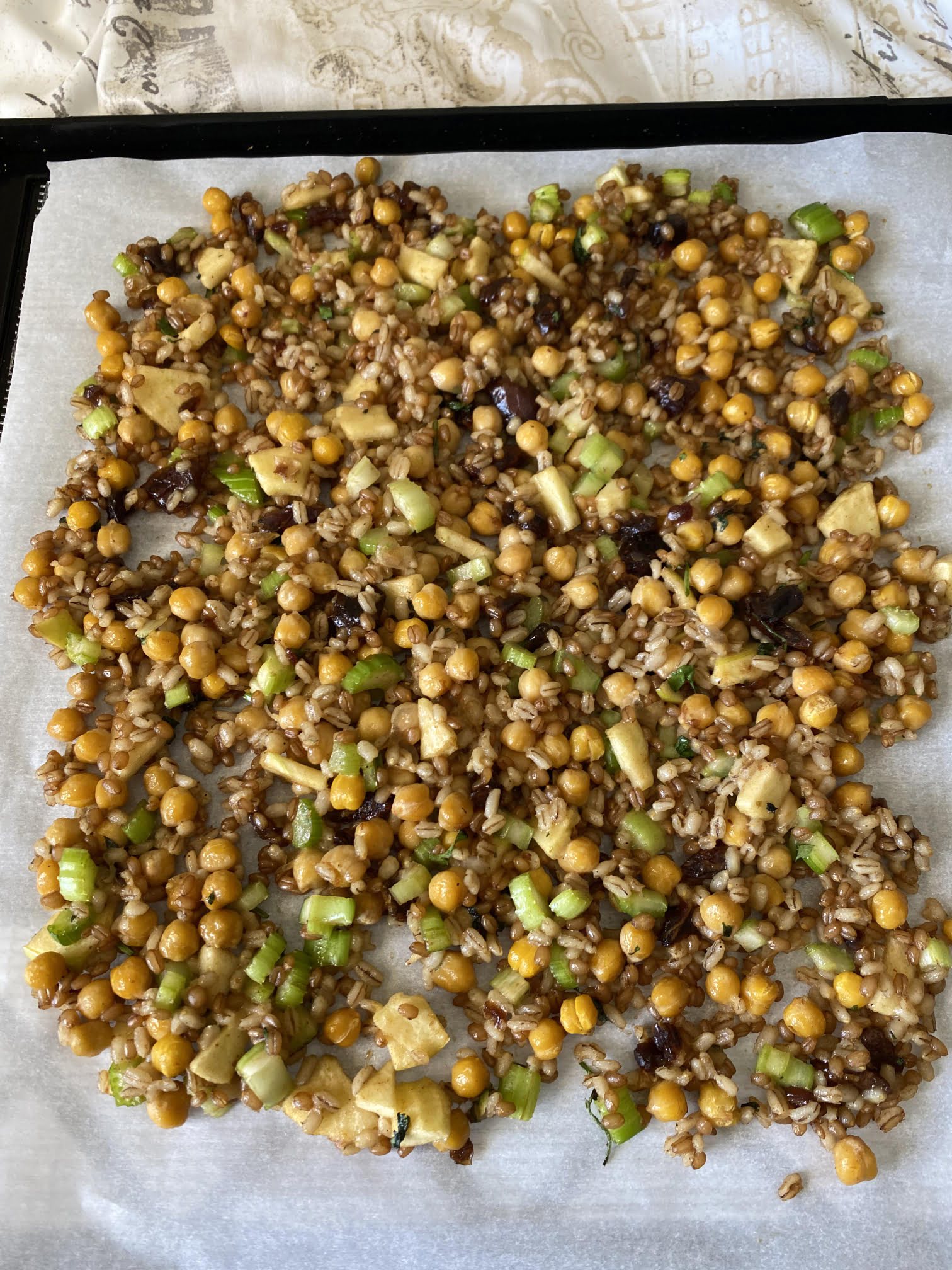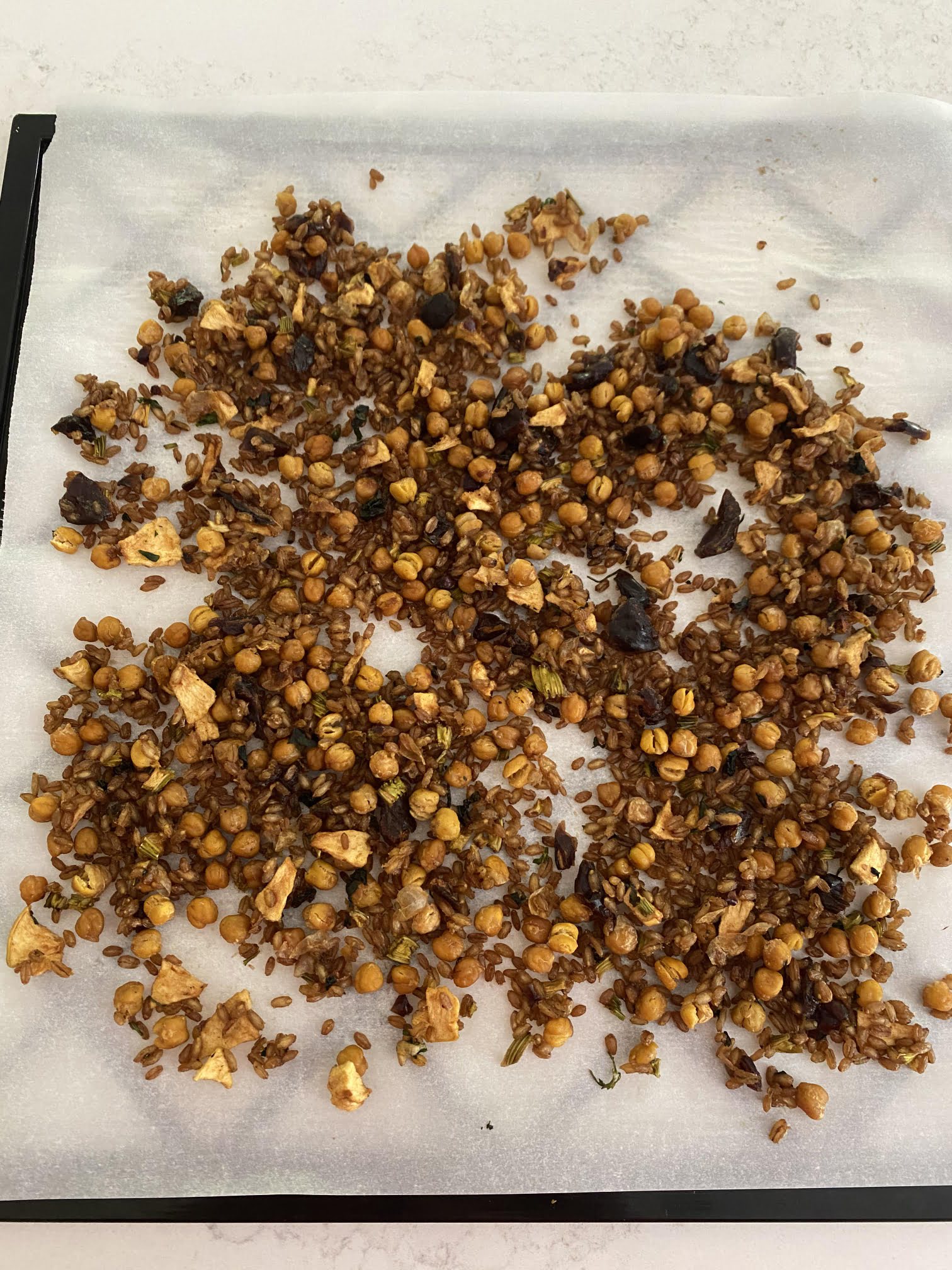 ---
Safety Tip
by Lynn Baier
Make sure that you have a good fit with your pfd. If you go in the water and it slips up, it can be very difficult to straighten things out to get back in your kayak.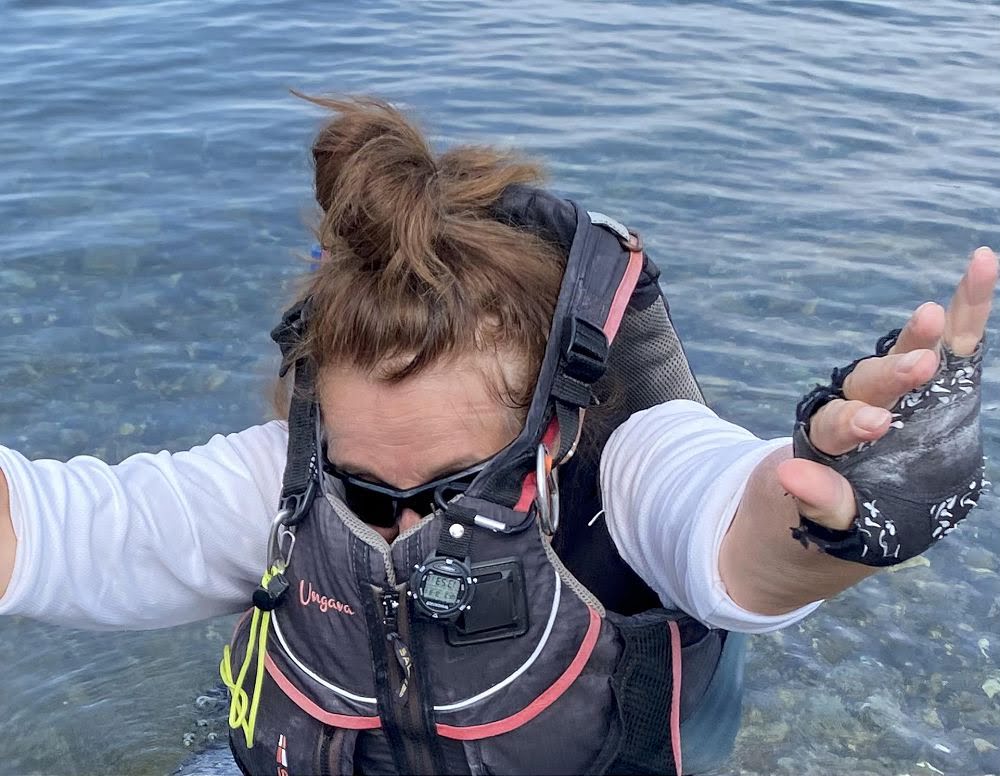 ---
BC Marine Trails News
https://www.bcmarinetrails.org
---
To Buy or Sell
For Sale:
A Brian Henry designed classic. Seventeen foot fibre glass "Pisces". A roomy boat for day paddling and camping trips. Dark green decks, modified by the addition of life lines. $820 - David at 250-592-5268.
---
SISKA's Kayak Skills Course Partners
There are some fine discounts available from our kayak skills course partners for SISKA members who sign up for their skills training programs. Have a look HERE
Our partners are: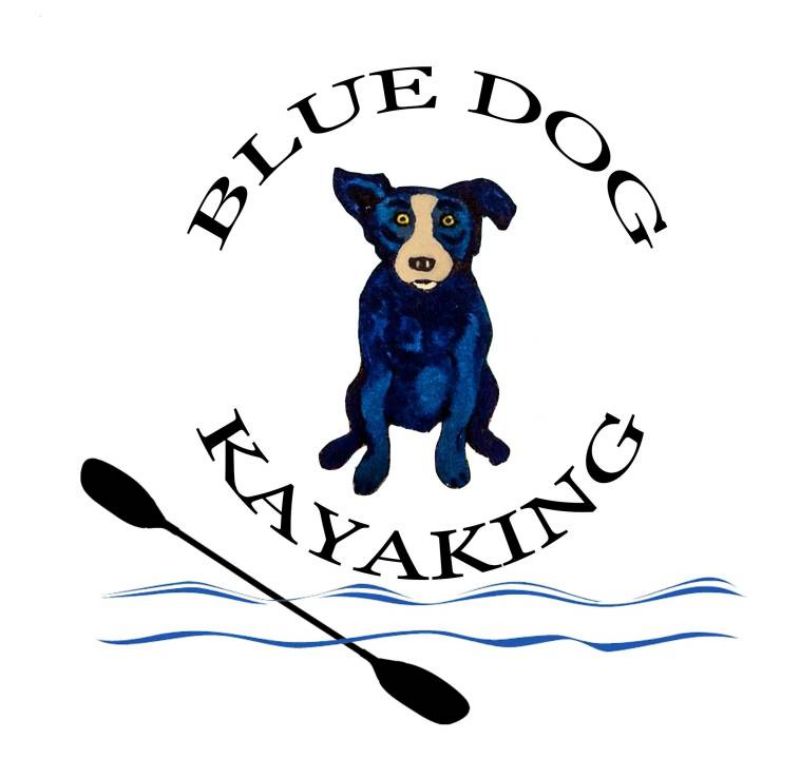 Related Posts
December 2023 | November 2023 | October 2023 | September 2023 | August 2023 | July 2023 | June 2023 | May 2023 | April 2023 | March 2023 | February 2023 | January 2023 | December 2022 | November 2022 | October 2022 | August 2022 | July 2022 | June 2022 | May 2022 | April 2022 |